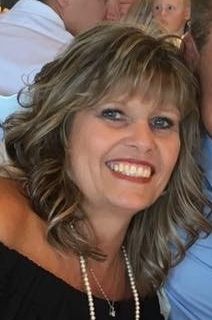 Tammara M. Braunberger, 58, of Jamestown, passed away peacefully at home surrounded by her loving family on Sept. 8, 2019.
Tammara Marie Piatz was born April 11, 1961, in Wishek, the daughter of Leo and Marion (Kuntz) Piatz. She graduated from Napoleon High School in 1979 and attended Mr. D Town and Country Beauty College in Jamestown. Tam worked there for many years and spent most of her professional career at Jasmeria for Hair in Jamestown.
She and Steven Braunberger were united in marriage June 6, 1986, in Napoleon and made their home in Jamestown. She had a passion for organizing the Dine & Bid for UJ and the H.O.P.E Dinner for St. John's Academy.
Tam loved hosting family and holiday gatherings and spending time at the lake. She was always giving.
Tammara is survived by her husband of 33 years, Steven Braunberger; daughter, Katlin (Justin) Vetsch and their children, Landry and Austyn; son, Hunter Braunberger; mother, Marion Piatz; siblings, Robert (Jacinta) Piatz, Jeffrey (Kristi) Piatz, Perry (Sandi) Piatz, Randy (Pam) Piatz, Shane (Catlin) Piatz, Connie (James) Harty, Pamela (Clem) Gross, and Michelle (James) Kessler.
She was preceded in death by her father, Leo Piatz.
Mass of Christian Burial is at 10 a.m. Thursday, Sept. 12, at St. James Basilica, Jamestown, with Monsignor Jeffrey Wald officiating.
Rosary is at 6:45 p.m. Wednesday at St. James Basilica, with a prayer service to follow at 7 p.m.
Visitation is at 1 to 5 p.m. Wednesday at Eddy Funeral Home, Jamestown, and an hour before each service at the church.
Interment will be at Calvary Cemetery, Jamestown.
In lieu of flowers, Memorials may be sent to the Steve and Tam Braunberger Scholarship Endowment, 6082 College Lane, Jamestown, ND 58405; St. John's Academy, 215 5th St. SE, Jamestown; or Jamestown Regional Medical Center Hospice, 2422 20th Street SW, Jamestown.