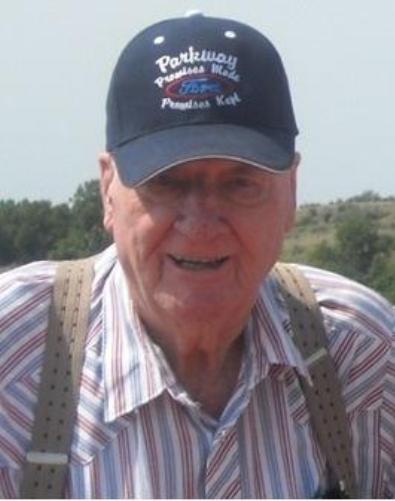 BEULAH — Oscar Stohler, 88, Beulah, passed away peacefully Dec. 5, 2013, at Knife River Care Center, Beulah. Services will be held at 10 a.m. CST Tuesday, Dec. 10, at Zion Lutheran Church, Beulah, with the Rev. Mary Lou Aune officiating. Burial will follow at Dunn Center City Cemetery.
Visitation will be from 9 to 10 a.m. CST Tuesday at Zion Lutheran Church.
Oscar was born and raised on the homestead north of Dunn Center, on May 9, 1925, to Christop and Anna (Baisch) Stohler. He attended a country school through the eighth grade. On Jan. 10, 1948, he married his loving wife of 65 years, Lorene Weidner. They took an extensive cross-country trip, returning to settle down near Dunn Center. Seven years ago they moved to Beulah.
You have free articles remaining.
Oscar was a lifetime rancher and was a member of the Stockman's Association, National Cattleman's Association, and Elks. When Oscar was younger, he was a member of a local barbershop quartet for several years. Even after having vocal problems, he still loved to hum along with music. Oscar loved reading and keeping current on the news. He loved playing card and dice games with family and friends over the years. He was especially known for his story telling about the good old days. He was a member of the Zion Lutheran Church in Beulah.
Oscar is survived by his wife, Lorene Stohler; his children, Constance Stohler (Jerry Hauble), Patricia (Rex) Wenko, Carleen Hart, and Andrew (Marsha) Stohler; nine grandchildren, Christopher Hauble, Joshua Hauble, Noah Hauble, Jennifer (Wenko) Hanley, Jessica (Wenko) Weingartner, Sarah Hart, Joshua Hart, Andrew Stohler and Erin Stohler; seven great-grandchildren, Jake, Madelyn, Piper, Ilse, Jack, Alexander and Brycen; and a sister, Esther Obrigewitch.
He is preceded in death by his parents; his sisters, Carolyn, Ruth and Ann; and a son-in-law, Jim Hart.
In lieu of flowers, memorials are preferred to Sakakawea Home Health & Hospice in Beulah. (Barbot-Seibel Funeral Home, Beulah and Hazen)