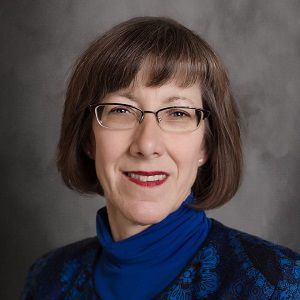 Muriel Jean Lippert, Bismarck, went home to be with God on June 25, 2020. A funeral service will be held at 10:30 a.m. Friday, July 3, at Trinity Lutheran Church, Bismarck, with Rev. Lisa Ahlness and Rev. Lee Herberg presiding. The link to the service livestream will be located on Trinity Lutheran's website, www.trinitybismarck.com.
Visitation will be held from 5 to 7 p.m. Thursday at Parkway Funeral Service, 2330 Tyler Pkwy, Bismarck. A prayer service will begin at 7 p.m.
Burial will be held following the service at Highland Home Cemetery, Jamestown.
Muriel was born Feb. 10, 1960, in Elmhurst, Ill., to Wilbur and Grace (Winge) Lippert. God claimed her His own on Easter Sunday, April 17, 1960, when she was baptized at Epiphany Evangelical Lutheran Church in Elmhurst, Ill. She was confirmed on May 19, 1974, at Epiphany Lutheran.
She graduated from York Community High School, Elmhurst, Ill., in 1978 and from Augustana College, Rock Island, Ill., in 1982, majoring in music and religion. During college she spent six months in Washington DC working at a homeless shelter and a food and clothing distribution center. After graduation from Augustana, she worked for one year with Philips Neighborhood Lutheran Volunteers in Minneapolis, Minn.
Muriel returned to Illinois to pursue a Master of Divinity degree at the Lutheran School of Theology at Chicago, graduating on June 6, 1987. She was ordained on Pentecost, June 7, 1987, at Epiphany Lutheran in Elmhurst, Ill. She was called to serve as pastor of Bethlehem Lutheran in Wing, where she served faithfully from 1987 to 2008. This partnership in ministry was a true treasure.
On Good Friday, March 24, 1989 Emma Bernice was born and filled Muriel's heart with joy. On All Saints Day, Nov. 1, 1992, Eric Paul was born and brought further blessings to Muriel's life. Her greatest joy came from nurturing her children's growth.
Serving God globally has been an ongoing part of Muriel's life of ministry. She focused on meeting the needs of neighbors near and far. She participated in two Lutheran World Relief Study Trips to the Philippines and Western Africa.
From 2009 to 2015, she served as pastor at Shepherd of the Prairie Parish in Williston. She led the team that founded Little Lambs Childcare, Inc. She also worked across denominational lines to start Banquet West. Muriel was awarded the 2015 Community Achievement Entrepreneur of the Year Award. In 2016, Muriel left the ministry to become the building manager at a multi-use building in downtown Williston, constructed by the Renaissance Companies.
Muriel shared her musical talents in various ways. She played viola with the Bismarck-Mandan Symphony for over twenty years and the Minot Symphony Orchestra for over seven years. She treasured time spent playing in concerts and made lifelong friendships with fellow musicians. Her beautiful soprano voice was shared at worship services and in the Messiah chorus alongside her father.
Muriel demonstrated her great faith in God as she coped with her cancer diagnosis. She handled it with grace and dignity, inspiring us all. May she find comfort and peace in Heaven.
Muriel is survived by her children, Emma (Michael) Berg, Wilton, and Eric Schauer, Springdale, Ariz.; father, Wilbur Lippert, Bismarck; sister, Nancy, and brother-in-law, John Walsh, Palm Coast, Fla.; uncle, Royce Winge, Ames, Iowa; and her nieces and nephews, Lauren and Byron Lewis, West Melbourne, Fla., Alex Walsh and Christine Ghilain, Randolph, N.J., and Maureen Walsh, Palm Coast, Fla.
She was preceded in death by her mother, Grace Lippert; aunts and uncles, Jim and Bernice Lippert, Herbert Winge, Alice Winge, and Ralph and Jane Winge; and grandparents, Richard and Emma Lippert and Albert and Mabel Winge.
Memorials can be sent to the ELCA World Hunger Appeal or Lutheran World Relief to continue Muriel's mission of helping others. Memorials may also be sent to the Winge-Lippert Scholarship Funds established at Augustana College, Rock Island, Ill., and Lutheran School of Theology at Chicago.
To plant a tree in memory of Muriel Lippert as a living tribute, please visit Tribute Store.
Obituaries Newsletter
Sign up to get the most recent local obituaries delivered to your inbox.