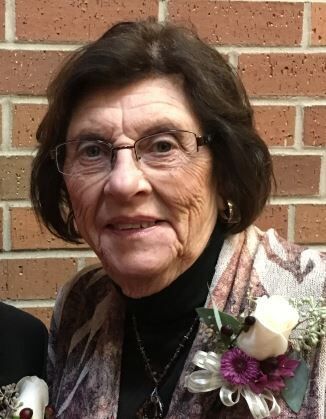 A memorial service for Marlene R. (Sieg) Ham will be held at 1 p.m. Friday, Aug. 7, at St. Peter's Lutheran Church rural Leonard.
Marlene R. Sieg was born June 14, 1936, in Edgeley, to Leopold and Ida (Mammel) Sieg.
Born weighing only 3 lbs., Marlene was given little chance to survive her first days of life, yet she lived a good and full 82 years. Marlene passed away April 9, 2020, at Essentia hospital, Fargo.
Marlene graduated from Edgeley High School in 1955 where she met Leland Ham. They were married in November of 1957. In their 62 years together, they lived in Glen Ullin, Sanborn, Chaffee, Streeter, Crystal Springs and finally, Steele. They raised four children: Loy, Brent, Todd and Marlee.
Marlene was gifted with many talents. While living in Chaffee, she worked for the Casselton Reporter doing advertising layout. Later she became the secretary at Chaffee school. These were busy years as Luther League advisor, Jr. class advisor, church secretary, as well as organizer of Pee Wee baseball tournaments and church bazaars. In every town Lee and Marlene called home, she shared her gifts in the church, school, and community.
Marlene enjoyed creating and giving beautiful crafts and handmade items such as wedding and church banners, ceramics, sewing, crochet and bulletin boards, some of which are still admired in schools today.
Family was Marlene's greatest joy. Whether it was cooking and hosting big family gatherings or diving deep into family history, she knew the value and meaning of family and felt it was important to pass that on to her kids and grandkids. Marlene will be most remembered for her deep faith and love of family.
Marlene is survived by her husband, Leland, Steele; children, Loy and Pam (Kellerman), Leonard, Todd and Carrie (Steffes), Bagley, Minn., Marlee and Larry Robertson, Fargo; brother, Richard and Mary Jo (Flynn), Fargo; grandchildren, Kelly and Samantha Ham, Reno, Nev., Ryan and Ashley Ham, Fargo, Erik Ham, Fargo, Sheena and Adam Cole, Beulah, Tessa and Tyson Nelson, West Fargo, Keshia Ham, Casselton, Jalen and Casey Ham, Fargo, Jesse and Arika Ham, Bemidji, Minn., Jacob Ham, Fargo, Cassidy and Nick Nelson, Moorhead, Minn., Dannie Robertson, West Fargo, Mikayla and Lance Doeden, West Fargo, Nick and Casey Robertson, Bend, Ore., Jack Robertson, Fargo, and Ava Robertson, Fargo. She also leaves behind 16 great-grandchildren and many nieces and nephews.
Marlene was preceded in death by her parents, Leopold and Ida; and son, Brent.
To plant a tree in memory of Marlene Ham as a living tribute, please visit Tribute Store.
Obituaries Newsletter
Sign up to get the most recent local obituaries delivered to your inbox.