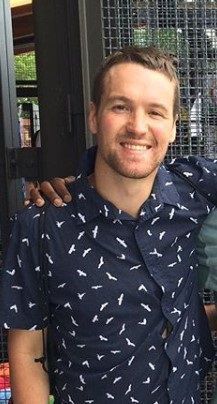 Kipp Edward Gabriel was born Nov. 2, 1982, to Ken and Adele Gabriel, in Bismarck. He died June 28, 2020.
Kipp grew up in Bismarck and graduated from Century High School. He then attended Bismarck State College receiving an associate of arts degree, then moved to Fargo where he attended Moorhead State University and made Fargo his permanent home.
Kipp's personality filled a room in the best possible way. He always exuded positivity and encouragement to everyone he met. He was known for being the heart and the rock for his family. Whenever there was a family gathering, Kipp was the first to gather all the kids to play a game. His nephews, Kaiden, Knox and Macalister, loved him "to the moon and back." When Kipp and his brother, Kyle, left for school their mom always said, "work hard, be positive and I love you." It's a saying he lived by every day and it showed.
The love for his girlfriend is a once-in-a-lifetime love. From their first "not-a-date" to making a house a home with their cats, their five years together was full of travel adventures, laughs, dancing, coffee, and cooking (with every spice and condiment included). Kipp and Krista were exactly alike but exactly the opposite - a perfect match and "weird in the best way."
One of Kipp's favorite past times was playing video games with his best friend, Nate Grenz. They got so good they were conquering some of the game by using the controllers with their feet. Kipp called Nate and hundreds of his other friends his brothers and it couldn't be more true. Anytime you were downtown with Kipp, before you got where you wanted to go, he would stop and give several "hugz" to people he knew.
Kipp worked for Pepsi for several years before moving on as a salesman for Robert Gibb & Sons. You could tell that his positive energy and attitude flowed to those he worked with because a coworker shared that his wife said he came home in a better mood since he started working with Kipp.
Kipp loved being on stage entertaining people with his music. It was not unusual to see him mouthing new lyrics or jotting them down on any surface he could find. He loved including his cousins by using their names with a positive quote about them or picking someone out in the audience and creating a freestyle verse about them.
His other major passion was skateboarding. He considered it not only exercise, but a wonky art form. He explained to his mom that "she goes running, I go skateboarding." He'd scout areas in and around Fargo to plan for the best possible photo and using the opportunity as an introduction to a "hello" or a "how's it going?"
Kipp is survived by his parents, Ken and Adele Gabriel; brother, Kyle; and his wife, Meghan; their children, Kaiden, Knox, and Macalister; and his loving girlfriend, Krista Boehm; grandma, Rozie Schwartz; aunts, uncles, several cousins and more friends and extended family that's simply impossible to count.
He is preceded in death by his grandpa, Edward Schwartz; grandma, Ellen Gabriel; grandpa, Ambrose Gabriel; and uncle, Kevin Gabriel.
Thank you for sharing a part of your life with Kipp. We know there are countless beautiful stories out there that we hope you'll keep sharing. You know he'd ask to hear them.
Services will be held at 10:30 a.m. Thursday, July 2, at the Fargo Air Museum, 1609 19th Ave. N, Fargo. All are welcome.
Memorials can be given to the family and will go back into the community he loved, Downtown Fargo.
"The things I've loved have led me to people I love, and they lead me to more things to love and the good times keep rolling…and the goodness keeps growing." – Kipp G.
Arrangements by Hanson-Runsvold Funeral Home, Fargo.
Obituaries Newsletter
Sign up to get the most recent local obituaries delivered to your inbox.