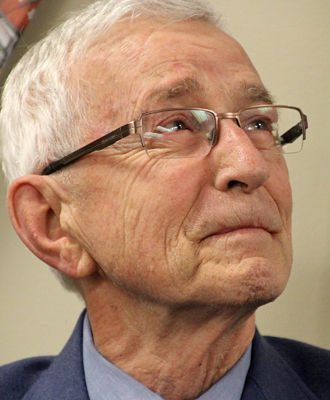 Longtime Crosby resident John Andrist, family man, newspaper man, senator and consummate supporter of his community, died Jan. 17, 2018, in a Fargo hospital following a stroke the previous week. He was 86.
John had a deep affection for his community, his state, and the legislative district he served as state senator for 22 years. At the same time he had a lifetime dedication to his journalism profession, in which he rose to lead both his state newspaper association and the National Newspaper Association -- the latter of which he served as president in 1989-90, the only North Dakotan to ever hold that position.
His colleagues honored him by making him the first living North Dakota Newspaper Hall of Fame recipient in 2000, the same year he was chosen to receive NNA's highest honor, the Amos Award, for distinguished service to his profession and the nation. Gov. George Sinner presented him with a National Leadership Award of Excellence for these achievements.
He began full-time work in his father's newspaper, The Journal, when he was still a teen, in 1950. By 1958, he became managing editor, and in 1961, he purchased the business outright. For more than 60 years he wrote his weekly newspaper column called "John-a-Dreams," which he syndicated to four other newspapers in the last few years of his life.
But it was his leadership in his early adult years as chairman of successful fund raising campaigns to build the new St. Luke's Hospital and the Good Samaritan Center, both in Crosby, that shaped a lifelong philosophy of community philanthropy and "giving back." In that role he was a lead contributor and helped organize the St. Luke's Community Foundation, and he single-handedly directed the effort to save and restore Crosby's downtown Penney Building when it was on the verge of demolition.
He was a principle in construction of Crosby's Wallin Manor, a leader in development and securing funding to build Vournas Field, and organized the effort for city expansion into the Crosby Acres development. He often laughed about investing three times in the large Crosby building that was used to manufacture Knudson Tractors, turned Pamida store, turned pasta plant, turned New Century Ag truck center.
He was an organizer for the Crosby Jaycee chapter and Crosby Business Builders, forerunner of the Crosby Chamber. He served for more than 25 years on the St. Luke's Hospital Board, including several as chairman, was twice president of the Crosby Kiwanis Club. He and the late Del Ekness collaborated in creating the Crosby Ludefest.
When Crosby's First National Bank failed, he worked to form an investor group to get it re-established. When that effort failed he quietly worked behind the scenes to secure a commitment from First National of Williston to save and secure the facility.
John was a lifelong member of Crosby's First Presbyterian Church until it closed, after which he moved his membership to Concordia Lutheran. He loved sports, and in nearly 50 years of faithful jogging he boasted enough miles to circle the earth more than three times. But it was bicycling that was his real athletic love, and he was a familiar sight peddling on Crosby streets for half a century.
He also had a deep love for music, nurtured by his wife, Elaine, whom he credited as being the family pro ("I'm just a shower singer!"). And yet together they performed throughout their lives in just about every community choral and musical theater production, from "Show Boat" to "Oklahoma" to the Northwest Chorus.
After his son Steve came home to purchase and operate the family newspaper in 1991, John was elected to the State Senate in 1992, a role he served with distinction. For many years he chaired the Political Subdivisions Committee, because of his passion for local government. Both the League of Cities, and the Township Officers Association honored him with legislator of year awards. In addition, he served four sessions on the Appropriations Committee, and was a regular for several sessions on the Industry, Business and Labor Committee.
He contributed substantially to major projects in Crosby and Medora, and was central to creation and growth of the St. Luke's Community Foundation and the North Dakota Newspaper Association Education Foundation. His most substantial personal gift was given to keep the dream alive when the effort to build a Crosby Health and Wellness Center was at a low point and appeared to be sinking.
In 2014, John left his lifelong home of Crosby and moved into Touchmark, an assisted living community in Fargo. At that point he became an active member of Fargo's First Presbyterian Church. His funeral service will be held there at 1 p.m. Saturday, Jan. 20. Memorial and burial services will be held in Crosby this June.
He spent his last half century only one block from the modest home where he was delivered by a midwife Aug. 1, 1931, to Calvin L. and Lela (Revis) Andrist. He often said his best achievement was winning the heart of his childhood sweetheart, Elaine Thvedt, whom he married June 17, 1951.
They were inseparable through 57 years of marriage until cancer conquered her Oct. 7, 2008, nearly five years after being first diagnosed as having less than a year to live.
They raised five children who survive: Pamela (Mike) Burns, Fargo, Steve (Barbara) Andrist, Bismarck, Paula (Andrew) Holmberg, Minnetonka, Stan (Jan Nelson) Andrist, Fargo, and Penny (Lisa Edison Smith) Andrist, Fargo. There are also eleven grandchildren: Aaron Burns, Jennifer Thorpe, Elizabeth Thomsen and Chelsea Burns, Graham, Levi and Evan Andrist, A.J. and Kaatrin Holmberg, and Jonah and Hannah Andrist. He also had 11 great-grandchildren.
His four siblings preceded him in death: Marlys Elliot, and Calvin, Franklin (Butch) and Willard Andrist.
John would be honored to inspire philanthropy in his friends and acquaintances. For those who would like to honor John's memory with a memorial gift, some suggested ideas are: The Theodore Roosevelt Medora Foundation Elaine Andrist Performing Arts Fund, The North Dakota Newspaper Association Education Foundation, The St. Luke's Community Foundation in Crosby, and the First Presbyterian Church of Fargo.