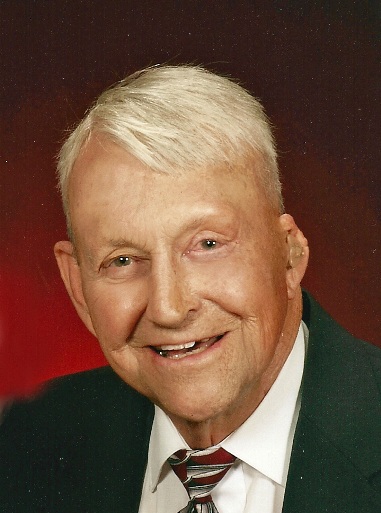 James Allen Vranna, 91, passed away peacefully at his home in Bismarck on July 22, 2012. Services will be held at 10:30 a.m. Thursday, July 26, at First Lutheran Church, Washburn, with the Rev. Dick Smith officiating. Burial will be held at the North Dakota Veterans Cemetery.
Visitation will be held from 5 to 8 p.m. today at Bismarck Funeral Home and continue one hour prior to the service at the church.
James Allan Vranna was born in Kelso, Wash., on April 4, 1921, to Anna (Knudson) Vranna and James Vranna. The family migrated from Kelso to Taylor when he was 3 years old, after which he remained a life-long resident of North Dakota. He graduated from Taylor High School in 1939. He then attended Mayville State College for two years, during which time he played football and was later inducted into the Mayville State College Hall of Fame.
Having entered the service as an enlisted man in 1942, he attained the rank of first lieutenant in the U.S. Army Air Corps. While in the Air Corps, he was trained to fly the B17 or "The Flying Fortress." He considered flying a new B17 across the Atlantic his greatest thrill. He often commented on the fact the he flew airplanes before he had a driver's license.
Jim was the sole survivor of a B17 crash in England on Aug. 3, 1944. He sustained multiple, devastating injuries which he bore with tremendous grace throughout his lifetime. He spent the next three years undergoing multiple surgical procedures and recovering from his injuries. While in Valley Forge General Hospital in Phoenixville, Pa., he was inspired to persevere by the beauty of a single yellow rose placed on his bedside table by a thoughtful nurse. This strengthened his faith and also contributed to a life-long love of gardening.
Upon his discharge from the hospital and the military, he returned home to Taylor and completed his degree in history at Dickinson State College. It was during this time that he met Viola Boschee, the love of his life, who was teaching in Taylor. They married on Dec. 26, 1948. The couple spent the next decade in Taylor, where they both taught; Jim also served as principal, coach and athletic director.
Jim, Vi and their first two sons moved to Washburn in 1958, where he continued to teach and serve as principal, and where their third son joined the family. He also served as superintendent of schools for a period of time, directed many plays, and coached student speakers.
In his retirement, Jim enjoyed gardening, both in town and at his "plantation" on the river bottom south of Washburn. An avid sportsman, he enjoyed hunting, fishing and playing golf.
In 2010, Jim and Vi moved to the Waterford (now the Touchmark) in Bismarck, where they made many new friends and received many kindnesses and courtesies.
Survivors include his loving wife of 63 years, Vi; his son, Greg and his wife, Margo, Bismarck; his son, Lee and his wife, Julie, Redding, Calif.; his son, Jim, Chehalis, Wash.; his grandchildren, Sydney, Washington, D.C., Luke, Redding, Camille, San Luis Obispo, Calif., and Max, Redding; one sister-in-law and her husband, Alice and Darrel Carr; two nieces, Joyce (Ken) Lewis and Gladys (Mal) Vallone; and one nephew, Jim Vranna. Jim is also survived by a special cousin, Doug Olsen and his wife, Cheryl, Bessemer, Mich.; and by many friends, including his life-long best friend, Leland Brand, Taylor.
Jim is loved by many and will be greatly missed.