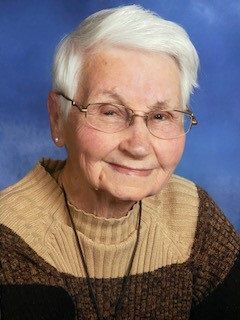 Our beloved Mother, Grandmother and Great Grandmother has now left us. May she rest in peace. Isabelle Schmidt, 85, of Flasher, passed away on July 30, 2020, surrounded by her family at the family ranch after a battle with pancreatic cancer.
A Mass of Christian Burial will be held at 10:30 CDT on Tuesday, Aug. 4, at St. Lawrence Catholic Church, Flasher. Burial will follow at the Fallon Cemetery in Fallon. Visitation will be held 4-6 p.m. Monday, at Weigel Funeral Home, 309 4th Ave. NW, Mandan, ND, with a rosary and Parish Vigil at 6:30 p.m.
Isabelle was born July 23, 1935 in Mandan, the first of nine children born to Frank and Alfreda (Ziniel) Haider. She was raised and educated in St. Anthony. Prior to her marriage, she was employed at Ben Franklin and First National Bank in Mandan. On June 23, 1954 Isabelle married Raymond M. Schmidt at St. Anthony Catholic Church.
Together they ranched and farmed in the Fallon area while raising eight children. Although family, faith, baking, and a clean house were Isabelle's priorities, she also could be found in the hay field and working cattle. She also loved gardening and sewing. Pray, attend mass, and make good choices were words of wisdom she gave throughout her life. She prayed for her family daily.
She was known for the best sugar kuka, apple strudel, fudge, Christmas Pfeffernuesse cookies, cheese buttons, and other various foods. It brought her great joy to pass the recipes onto her family. In June of 1979, Isabelle and Ray celebrated their 25th wedding anniversary in Fallon with family and many wonderful friends. They were happily married for 36 years until Ray passed away on Feb. 10, 1991. Her family is so thankful for the strength and extra guidance she graced them with after losing him. She always looked forward to spending time with her children, grandchildren, and great grandchildren.
Although she very much enjoyed just being at home, as there were many weekly visitors, she did travel to Germany and it was one of the highlights of her life. Other traveling she enjoyed were various trips to Billings, Mont., and a special trip to Branson, Mo.
She was a member of the St. Lawrence Catholic Church and a member of Christian Mother. Isabelle never missed an opportunity to serve her parish.
Left with beautiful and fond memories are Isabelle's children; Cindy (Kurt) Kephart, Billings, Mont., Ranette Erhardt, Mandan, Sherwood (special friend, Angie), Flasher, Wayne, Phoenix, Ariz., Mary (Darrell) Erhardt, Jackie Becker, Flasher, Karen (Kelly) Mosbrucker, Bismarck, Ray Jr.(Tammy), Mandan; 13 grandchildren, Clif (Kylee) Kephart, Miranda (Chris) Murdock, Clint Kephart (Trisha), RaeLynn (Brett) Splettstaszer, Kelli Erhardt, Joy (Dallas) Hatzenbuhler, Toni (Justin) Knoll, Trevor and Dallas Erhardt, Caitlyn, Caleb, and Christopher Becker, and Taylor Schmidt; 16 great-grandchildren; siblings, Carol (Larry) Erbe, Caledonia, Wis., Bob (Carol) Racine, Wis., Don (LaVonne), Jerry, and Rick (Denise) all from Bismarck, and Ray (Kathy), Mandan; and siblings-in-law, Willie Kautzman, Fargo, Alvina Haider, Bismarck; Delores Galas Minneapolis, Minn., Minnie Schmidt, Bismarck, and Jim (Sheri) Schmidt, West Fargo. Her special friends, Jim and Judy Friesz, John and Joyce Miller, and Ben and Joell Schmidt.
Isabelle was preceded in death by her parents, Frank and Alfreda Haider; husband, Raymond, sons-in-law Todd Wright and Marv Erhardt; siblings, Ken Haider and Dolores Kautzman; siblings in-law, Betty Gustin, Francis Mack, Helen Soff, Monica Schmidt, Nick Schmidt, Richard Schmidt, Ed Schmidt, and Victor Schmidt.
We love you so much Mom, Grandma and Great Grandma. See you in the Funnies.
To plant a tree in memory of Isabelle Schmidt as a living tribute, please visit Tribute Store.
Obituaries Newsletter
Sign up to get the most recent local obituaries delivered to your inbox.