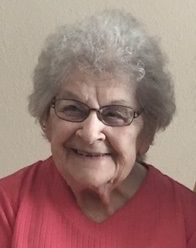 Due to the CDC's recommendations, Irene Miller's family will be planning a private burial and services will be held at a later date.
Irene was born on March 28, 1926 in Elgin. She was the daughter of Ludwig and Maria (Nicklaus) Koepplin. She was raised on the family farm outside of Elgin, along with her four brothers and nine sisters. During those years, Irene helped with day to day activities on the farm as well as honing her skills in the kitchen. Those skills would serve her well when she met the love of her life, Marvin Miller.
Irene and Marvin were married March 8, 1947 in Wibaux, Mont. They moved onto the S3 Ranch south of New Leipzig, where Marvin got his start as a farmer. Later that year, they were blessed with their first son, Darold. One year later, they were again blessed with another son, James. Irene spent her days doing chores around the farm, baking, preparing meals and chasing after young boys.
After some years, they moved to Hebron. Irene continued to raise their family as a stay at home mother. She always had a warm meal on the table and fresh baked goods in the pantry. She loved baking and made all sorts of home-made German dishes.
In 1986 her husband Marvin fell ill with cancer. Irene was right by his side through the fight. After winning the battle with illness, Marvin and Irene decided to go into business for themselves. They opened Marv's Hobby Shop in 1988. This was an opportunity for Marvin and Irene to work together. Irene helped with the woodworking process, doing the staining and lacquering. She also got the chance to travel with Marvin. They sold their goods in booths at many fairs, shows and events around the state. Irene loved this time in her life. She got to meet all sorts of people and got to spend lots of time with Marvin.
In 1995 the wood shop burned down and the woodworking business ended. With her husband now fully retired, Irene missed the interaction with other people. In 1998, at the age of 76, Irene decided to take a job outside of the home. She took a job at Lapp's Jack and Jill in Hebron. This was her opportunity to put her love for baking to use. She helped bake cookies, rolls, buns and Lapp's famous Kuchens. She loved her job at the bakery.
In 2001 with Marvin's declining health, they decided to move to Mandan where they would be closer to medical care and family. They lived at Liberty Heights Retirement Community until Marvin passed away in 2007.
Irene spent her final days at Prospera Nursing Home where she passed away on March 20, 2020.
She is survived by her sons: Darold (Marie) Fargo, and James, Bismarck. Five grandchildren: Cody (Jill) Miller, Sondra (Fred) Johnk, Kari (Robert) Moe, Melissa French and Chad Miller; and ten great-grandchildren. She leaves five sisters and three brothers.
She is preceded in death by her husband, Marvin Miller, parents Ludwig and Maria Koepplin, four sisters and one brother.
Cards can be sent to 1308 Shires Drive SE, Mandan, ND 58554.
To plant a tree in memory of Irene Miller as a living tribute, please visit Tribute Store.
Obituaries Newsletter
Sign up to get the most recent local obituaries delievered to your inbox.