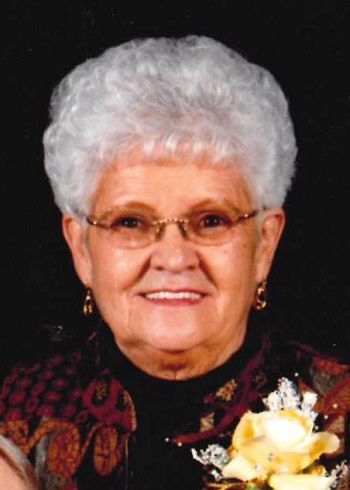 Irene Hochhalter, 82, of Jamestown, passed away Sunday morning Aug. 9, 2020, at Eventide in Jamestown.
Irene Schmidt was born April 14, 1938, at Lehr, the daughter of Reinhold Schmidt and Mary (Becker) Schmidt. She attended school at Lehr where she received her elementary education and grew to womanhood.
She and Marvin W. Hochhalter were married Oct. 16, 1958, at Lehr. They made their home in Valley City for a short time before moving to Jud, where Marvin started teaching.
In 1961, they moved to Steele where Marvin continued teaching and Irene raised their children and had various jobs in the community.
She was a member of the First Presbyterian Church in Steele. She enjoyed bowling and loved to dance the polka and waltz.
She is survived by daughter, Roxanne (Loren) Krueger, Fredonia; daughter, Robin (Clint) Eberl, Jamestown; son, Monte (Mae) Hochhalter, Steele; son, Marty (Jan) Hochhalter, Jamestown; and daughter, Holly (Troy) Rohrich, Steele; 11 grandchildren, Nicole (Jon) Kungel, Fargo; Desiree (Ryan) Patterson, Big Lake, Minn.; Landon (Shannon) Krueger, Fredonia; Owen Eberl, West Fargo; Jesse (Amanda) Hochhalter, Bismarck; Brooks Hochhalter, Lincoln; Tyler Hochhalter, Denver, Colo.; Kayla Hochhalter, Grand Forks; Kauri, West Fargo; Marcus and Payton Hochhalter, both of Jamestown; 10 great-grandchildren, Jada and Chase Kungel; Adalynn Patterson; Trey, Kaylee, and Leah; Lilyana, Zaedyn, and Trulee Hochhalter; and Linkyn Hochhalter.
She was preceded in death by her parents, husband, grandson, Shawn Eberl and one brother, Walter and one sister Alvina Beisenstein.
Funeral service is 10:30 a.m. Thursday, Aug. 13, 2020, at the Presbyterian Church in Steele, with Rev. Robert Schoepp officiating.
Visitation will take place from 9 a.m. to 7 p.m. Wednesday at the Funeral Home with a prayer service at 7 p.m.
Burial will be 2 p.m. Thursday at the ND Veterans Cemetery south of Mandan.
Arrangements are by the Haut Funeral Home and Celebration of Life Center in Jamestown.
Obituaries Newsletter
Sign up to get the most recent local obituaries delivered to your inbox.