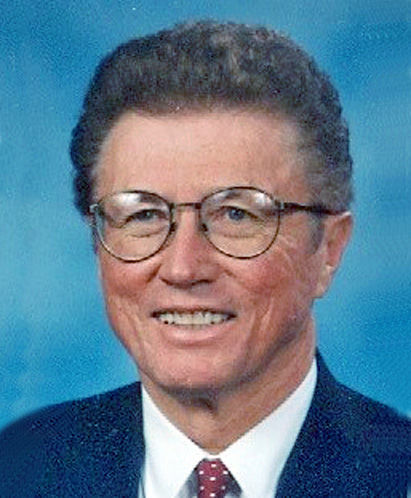 Dr. Harold John Bergquist passed away Jan. 30, 2016, at Lakota Good Samaritan Center following a lengthy illness. Services will be held at 11 a.m. Tuesday, Feb. 9, at Lakota Lutheran Church. Interment will be in the spring at Gustavus Adolphus Lutheran Cemetery, rural Fairdale.
Visitation will be held from 4 to 7 p.m. Monday at Aaker Funeral Home, Lakota, with a family service at 7 p.m.
Harold was born in Dewey Township of Walsh County, Oct. 23, 1934, the eldest son of Harry and Alma (Braaten) Bergquist. He was baptized and confirmed at Aadalen Lutheran Church, rural Fairdale. Harold completed his elementary education at Dewey Township School No. 1 and graduated from Fairdale High School in 1952. His education continued at the University of North Dakota, earning B.A., master's, and doctorate degrees. While attending the University of North Dakota, he held several offices, was an avid member of the intercollegiate debate team, was elected to membership in Phi Beta Kappa and graduated with high honors. Several years later he attended law school earning a juris doctor degree from William Mitchell College of Law in St. Paul, Minn.
Harold entered the education profession and served in the Osnabrock, Landa, Hannah, Starkweather, Larimore and Grand Forks school districts in North Dakota, and the Burnsville and Rosemount-Apple Valley school districts in Minnesota. During his tenure in the Grand Forks school district, he researched and assisted in developing the PREP (pre discharge education program). It was the first of its kind and became the model for other programs in the U.S. and the world. He then completed his education career as superintendent of the Lakota School District, retiring in 2005. Following his retirement, Harold practiced law in Larimore and Lakota.
Harold had a strong commitment to public service. In 1980, he was the Democratic-Farmer Labor Party endorsed candidate for the U.S. House of Representatives in Minnesota's second congressional district. In 2006, Harold was elected as a county commissioner for Nelson County and was then appointed parliamentarian for the North Dakota Association of Counties.
On June 10, 1956, he married Audrey Eriksmoen. They raised five children, Kathryn (Bruce Smith), Beverly, Harold John, David (Nick Trunzo) and Andrew.
Harold married Susan Zimmermann on April 6, 1984.
Harold is survived by his wife, Susan; his children; his grandchildren, Melissa Bergquist and Michael Aiken; his brothers, Donald Bergquist, Adams, and Robert (Kaaren) Bergquist, Rancho Santa Fe, Calif.; and numerous nieces and nephews.
Harold was preceded in death by his son, Harold John; and his parents.
In lieu of flowers, donations may be made to www.CUREPSP.org. (www.iversonkassianfuneralservices.com)