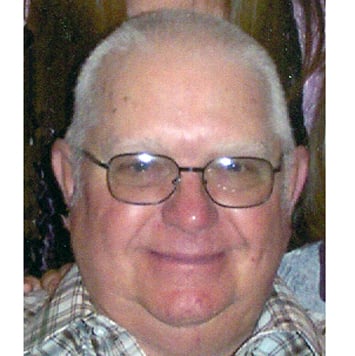 JAMESTOWN — George Joseph Mack III, 75, Jamestown, passed away May 10, 2013, at Sanford Health, Fargo, after a short battle with cancer. Services will be held at 10:30 a.m. Friday, May 17, at First Congregational United Church of Christ, Jamestown, with the Rev. Martin Nussbaum officiating. Burial will be at 3 p.m. Friday at the North Dakota Veterans Cemetery, Mandan.
Visitation will be from 11 a.m. to 7 p.m. Thursday with a prayer service at 7 p.m. at Eddy Funeral Home, Jamestown.
George was born April 26, 1938, on the family farm in Pettibone. George was the second of 12 children to George, Jr. and Verna (Kraemer) Mack. George grew up and went to school in Pettibone. At the age of 16 he started farming for Tuffy Torgerson, who he worked for the next seven years as well as on the family farm.
On Sept. 30, 1961, George married Dorothy Vellenga of Pettibone. In October of 1961 George was drafted to the U.S. Army. After he completed his two years of military service in October 1963, George and Dorothy moved to the Alfred Mack farm. This is where they raised their four daughters and farmed until their retirement. This farm was the original homestead for the Mack family, it is where George Mack, Sr., started farming. It was recognized as a Centennial farm in 2007. George and Dorothy moved in April of 2011 to Jamestown.
George was a member of Malcolm United Church of Christ, past parish board member of Malcolm UCC, as well as past school board member of the Pettibone School system. He served as the Petersville Township Supervisor for many years. He was currently a member of the Legion in Woodworth. George was always willing to help any neighbor that needed a hand.
He enjoyed dancing, playing pinochle, visiting neighbors and taking part in the KFYR Tractor Trek driving his Z Minneapolis Moline or IH tractor. He also enjoyed helping with the potato harvest the past 10 years. George was a very loving husband and father and a good farmer. His grandchildren were a great joy to his life.
George is survived by his wife of 51 and a half years, Dorothy, Jamestown; four fantastic daughters, Melissa Johnson, Platte, S.D., Nancy (Doug) Koepplin, Elgin, Rosalie (Brad) Knutson, Kathryn, and Jennifer (Randy) VanGorp, Stickney, S.D.; 12 grandchildren; five brothers and five sisters, Lee (Peg) Mack, Bismarck, Donna (Willis) Etter, Hysham, Mont., Douglas (Nola) Mack, West Fargo, Dwight (DeeOn) Mack, Max, Delores (Edward) Grant, Cheyenne, Wyo., Dennis Mack, Beulah, Duane (Janice) Mack, Pettibone, Dionne (Jim) McElroy, Ames, Iowa, Dianne (Jim) Norman, Portage, Mich., and Dorothy Mack, Portage; and many nieces and nephews.
He was preceded in death by his parents; his brother, Eugene; and one niece.