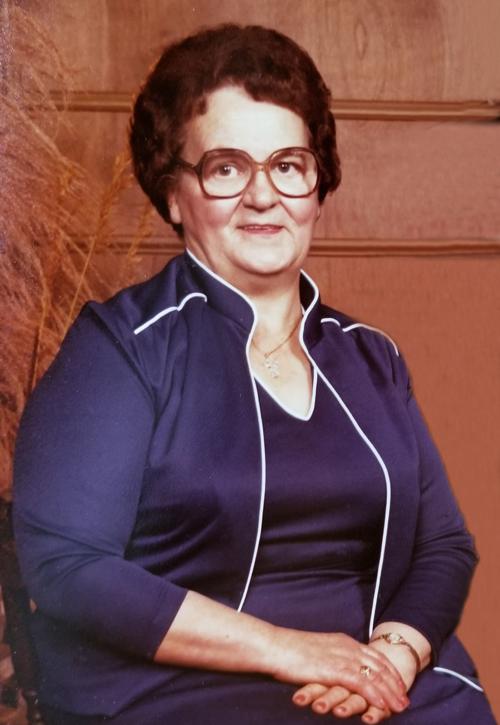 Eugenia Welk, 93, went to the Lord on Nov. 26, 2019. A memorial service will be held at 12 p.m. Thursday, Dec. 5, at Parkway Funeral Service, 2330 Tyler Pkwy, with Fr. Paul Eberle officiating.
Visitation will be held from 6 to 7 p.m. Wednesday, Dec. 4, at Parkway Funeral Service. A rosary/vigil service will begin at 7 p.m.
Burial will be held at 3 p.m. Thursday, Dec. 5, at the ND Veterans Cemetery, Mandan.
Eugenia (Schatz) Welk was born near Zeeland to parents of Michael and Elizabeth (Seiler) Schatz on June 30, 1926.
She was the last survivor of the family. We all claimed she was the gatekeeper of the family.
You have free articles remaining.
Eugenia graduated from Zeeland High School, following graduation she was a teacher and worked for Klein's Grocery Store in Zeeland.
She married Eugene Welk of Hague in 1952. They moved to the family farm of John and Barbara Welk. She and Eugene helped Barbara Welk take care of Barbara's children after John passed. She always said Barbara taught her how to cook, sew and do all things farm-life related. She and Gene lived on the farm until 1985. They then made their new home in Strasburg. There she worked as a cook for the school, worked for Green Thumb at the school, and the nursing home.
Eugenia will be remembered for being the best cook, seamstress, mother, grandmother and great-grandmother to all of us. She was always ready to help us at any time. She loved to garden, crochet and make quilts. She was a member of Marienett homemakers club and Strasburg Christian Mothers.
She is survived by her son, Allen Welk; daughter, Linda Welk Smestad; daughter-in-law, Cindy Welk; grandchildren, Janell (Craig) Keller, Jessica (Nevada) Silha, Adam Welk, Mathew Welk, Kyle Bertsch and Retta Killens, Kayla (Les) Voudrie; great-grandchildren, Ashley, Issac, Ryleigh, Annaley Keller, Cash and Ryley Bertsch, McKenzie and Dylan Silha, Austin and Madyson Voudrie; and the remaining survivors of the John and Barbara Welk family.
She was preceded in death by her husband, Eugene; sons, Duane and Timothy; daughter, Carleen; parents, Michael and Elizabeth; in-laws, Barbara and John; 14 brothers and sisters; and other members of the John and Barbara Welk family.
The family would like to thank the Strasburg Nursing Home, Missouri Slope Lutheran Care Center and CHI Hospice for the wonderful care of our mother.