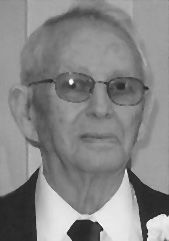 Dwayne Ellis Keith, 92, Bismarck, formerly of Mohall, died July 14, 2019, at his home.
Dwayne was born March 18, 1927, in Hoffman Township, Bottineau County, to Franklin and Alma (Roths) Keith. They moved to Brandon Township near Mohall where he attended school. In 1945, he attended UNU in Fargo, and in 1946, he attended Hansen Auto & Mechanical School.
Dwayne was united in marriage to Elaine Hanson on Dec. 28, 1947, at Trinity Lutheran Church, Tolley. They lived and farmed in Brandon Township. Dwayne supplemented the farm by working at several businesses in Mohall along with installing flooring in homes.
On Dec. 4, 1949, their daughter, Deborah Denice Keith, was born. She died Sept. 4, 1967. In 1995, Dwayne left the farm and moved into Mohall. He retired in 1998. Elaine died Feb. 26, 2010.
On Oct. 30, 2010, Dwayne was united in marriage to Joyce (Weigel) Anderson at Shepherd of the Valley Lutheran Church, Bismarck. They made their home in Bismarck after their marriage.
You have free articles remaining.
Dwayne was a member of Trinity Lutheran Church in Tolley, where he served on the board in various positions and was a longtime treasurer of the church. He also served on several boards within the community.
Dwayne enjoyed watching local sports, fishing and traveling. Dwayne spent many winters in Florida and Arizona with Elaine and later with Joyce.
Survivors include wife, Joyce Keith; her children, Peter (DeNae) Anderson, Perry Anderson, and Barbara (Mike) Swanson; sister-in-law, Audrey Keith; and several grandchildren, nieces, nephews, great-nieces and great-nephews.
Dwayne was preceded in death by his daughter, Deborah; wife, Elaine; parents, Frank and Alma; and brother, Dale Keith.
Funeral services will take place at 10:30 a.m. Thursday, July 18, at Our Savior's Lutheran Church, Minot. Burial will be at Sunset Memorial Gardens, rural Minot.
Visitation is from 2 to 7 p.m. Wednesday at Brose Funeral Home, Mohall.
Memorials are preferred to CHI Health at Home, 1212 E. Main St., Bismarck, ND 58501-4518.
To plant a tree in memory of Dwayne Keith as a living tribute, please visit Tribute Store.