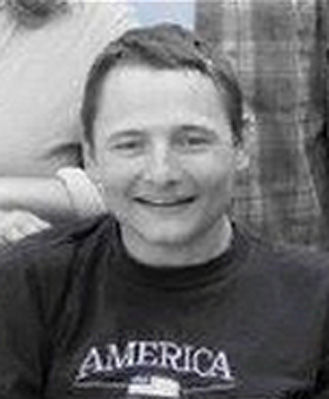 Dustin Daniel Kromarek, 35, died early Thursday morning, March 5, 2015, of heart failure and complications of muscular dystrophy.
Dustin was born in Bowman on Sept. 20, 1979. He went to school in Bowman until 1988, when he moved to Bismarck and attended Miller Elementary School, Simle Middle School and graduated from Century High School. He attended several colleges before graduating from the University of Mary.
Dusty had a rare disease called Friedreich's ataxia, which slowly causes muscles to degenerate. Although he could walk as a child, he slowly lost that ability. In recent years, he lost his vision, but that didn't stop him from memorizing hundreds of lengthy scriptures (with his parents' help) and reciting them for people. He would often ask of people if they wanted "a Word," and then give just the right Bible verse for their situation.
His brother, David, was two years older than Dusty and had the same disease, and beat him to heaven by six years. They would have wheelchair races and fights, once racing each other down a Hoover Avenue hill — once David missed his brake and ended up in the storm sewer grate, knocking a tooth out.
He never missed an opportunity to bless someone and was very generous with his meager disability income, sometimes buying meals for strangers or tipping generously — including a $100 tip to a waitress, who cried and said she'd been having the worst day ever up until then.
At one point, he was sponsoring 10 Compassion International children and often he would anonymously send flowers to someone on their birthday or anniversary, with a scripture attached. He had the Dutch Mill flower shop programmed into his phone, and would hit the number when he heard of someone hurting.
He would ask his mother to take him to street corners to evangelize in the middle of winter; sit in the middle of Wal-Mart reciting his scriptures and even though he lost his vision, he would play cards by memorizing the cards.
Three weeks ago, Dusty went to the emergency room, and asked the nurse drawing his blood whether she'd like a Word, and as he quoted Psalm 1:37, a tear formed in the corner of her eye. By the time he was done quoting the psalm, she was sobbing tears of joy and said that was just what she needed to hear.
When the doctor told him Sunday his kidneys were shutting down and his body would follow, he immediately began instructing his parents to put 10 fifty dollar bills in an envelope and give it to his oldest sister, Daryla, because it was her 50th birthday that day.
He made it clear he did NOT want to die on her birthday, and said, "I will be up and running by Thursday." He was right; he passed away at 3 a.m. Thursday.
He is survived by his parents, Larry and Sharon, Bismarck; his sisters Daryla (Mark) Schreck, Wichita, Kan., Danel Smith, Colorado Springs, Colo., D'Ette Ruggles, Bismarck, Deena (Scott) Winter, Lincoln, Neb., and Doreen (Paul) Quist, Bismarck.
A time of worship, prayer and sharing will be held at 6:30 p.m. today, March 6, at Solomon's Rest, at Fifth Street and Avenue C in Bismarck. The service will be livestreamed at www.solomonsrest.org. A celebration of his life will be held at 2 p.m. Saturday, March 7, at New Song Church, 3200 N. 11th St., Bismarck.
In lieu of flowers, please donate to his childhood friend's mission, New Hope Uganda. Give in memory of Dustin Kromarek at www.newhopeuganda.org/donate and designate donations toward "Musana Camps Cabins for Kids." (Eastgate Funeral Service, Bismarck)