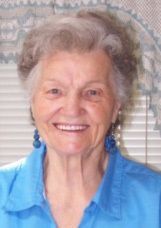 Dorothy Doris Callies Rittel Goetz, 95, Bismarck, passed away April 8, 2021 surrounded by her loving family.
A funeral service will be held 2 p.m. Saturday, April 10 at Bismarck Funeral Home with Reverend Allen Wagner officiating. Family will be receiving friends and family one hour prior to the service. Burial will be at the Fairview Cemetery. A livestream of the service will be available on the Bismarck Funeral Home Facebook page.
Dorothy was born May 18, 1925 in Madison, South Dakota, the daughter of Walter and Lydia (Bolhman) Callies. She lived and went to school in the Madison area until as a young adult she moved to Minnesota. She met and married her first husband, Reinhold (Reiny) Rittel while in Hinckley, Minnesota and began raising their family while operating a dairy and turkey farm.
Dorothy has lived in Bismarck since 1951 when the family moved here. After Reiny suddenly died, Dorothy found herself a widow with young children to bring up. For over a decade she worked at various jobs, chiefly with housekeeping or waitressing, sometimes two or three at a time, to make ends meet. She met Joseph Goetz and they later married in 1967. Joe passed away 13 years later, leaving Dorothy a widow for a second time. Because of her guidance and hard work, all eight of her children graduated from high school and college and became successful, productive adults.
Dorothy enjoyed and participated in a wide variety of interests; but her family was first and foremost. She especially liked to garden, cook, travel and fish. Her hobbies included collecting tea pots, dolls, Betty Boop memorabilia and Snow Babies.
Dorothy is survived by all her children: Darlene Rittel, Geraldine (Kevin) Krall, Georgia (Steve) Bruton, Reinhold Rittel (Marcia Barnes), Leland Rittel, Brenda (Kenneth) Norton, Mavis (Roger) Christianson, and Bruce Rittel; all her grandchildren and great-grandchildren; and her sister-in-law, Betty (Alden) Callies Bernard; along with numerous nieces and nephews.
In addition to her parents and husbands, she was preceded in death by her eight siblings and daughter-in-law, Tracy Arndt (Bruce) Rittel.
The recording of the service will be posted to the Bismarck Funeral Home website where you can also sign the online guestbook and share memories with her family at www.bismarckfuneralhome.com.