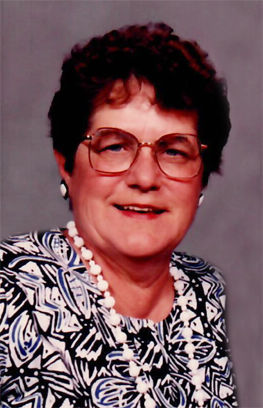 Donna Hartwig, 83, St. Cloud, Minn., formerly of Mandan and Golden Valley, passed away on Nov. 9, 2019, after a five-year battle with cancer and dialysis. She passed away at Country Manor in St. Cloud with family at her side.
A funeral service will be held 10 a.m. Friday, Nov. 15, at First Lutheran Church, Mandan, with Rev. Christina Martin officiating. Burial will be at the North Dakota Veterans Cemetery.
Visitation will be held from 5 to 7 p.m. Thursday at Buehler-Larson Funeral Home, Mandan, with a prayer service at 6 p.m. Visitation will continue one hour prior to the service at the church on Friday.
Donna was born July 9, 1936, to Gotthold and Alvina Sailer in Beulah. On Sept. 4, 1953, she married Bob Hartwig who was the love of her life. They lived the early years of their marriage in Beulah, Golden Valley, and Hazen. They moved their family to Minot in 1964 when Bob began his employment with the Social Security Administration. In 1967, Bob was transferred to Bismarck and they settled in their home in Mandan.
You have free articles remaining.
Donna had various jobs throughout her life, but the one that was the most meaningful to her was as Senior Reprographics Operator at Great Plains Synfuels Plant North of Beulah. Before her 11-year career at Great Plains, she worked several years as a switchboard operator at the Federal Building in Bismarck.
Donna loved reading, cooking, baking, gardening, and canning. She and Bob spent many hours on Lake Sakakawea fishing, camping, and boating. She adored her family and especially loved the weekend spend overs she and Bob had with their grandchildren at their home in Golden Valley. Many times, these stays were with four to five of the children all at once. There were many wonderful memories created during those visits.
A few years after Bob's death, Donna took a train trip out West to visit family. It was on that train where she met Gene Mills. This chance meeting began the next chapter of her life. Donna eventually moved to St. Cloud to be closer to Gene where she was instantly adopted by his family. After Donna became sick, Gene was not only her friend and companion, but also a devoted caregiver until her death.
Donna is survived by her six children, Cheryl Conitz, West Fargo, Brion Hartwig, Tempe, Ariz., Bruce (Pam) Hartwig, Carmen (Tom) Miller, and Robert Hartwig, all of Mandan, and Cindy (Mark) Muhlhauser, Strasburg; two brothers and sisters-in-law, Donald (Darlene) Sailer, Vancouver, Wash., and William (Deniece) Sailer, Cando; one sister and brother-in-law, Rosalie (Milton) Unruh, Palm Desert, Calif.; in-laws, Duane (Donna) Hartwig, Beulah, and Jim (Arlene) Bentley, Escondido, Calif.; ten grandchildren, Michelle Hartwig (Caleb Donaldson), Brion Jr.(Melissa) Hartwig, Justin (Bridgette Knudson) Hartwig, Alexandra (Matt) Kranzler, Scott (Lindsey) Miller, Ben (Amy) Miller, Amanda (Jeremy) Kraft, Megan (Casey)Perry, John Muhlhauser, and Tatum Hartwig; eleven great-grandchildren; and many nieces and nephews.
She was preceded in death by her husband, Bob; parents; baby brother, Allen; sister, Jeanette Bentley; niece, Tracy Maxwell; sister-in-law and husband, Betty (Herbert) Frank; and brother-in-law, Keith Hartwig.