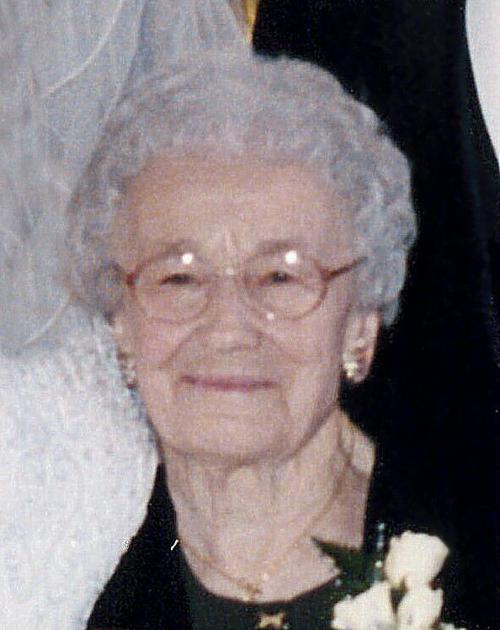 Catherine "Katie" Feist, 99, Zeeland, died Dec. 6, 2019, in the hospital in Wishek. Mass of Christian burial will be held 10:30 a.m. Monday, Dec. 16, at St. Andrew's Catholic Church, Zeeland, with Rev. Neil Pfeifer officiating. Burial will be in St. John's Cemetery, Zeeland. Visitation will be from 2 to 4 p.m. Sunday at the church where a prayer service will be held at 4 p.m. Visitation continues one hour prior to the service at the church.
Catherine was born Oct. 9, 1920, in Hague, the daughter of Adam and Eva (Pfeifer) Hulm. She attended rural school. Catherine married Bernard (Ben) Feist on Nov. 14, 1944, at St. Mary's Catholic Church in Hague. They made their home on a farm near Zeeland.
Catherine was devoted to her faith and her family. She was a member of St. John's Catholic Church, north of Zeeland, and later St. Andrew's Catholic Church in Zeeland. She was also a member of the St. John's and St. Andrew's Christian Mothers.
You have free articles remaining.
She enjoyed gardening, cooking, baking and mowing the grass on her lawn tractor. She was an amazing woman who showed us all how capable one can be, even at advanced age with physical challenges.
Catherine was grateful to share her life with her husband Ben, her four sons and two daughters-in-law: Joseph (Joe) and Debby, St. Cloud, Minn., Jerome (Jerry) and Judy, Bismarck, Rodney, Zeeland and Alvin (Al), Bismarck. She was blessed with four grandchildren, Jeffrey Feist, Julie Henderson, Michelle Ottmar, Andrew Feist, and seven great-grandchildren. She is also survived by her two brothers-in-law and two sisters-in-law: Victor and Lucretia Feist, Zeeland, and John and Josephine Schatz, Bismarck.
Catherine was preceded in death by her husband, Ben, in 1975, two baby girls, Josepha and Mary, her parents, two sisters Cecelia Baumgartner and Frances Johs and four brothers Anton, Frank, Andrew and John.
Arrangements are held with Myers Funeral Home, Linton.
To plant a tree in memory of Catherine Feist as a living tribute, please visit Tribute Store.