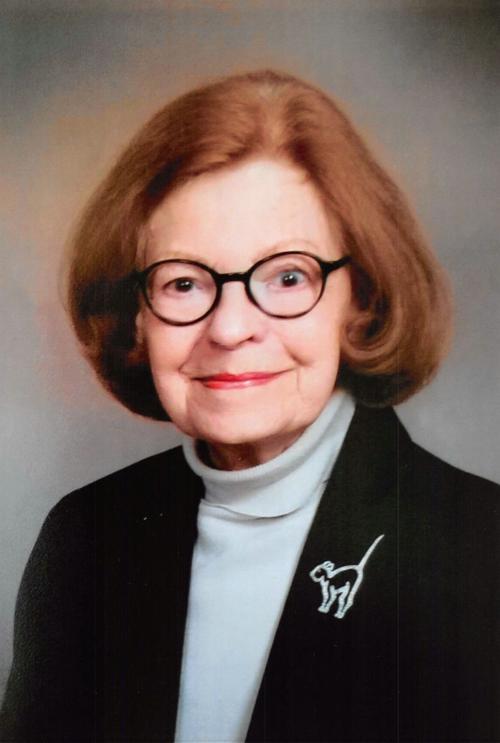 Barbara Peterson Larson, 90, died July 16, 2019, at a Bismarck hospital.
A memorial service will be held at 11 a.m. Friday, Aug. 16, at the First Presbyterian Church, 214 E. Thayer Ave., Bismarck.
There will be no visitation, cremation has taken place. Interment will be at Rosehill Memorial Cemetery in Minot.
Barbara was born in Kenmare on July 19, 1928, to Harry and Althea Preston. She attended school in Kenmare, then graduated from Williston High School in 1946 after moving there with her parents. She was a member of the Kappa Alpha Theta sorority at the University of North Dakota, Grand Forks. While a student there, she met her future husband, Kermit S. Peterson. They married in 1949 and made their home in Minot. Kermit died in 1966. In 1976, Barbara married Harvey C. Larson and moved to Bismarck, where she lived until her death.
In both Minot and Bismarck, Barbara was engaged in many social and community activities. She was a member of PEO, Fortnightly Club, an investment club, and gourmet club in Bismarck. She served as an elder in the First Presbyterian Church of Minot and later the First Presbyterian Church of Bismarck. For many years she worked as an aide during the North Dakota legislative sessions. She was active in the Minot Republican Women's Club and served as a delegate to the 1968 Republican National Convention. She was a past-president of both the Minot Symphony League and the Bismarck-Mandan Symphony League. With her close friend, Helga Gonzalez, she complied and edited "The Prairie Collection Cookbook" as a benefit for the Bismarck-Mandan Symphony.
For more than 50 years, she spent the summer at her cottage on Lake Metigoshe in the Turtle Mountains. Her Fourth of July parties, with a patriotic program followed by food and fireworks, were a highlight of each summer. She loved playing bridge, especially with her Down One Bridge Club at the lake. Throughout the summer she enjoyed visits from her children and, for many years, her sister-in-law, Anna Delson. At the end of each season Barbara made chokecherry jelly from hand-picked berries. In 2018 she entered her jelly in the Bottineau County Fair and was awarded a blue ribbon.
You have free articles remaining.
Barbara enjoyed discovering new cultures and cuisines and traveled extensively around the world. Here first trip abroad was to Europe and Iceland in 1961 with Kermit. This was followed by many trips with her friend Mary Brosnahan, including one trip to China not long after it opened to tourism, and trips with Anna and with her children. She also loved cooking and entertaining, was an early fan of Julia Child, and enjoyed reading cookbooks and trying new recipes. In recent weeks, she worked on perfecting her lemon meringue pies.
Barbara was an avid reader and had an unbounded zest for life to her last day. She will be deeply missed by those who shared in her life.
She is survived by her children, Stefan (Shanti), Eden Prairie, Minn., Sarajane (Nicholas) Woolf, Santa Barbara, Cali., Seth (Jane), Bismarck, and Sabin, Crystal, Minn.; her grandchildren, Katie (Patrick) Meier and Emma Peterson, both of Bismarck; step-grandchildren, Vishant (Emily) Shah; great-grandchild Sahil, of Memphis, Tenn., Kathryn (Brian) Shah; great-grandchild, Sidney of Santa Barbara, Calif.; sister-in-law, Anna Delson, New York City; and her four nieces.
Barbara was preceded into death by her parents; her husbands, Kermit S. Peterson, Harvey C. Larson; her step-grandchild, Benjamin Woolf; and her beloved pets—her schnauzer, Conrad, and her cats, Grover and Jelli.
In lieu of flowers, the family suggests memorials to the First Presbyterian Church Child Care in Bismarck of the charity of your choice.
(Eastgate/Parkway Funeral Service, Bismarck)
To plant a tree in memory of Barbara Larson as a living tribute, please visit Tribute Store.