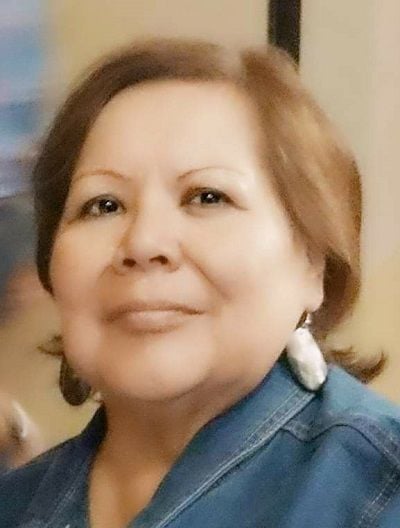 Barbara Bear, 68, "Mana Se' Wehinu Mihe" (Spring Willow Woman), passed away with her family at her side on Feb. 8, 2020, at a Rochester, Minn., hospital.
Barbara Rae Bear was born on Sept. 22, 1951 in Riverdale to Elizabeth Parshall and Lloyd Howard. She received her formal education at Chamberlain and Stephan, S.D., Catholic schools. She graduated from high school in 1969, at the age of 17, and went on to pursue a business certificate at El Cerrito, Calif. She also attended Bismarck State College, majoring in criminal justice.
Barbara held several prestigious secretarial positions, such as in the U.S. Federal Office in Bismarck; Owens Valley Planning in Bishop, Calif.; Horace Mann Elementary School in Rapid City, S.D., and was most proud to have worked under Carl Whitman. Barbara's career span with the MHA Nation was over 25 years and ended with her retirement on April 29, 2016.
On Oct. 18, 1990, Barbara was united in marriage to James Bear and they shared the love of traveling, movies, and music. She was a loving mother to her only child, Shawn, and adored and doted on her two granddaughters, Keelia and Taya. Barbara took pride in all their activities and would often say "my babies are my life." Her charm and smile would enlighten any given moment, just like her love for extended family and friends. She was a true "Momma Bear" to those who loved her.
Barbara leaves behind many to cherish her memory including her daughter, Shawn Charging (Brent); nephew-son, Travis Parshall; sister, Jackie Parshall (Bill Halsey); brother, Russell Parshall; special granddaughters, Keelia Elizabeth and Taya Leotie Charging; maternal aunts, Truby Stiff Arm and Renita Mandan; maternal uncle, Albert Little Owl; paternal aunts, LaVonne Bruce and Ada Crows Breast; paternal uncle, Waldron Crows Breast; and numerous cousins, nieces, nephews and grandchildren whom she loved dearly.
You have free articles remaining.
Barbara was preceded in death by her husband, James Bear; mother, Elizabeth Parshall; father, Lloyd Howard; sisters, Merle Feather Henke and Paula Parshall; brothers, Wayne "Boots" Howard, George "Troy" Parshall and Melvin Henke.
Funeral: Saturday, Feb. 15, at 10 a.m. in Parshall-Lucky Mound Veterans Memorial Hall, Parshall.
Wake: Friday beginning at 5 p.m. in the memorial hall.
Family and friends gathering: Friday from 2 to 4 p.m. in Langhans Funeral Home, Parshall.
Interment: Memorial Congregational Cemetery, rural Parshall.
(www.langhansfuneralhome.com)
To send flowers to the family of Barbara Bear, please visit Tribute Store.