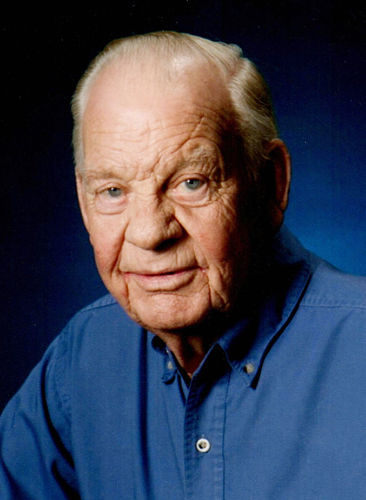 Arlow Nelson, 92, Mandan, passed away Nov. 26, 2019, at Sanford Health in Bismarck.
A funeral service will be held 2 p.m. Tuesday, Dec. 3, at Buehler-Larson Funeral Home, Mandan, with Rev. Gene Anderson officiating. Burial will follow at Mandan Union Cemetery. The family will greet friends at the funeral home from 12:30 p.m. Tuesday until the time of service at the funeral home. 
Arlow was born Aug. 4, 1927, in Forman to Charles and Amelia (Lebakken) Nelson. He was raised on the family farm and attended grade school at Rutland Consolidated. After his schooling, Arlow served in the United States Army from 1946-47 where he was stationed at Fort Myer in Virginia. On June 23, 1951, he married the love of his life, Mary Prim, in Flaxton.
You have free articles remaining.
Arlow worked in Fargo for Gust Olson Concrete Company and later delivered fuel for Standard Oil out of the Moorhead terminal. He transferred to Jamestown in 1954 and worked as a terminal operator and truck driver for 22 years. Arlow pursued an opportunity to further his career with Standard Oil (Amoco) in 1976 when he transferred to Mandan to become head pipeliner. He retired in 1987 after 36 years with Standard Oil (Amoco).
Arlow loved pitching horseshoes and won many tournaments, including the World Horseshoe Tournament in his class in Bismarck in 2000. Arlow and a couple horseshoe buddies oversaw the proper construction of the horseshoe courts at Sertoma Park in Bismarck. After the construction, Arlow proudly spent time maintaining these courts. He was also an accomplished bowler where he won the Bis-Man City Tournament in 1981. Arlow had many other hobbies which included playing various card games (pinochle, gin rummy, and especially cribbage), shooting pool, and he was also a talented singer and guitar player.
Arlow was a proud and meticulous man. He upheld the Nelson family value of "here's the work - get it done." Arlow was never one to sit still and was fiercely independent, living alone and taking care of himself, home, and yard. He had a "fixer" attitude and found a way to adapt and overcome any obstacles he faced. Arlow and his beloved Mary loved to spend many hours waltzing around the dance floor. Arlow loved all sports but was especially a devoted Twins fan. Arlow had a witty sense of humor that his family and friends enjoyed. The light of Arlow's spirit will continue to guide our paths and be reflected in generations to come.
Blessed to have shared in his life are his daughter, Carol (Barry) Beechie, Mandan; sons, Keith (Carmelle), Fargo, Bruce (Mary), Goodyear, Ariz., and Rodney (Denise), Bismarck; grandchildren, Eric (Jessie) Nelson, Ryan Nelson, and Matthew Nelson, Tucker (Kendra) Beechie, Leanne Beechie, and Cole Nelson; and great-grandson Owen.
He was preceded in death by his parents, Charles and Amelia; wife, Mary; sisters, Edna Sandness, Laura Brown, and Doris Nelson; brothers, Alvin, Raymond, Norman, Marvin, Lawrence, and Milford.
To plant a tree in memory of Arlow Nelson as a living tribute, please visit Tribute Store.