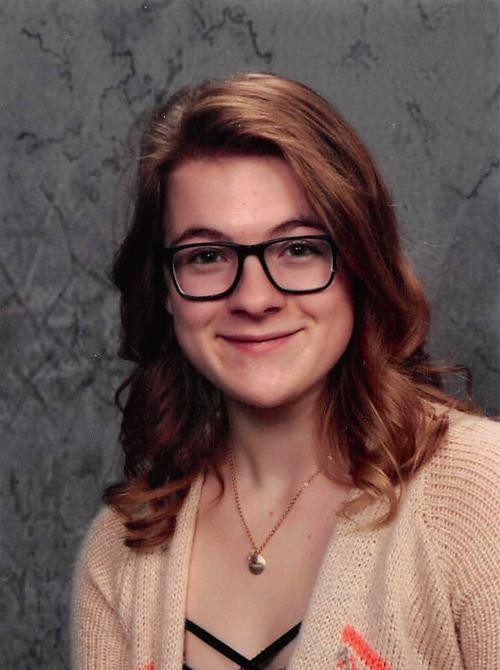 Alexis Grace Griffin, 16, passed away Nov. 28, 2019, due to injuries sustained from a car accident east of New Salem. Funeral services will be held 1 p.m. Tuesday, Dec. 3, at Evangel, 3225 N 14th St., Bismarck.
Visitation will be held from 5 to 7 p.m. Monday at Parkway Funeral Service, 2330 Tyler Pkwy., Bismarck. A prayer service will begin at 7 p.m.
Alexis was born on Feb. 28, 2003, in Bismarck to Jon and Christy Griffin. She was raised in Mandan and attended school at Roosevelt Elementary, Mandan Middle School, and was currently a junior at Mandan High School. Alexis was a straight A student and was a member of Spanish club. She also taught swimming lessons at the Mandan pool. Alexis played the alto saxophone. Being in the band brought Alexis and her mom to Ireland over St. Patrick's Day 2019. A highlight of the year was when Alexis got to kiss the Blarney Stone!
Alexis' goal after high school was to become a physical therapist.
Around the age of nine, she became a member of the Krav Maga and has since received her third degree junior black belt. She was a student leader for many years. During the summer, she worked at Mo's Snow Shack.
You have free articles remaining.
Alexis loved animals – especially corgis and always begged for one. She was the proud owner of one cow on sale day. She also loved, and sometimes tormented, her mom and sister's cats, Tigger and Rusty.
She recently celebrated Thanksgiving at her great-grandma's house and learned to play a new game. Although she just learned how to play, she already won!
Alexis loved to read and enjoyed watching Friends and SpongeBob. Alexis and her dad liked to watch Heartland together. She also loved to bake and always had the house filled with goodies. She was also an avid snapchatter.
Alexis is survived by her father, Jon Griffin, Mandan; mother, Christy Griffin, Mandan; older sister, Jadelynn Dahl, Mandan; paternal grandparents, Roger (Vicki) Griffin, Mandan; maternal grandparents, Jerry (Darlyn) Kunz, Bismarck; aunt, Amy (Andy) Richter, and their children, Joseph and Victoria; Joel (Becky) Griffin, and their children, Lily, Max, Sara, Emmet, and Mathilda; uncle, Jody Kunz, and his children, Sierra and Colton; maternal great-grandmothers, Catherine "Katie" Kunz and Dorothy Preabt; her Krav Maga family; and special friend, Chase.
She was preceded in death by paternal great-grandparents, Willard and Grace Griffin and Walter and Orlys Holm; and maternal great-grandparents, Kenny Kunz and Harley Preabt.
To plant a tree in memory of Alexis Griffin as a living tribute, please visit Tribute Store.