North Dakota could receive two COVID-19 vaccines as soon as mid-December, the Department of Health announced Wednesday.
The Pfizer vaccine could be in the state the week of Dec. 14, and the Moderna vaccine the week of Dec. 20, North Dakota Department of Health Immunization Program Director Molly Howell said.
The state is estimated to receive 6,825 Pfizer doses and 13,000 Moderna doses in the initial allocation, and earlier this week the Advisory Committee on Immunization Practices recommended that health care workers and long-term care residents be vaccinated first. There are around 70,000 health care workers and 12,000 long-term care residents in the state, Howell said.
Because there are fewer doses than people who need to be vaccinated, the state created a COVID-19 Vaccine Ethics Advisory Committee which prioritizes who gets the vaccine first. The committee created tiers among health care workers. Front line workers at referral hospitals, such as Sanford Health or CHI St. Alexius facilities, will receive the first doses in order to help stabilize the system. This first tier will also include critical access hospitals, providers who work directly with patients and workers in emergency medical services or public health who perform COVID-19 tests or vaccinations.
The next tier is long-term care residents and staff. Howell said this tier will likely be vaccinated by the end of the year.
The committee is working on who gets the vaccine after health care workers and long-term care residents. It is focusing on critical workers such as law enforcement, teachers and child care providers. People 65 and older and those at high risk for complications could follow after. These phases are not yet final.
Pfizer and Moderna have each submitted their COVID-19 vaccines for emergency use authorization. Both vaccines showed about 95% efficacy at preventing the virus. The Food and Drug Administration could approve the Pfizer vaccine on Dec. 10 and the Moderna vaccine a week later.
The Advisory Committee on Immunization Practices will meet 24 to 48 hours after FDA approval to discuss which groups should be prioritized to receive the vaccine. The vaccines would be shipped out soon after.
Dr. Paul Carson, an infectious disease specialist, said the vaccine is available so soon because the pharmaceutical companies manufactured them as they were being developed, which is not typical. He also said that even though the vaccine development process was sped up, the vaccines were thoroughly vetted. The FDA has a rigorous process to approve vaccines.
"The FDA must determine that the known or potential benefits of the product outweigh any know or potential risks," he said.
The most common short-term side effects include fever, headache, fatigue and a sore arm, Carson said. These last one to two days and are more common after the second dose. Both vaccines require two doses: Pfizer's is three weeks after the first, and Moderna's is four weeks.
The Pfizer vaccine requires ultra-cold storage around minus 70 degrees Celsius, which creates a logistical challenge when shipping or storing the doses. Sanford Bismarck and CHI St. Alexius each have one freezer to store the vaccine. Sanford can store up to 15,000 vials locally, and a CHI spokesperson said its freezer has more storage than the hospital needs.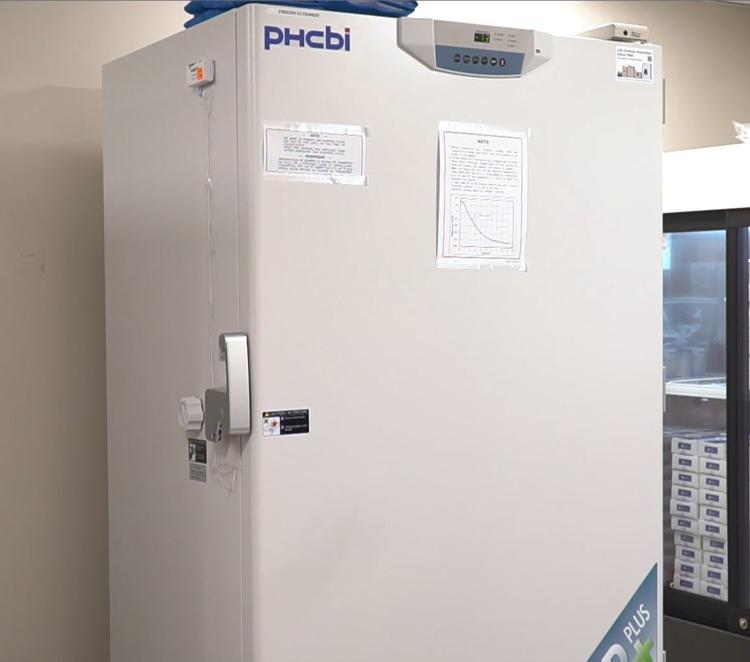 The vaccine ships in quantities of 1,000, which would be difficult for rural health care facilities to handle, Howell said.
North Dakota has a warehouse with ultra-cold storage, Howell said, which can receive the larger shipments and break them down to be sent across the state in ultra-cold carriers.
The Moderna vaccine uses frozen storage similar to the chicken pox vaccine, which many providers have, according to Howell, and comes in shipments of 100.
North Dakota will receive a weekly vaccine allotment from the federal government, which Howell said is one of the bigger challenges. The state will find out one week in advance how large the next vaccine shipment will be.
"That will be a short time period for when we need to tell providers how many doses they're going to be receiving so that they can get people registered for clinics," Howell said.
Ensuring people get their second doses could also be a challenge, Howell said. People will receive a reminder card after their first dose to make sure they receive the second. The Department of Health is also encouraging health care providers to schedule second-dose appointments when someone receives the initial dose. 
Active cases drop
The number of active COVID-19 cases in North Dakota has dropped for the 10th day in a row, the Department of Health reported Wednesday.
The state's active case count stands at 5,236, which is down 450 from the day before. Carson said Wednesday he believes more North Dakotans have been wearing masks in the last two to three weeks and that influenced the decline in cases.
The Department of Health also reported 12 new deaths Wednesday, including two people from Burleigh County. The remaining deaths reported were one person each from Cass, Foster, Grant, Griggs, McLean, Ransom, Stark, Stutsman, Walsh and Ward counties. Since the pandemic began, 966 people have died. 
Burleigh County reported 112 new active cases, Cass County reported 92, Grand Forks reported 18, Morton County reported 24 and Ward County reported 64. Cass County has 1,040 active cases. Burleigh and Morton counties have 1,021 combined. 
The number of North Dakotans hospitalized due to the virus also declined. The number of hospitalizations is 301, which is a decrease of 18 from Tuesday.
The department also reported 918 additional people who have recovered. A total of 73,933 people have recovered since the start of the pandemic.
A total of 5,709 tests were completed Tuesday, bringing the number of COVID-19 tests performed since the start of the pandemic to 1,153,230.