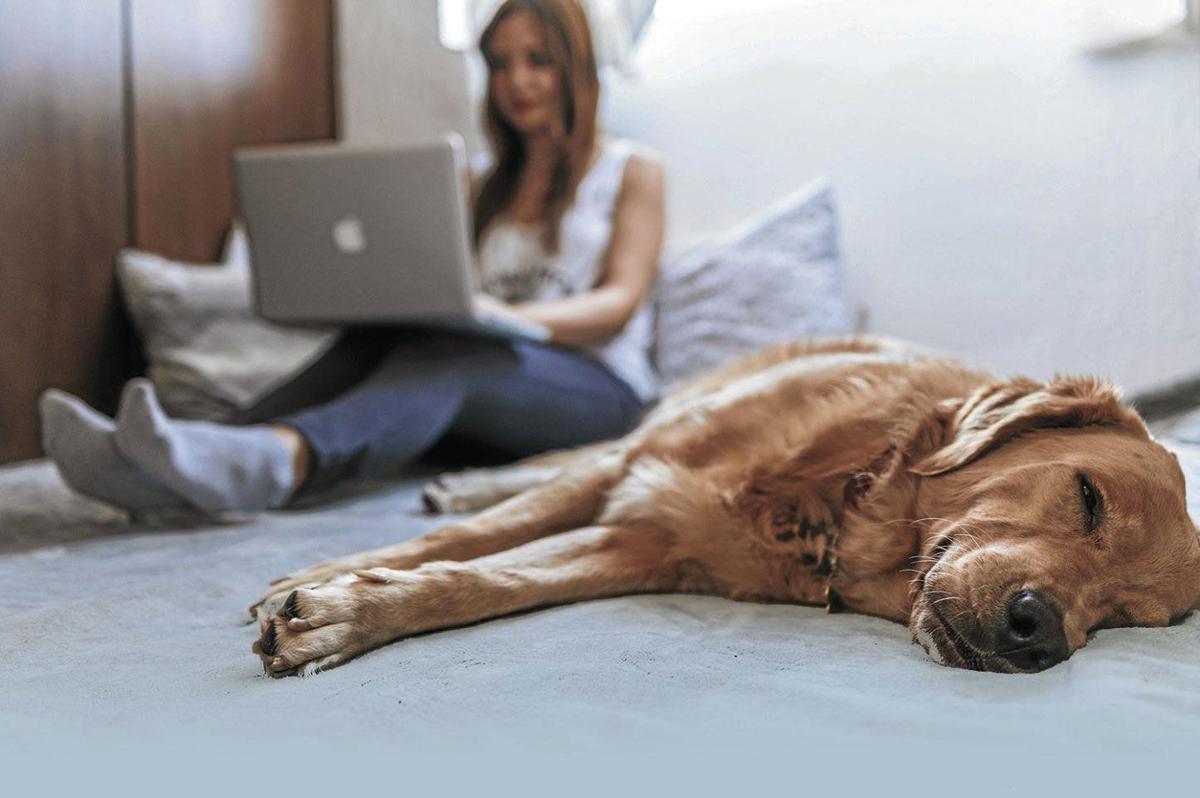 Many people are used to working from home, but for others, transitioning to a virtual workplace during this coronavirus shutdown is challenging.
I reached out to my universe of career experts for some advice on ways people who have never worked virtually can be productive, and how their supervisors can help them successfully contribute from home during the crisis at hand. Almost everyone mentioned getting dressed as if you're going into your office, maintaining a regular schedule, and setting up a dedicated work space as tasks to tackle when working remotely. As Blake Stockton, a business analyst with FitSmallBusiness.com, said, "My biggest challenge when transitioning to working at home was focus and productivity. The options for procrastination are endless."
So, what can you do beyond those basics to keep work flowing? Here are a few suggestions from industry pros:
Protect your data
"You may be safer from coronavirus/COVID-19 at home, but company data likely is not," said Jonathan Stone, CTO at Kelser Corp., an IT consulting firm in Glastonbury, Connecticut.
"It's important not to save sensitive information to a personal PC," he said. "Be careful not to email sensitive info that you normally wouldn't transmit via email. If you have to email a sensitive file, delete the email afterward in case your account ever becomes compromised. If a co-worker asks you to email something sensitive, call them to double check the request is real. This is always a good idea, but especially important with a remote team."
Up your technology game
Having to use outdated technology is a top driver of discontentment for remote workers, according to Desiree Carpenter, an HR professional at National Business Furniture, a company that helps remote workers set up their spaces. "Work with your employer to ensure you have everything you need to do your job remotely," say Carpenter.
Technology to consider includes Evernote or Trello for creating shareable lists, and SharePoint, Microsoft Lync and GoToMeeting — all things that "enable teams to work cooperatively no matter how far apart they are," she said. "When connection to multiple devices is key, consider streamlining with a USB hub which provides additional ports."
Find an accountability partner
This can be a friend or co-worker from the same or even completely different fields, said Lauren Milligan, a career advancement coach and resume writer at ResuMAYDAY, who has worked from a home office since 2001.
"You and your partner will schedule formal calls — phone, Skype, Zoom, it doesn't matter — at least once a week," Milligan said. "You'll commit to completing specific activities every week, and then report your progress to your partner on the next call."
To be successful, both people must be committed to the process, pledge to make everything discussed during calls 100% confidential, and agree that each call will be divided evenly.
Use the Pomodoro Technique
Stockton of FitSmallBusiness.com said this technique helped him surpass the amount of work done at the office. "It's very simple to follow. Work for 25 minutes, and then take a 5-minute break," he said. "Repeat four times, then take a 30-minute break. If possible, turn off all electronics and notifications during the 25-minute period." Using a tool like TomatoTimers — which Stockton describes as "a great tool to track your work time" — can help.
Tips for supervisors:
Schedule one-on-one check-in meetings
Stockton suggests doing this with every employee at least a few times a week. "It may seem formal to schedule these types of meetings, but one office aspect that is missed with virtual work is the 'water cooler talk,'" he said.
"There won't be any casual moments throughout the day to talk to employees and build a personal relationship with them. The one-on-one meetings don't have to be long — 10 minutes may be enough. Use the meetings to discuss work or simply personal things going on in the employees' lives."
Borrow some ideas
Life insurance agency Haven Life, for example, recently shifted its 250-plus team members to work-from-home status. Janna Mullane, head of people and culture, said the company now uses Google Hangouts for all meetings, tries to use video to increase connectivity with others, and updates calendar settings so every meeting automatically includes a Google Hangouts link. Haven also has increased company-wide meetings to weekly instead of monthly and sends a weekly newsletter so everyone can keep tabs on organizational news.
"As a fast-growing start-up, the People and Culture team wanted to ensure employees could still feel a sense of the company's unique culture," Mullane explains. And that means supervisors recognize and lean into the challenges their employees face.
"Normalizing kids/partners/pets talking over each other and getting interrupted — it's going to happen!" said Mullane, who said Haven is also "hosting fun activities such as a pet happy hour, where we video in and byob+p — bring your own beverage and pet."
And then there's this light-hearted look at how Amica, a Canadian senior lifestyle homes provider, has taken the opportunity to use remote working as a means of bringing their team together.
"This has involved things like taking group lunches together via video calls and doing weekly 'Cribs' sessions, where a new staff member tours the rest of the team around their home — just like the old days of MTV," a company spokesperson said.
Kathleen Furore is a Chicago-based writer and editor who has covered personal finance and other business-related topics for a variety of publications. Email her your career questions at kfurore@yahoo.com.