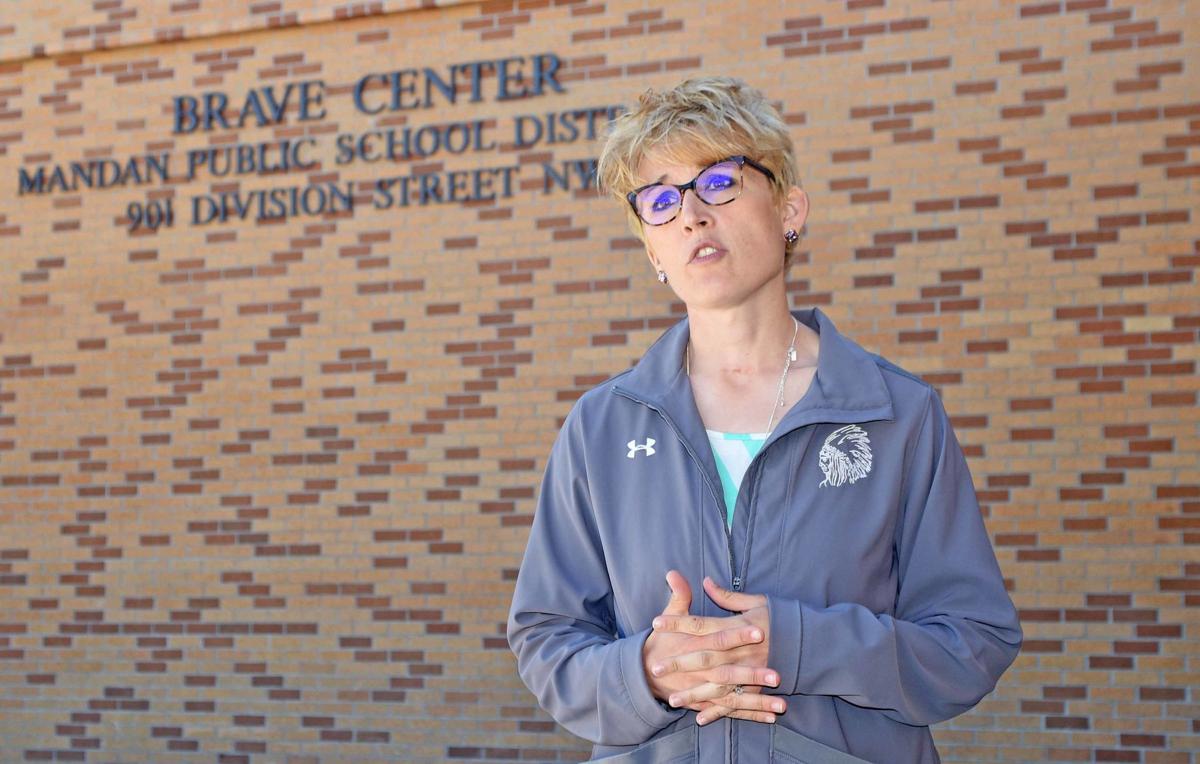 Mandan Public Schools has partnered with the North Dakota Division of Juvenile Services to launch a day treatment program as a way to provide additional support to students.
Starting this fall, students at risk of out-of-home placement such as a group home, truant students and those with a history of abuse and neglect will receive services through the district's Next Step Program.
Mandan Public Schools is a good fit for the program, as it seeks to replace placement with prevention, said Carly Retterath, the district's alternative education director. In the past 10 years, Mandan has seen a 31% increase in out-of-school suspensions.
"The more kids that we can give not just high school diplomas to but help them to deal with their anxiety issues or other things and to give them social supports and vocational skills, the better Bismarck-Mandan will be," Retterath said.
The Division of Juvenile Services has launched similar day treatment programs at other schools across the state. The Annie E. Casey Foundation first funded a model for the program in North Dakota in 1989, according to Anthony Kozojed, director of community operations for the division.
Since 1995, the day treatment programs have been funded through Juvenile Services' budget. Programs exist at middle schools in Dickinson, Jamestown and Grand Forks, as well as at an elementary school in Dunseith.
"(The program is) proven to be very effective," Kozojed said.
In the 2017-18 school year, 42% of students in the programs improved academically and 95% avoided out-of-home placement, according to data from Juvenile Services.
You have free articles remaining.
The Next Step Program in Mandan will have 10 spots for middle schoolers and 10 spots for students at the high school level. There will be space for services at Mandan Middle School and rooms set aside for high schoolers at the Brave Center Academy, which is an alternative education center.
While some students in need of more intensive support will do their schoolwork in the Next Step Program, others may spend just a few hours there each day. The goal of the individualized program is to transition them back into the general education population.
"It's meant to be transitional in nature, not a long-term solution," Retterath said.
An intake team at each school will review students for the program and make a referral. The core treatment teams will be composed of a teacher, a paraprofessional and a social worker.
The school district will hire another teacher, a paraprofessional and two social workers who will have other duties outside the Next Step Program this upcoming school year, according to Ritterath.
Juvenile Services  will provide about $285,000 each year to Mandan for the program. The school district will provide about $20,000 to $25,000 annually, according to Superintendent Mike Bitz.
Another component of the partnership with Juvenile Services is to eventually integrate students from Mandan's Youth Correctional Center into the Brave Center Academy.
The goal is to help students who attend the Marmot School at the YCC to take coursework in a more traditional school setting, to which they will eventually be released.
Officials are still working out details on how Marmot School students will be selected for the Brave Center Academy. The goal is to start bringing in these students in fall 2020 or spring 2021.