Zap is making plans to celebrate the 50th anniversary of Zip to Zap, a May 1969 event that planted a seed of notoriety in the tiny town.
The plans are to provide a little something for everyone, said Terry Barden, Zap's mayor of 13 years. There will be a 5K run, inflatables, a car show, fleischkuechle feed, food vendors and a couple bands, all easy to find if you drive down Zap's Main Street.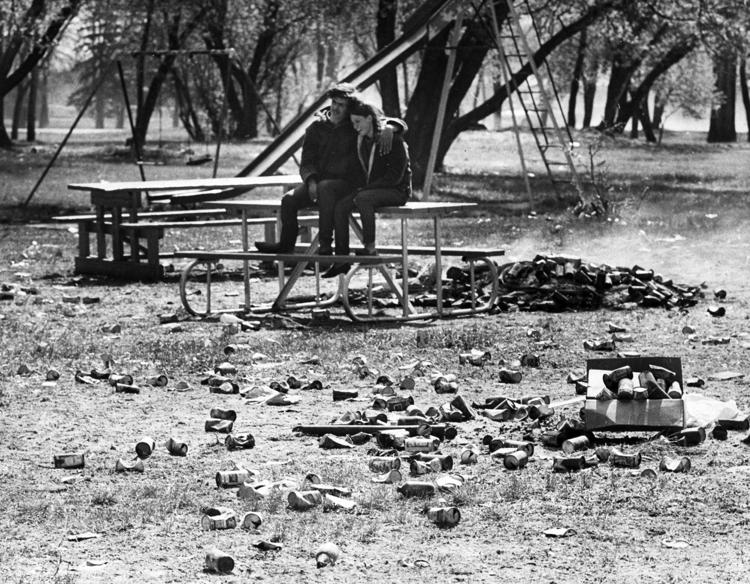 It likely will play out more mildly than the first event on May 10, 1969, one that started as an inside joke in a college newspaper and mushroomed into a crowd of a couple thousand, mostly college students, converging on the town, some getting unruly and damaging property, and getting booted by authorities before the official event started. Barden said, at celebrations marking previous anniversaries, some people raised concerns about the crowd getting out of hand.
"We've definitely got a good handle on it," he said. "There are always a few people who look back and see what happened. At the 30th and 40th, there were some people against it. But it's one of the reasons Zap is on the map."
This year's one-day event on May 11 will feature the band Shakey Jake from 4 to 8 p.m. From 8 p.m. to 1 a.m., Slamabama will take the stage.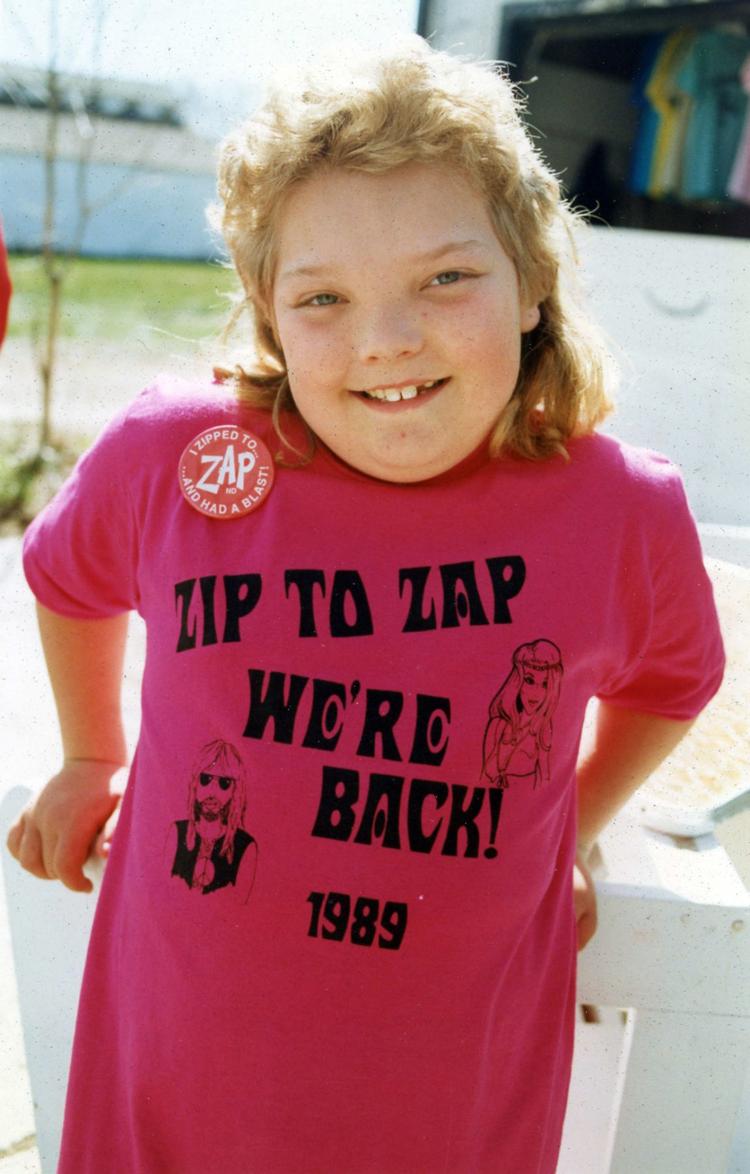 Group members planning the event aren't out to make money, though at the 30-year mark they made enough to buy a new lawn mower for the city park, according to Barden. They hope to pay their expenses, and anything beyond that is a plus.
"The city could always use a new lawn mower," Barden said.
There are several perspectives on how Zip to Zap played out in 1969. Some say it got rough rather early on Friday night, others say it was blown out of proportion. Some say Zip to Zap never happened, that it was planned for Saturday and the Friday party put an end to it.
A band known as The Tibor Brothers from Hebron saw things from a unique perspective. They had been playing in a vacant cafe in Zap for an hour or so that Friday when things started to deteriorate. Francis Tibor, drummer and oldest of the five in the band, was watching as partyers started to disassemble wooden booths, haul them out to the street and set fire to them. He told his brothers to finish the song they were playing and make an announcement.
"Tell them there's free booze next door and let's get the hell out of here," he said. They didn't bother to put their equipment in cases. They loaded it into their van and left on a gravel road.
They'd been hired by Mike Kelly, owner of the Esquire Club in Dickinson, to play the dance. Kelly expected to sell a lot of beer to the throng coming to town and had stockpiled a supply in a big garage. The swinging doors didn't lock, and he had the Tibors park the van in such a way as to block the doors and keep people out.
"The top of the van was caved in and you could see footprints," Harvey Tibor said. "They pried the doors open and stole beer."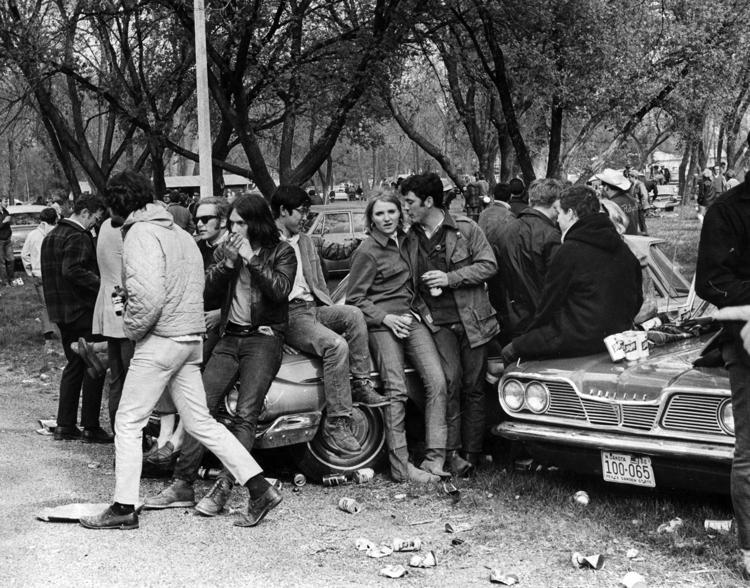 Harvey Tibor, a former U.S. Marine with a tour of Vietnam behind him, was 22 and a student at Dickinson State College. He saw classmates in the crowd that night and found out later that some saw the gathering from another point of view on Saturday.
"They partied Friday night and came back the next day as National Guard," he said.
Among those making that sweep with the National Guard, bayonets fixed but guns not loaded, was a 25-year-old named Al Jaeger, now in his 27th year as North Dakota's Secretary of State. He was a teacher in Killdeer at the time and was called to Bismarck for a Friday night drill. He and others in his unit were trucked to Beulah, where they stayed in a hotel. Early the next morning, they entered Zap from the northeast.
"I was part of the invasion force that freed the city of Zap from the tyranny of college students," Jaeger said.
Playing a major, if partly accidental, role in the 1969 event were Kevin Carvell of Mott, editor of The Spectrum at North Dakota State University, and Chuck Stroup of Hazen, student body president. Stroup was disgruntled by the idea that his parents would support his sister but not him in a spring break trip to Florida, a decision they based on academic achievement. He thought it was a good idea to have a northern gathering a few weeks before graduation. He relayed his story to someone at the Spectrum.
Carvell picked up on it. He'd written a few controversial pieces for the paper and was feeling the stress of having guided it through a sort of cultural change. That led to the idea of a staff picnic, a chance to unwind when the weather warmed a bit. When Stroup suggested Zap, mostly because of its unique name, the staff started "slyly promoting it," Carvell said, with inside jokes in 5-point type in the masthead. Someone placed some classifieds, too, and word got out. At a weekly Spectrum staff meeting, it was mentioned that members of one of the NDSU fraternities were going. So too was the vets club. And the football team.
"Now it's not a private joke anymore," Carvell said.
After a weekend trip to Zap to reconnoiter, he put together a tongue-in-cheek story about the event. It ended up on the Associated Press national wire.
"The cat is completely out of the bag at that point," he said.
Carvell resigned his position at the Spectrum and left NDSU, a decision made for academic reasons, and headed back to Mott to work in his dad's drug store. Before he went to Mott, he stopped at several colleges in western Minnesota and across North Dakota to put up posters about the Zap gathering. He also met with college newspaper editors.
The gathering was scheduled to start Saturday but heated up on Friday night. Carvell was still there Saturday morning.
"A friend of mine nudged me and said the Army's here," he said.
The fire the Tibors saw on Friday night was started by a group of veterans, said Don Homuth, Carvell's successor at the Spectrum. They were upset about the price of beer going from 25 cents to 50 cents, and after doing some damage in the building, they started the fire to stay warm. Some relieved themselves on the fire and the whole thing was "moderately rowdy," Homuth said.
"They'd done worse things in Vietnam and Germany," he said.
Once the fire was out, the partyers were drunk and tired, and by the time the National Guard came in a few hours later, everything was quiet, Homuth said. He still believes National Guard officials pressured Zap Mayor Norman Fuchs into giving the OK for the Guard to move in. The only thing that resembled a riot, he said, was the panic of the college students as they hurried to get out of town.
Stroup agrees. If he could go back, he'd tell the National Guard to settle down and have a good time.
"Close the bar, put out the fire, peace and harmony will prevail," he said.
The National Guard came in from several directions. The partyers left, and word went out over KFYR radio that it appeared they were going to Beulah, Jaeger's hometown. The Guard moved them out of there, Jaeger at one point walking right past his former barber as they made their sweep, and the partyers made another stop in Hazen only to get ousted again. They finally wound up in Bismarck's Riverside Park.
Carvell said he's a little embarrassed by his part in the event, even though Homuth has tried to persuade him that he shouldn't be.
"I have across the years consistently said 'you and I were involved in one of the funniest things that ever happened in North Dakota,'" Homuth said.
Homuth worked at KXMB in the early '70s, worked on projects involving two state schools, worked for a community action group in Minnesota and served as a North Dakota state senator. He lives in Oregon.
Carvell later finished college and for nine years was a reporter and editor at the Fargo Forum. He taught journalism at the University of North Dakota for a year, then worked for Sen. Byron Dorgan at his Fargo office for 23 years. He moved back to Mott about eight years ago.
Stroup worked in the banking industry, was with the department of economic development and finance during the Gov. Ed Schafer administration, and at one point chaired the state board of higher education. Stroup, Carvell and Homuth are military veterans.
All three expect to be in Zap in May.
"At our age, we don't know where we'll be in 10 years," Stroup said.