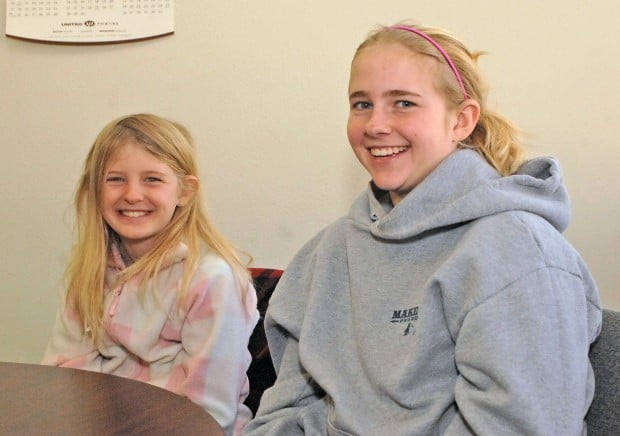 Saje Beard has had a few adjustments to make this year.
It is her first year attending classes at Wachter Middle School after going to Manning School, a country school near her home 15 miles southeast of Bismarck. Many of those days, she rode to class on a mule or on horseback.
Now she is going to have to adjust to being known as an experienced mountain lion tracker and hunter.
The petite blue-eyed, blond-haired 15-year-old shot her first mountain lion Dec. 18 near her home. It was a dandy — a 122-pound male that biologists estimated to be 3 years old.
Saje said it was quite an adventure that started after a phone call from her neighbor, Billy Woodworth.
The Woodworths looked out their sliding glass door that Saturday to see the cat looking back at them from 30 feet away.
Marty Beard, Saje's father, has hunted mountain lions, raccoons and other furbearers with his hounds for most of his life.
The dogs are treeing walkers, a type of coonhound descended from the English foxhound.
After getting the call, Saje said, she and her father gathered up the hounds and went to Woodworths' farm about a mile away.
Mountain lion sightings in this area have been more common in recent years. The Missouri River corridor is prime habitat for the cats as they move out of the Black Hills of South Dakota.
Mountain lion season in Zone 1, which includes the Badlands, closed in November after the quota of 10 animals was reached.
The season in Zone 2, the remainder of the state, has no quota and closes March 31.
Marty Beard said it didn't take much for the dogs to pick up on the fresh scent that Saturday.
Saje said she has been tagging along with her dad on coon hunts from when she was old enough to walk, but this was her first mountain lion hunt.
An experienced deer hunter, Saje shot her first whitetail buck last year on the last day of the season; it measured a decent 5x6.
"I think I was more excited to shoot the mountain lion," she said. "I wanted to get him mounted instead of the buck."
About a half hour after she and her father released the hounds, trailing them through the woods in McLean Bottoms, they knew the dogs had the mountain lion, Saje said.
You have free articles remaining.
"I told Saje they had him at bay on the ground," Marty Beard said, "but by the time we got over the next hill, they had him treed."
A treed or cornered animal can be dangerous, so there were a few details to go over before taking the shot, Marty Beard said.
If the mountain lion jumped from the tree — a big cottonwood in this case — the dogs would be on it and anything could happen.
"And this one was ready to jump," he said.
Then things happened fast, Saje said.
"Dad told me 'OK, don't shoot me or the dogs,'" she recalled.
Her father then gathered up the dogs and started to tell her to cock the hammer back on the 30-30 Winchester, aim for the head and squeeze the trigger, she said. He did not get that far.
"He didn't get most of the sentence out," Saje said.
Anyone, most especially a 15-year-old, would be thrilled at such a hunt. Saje said she wasn't prepared for the notoriety that came with shooting a mountain lion that weighed as much as she does.
Turns out neighboring ranchers have had problems with the cat in recent months, including a confirmed calf kill and one report from a woman out walking her dog in the Briardale area, Marty Beard said.
The day after she shot the animal, Saje said, 40 neighbors visited to see the big cat and congratulate her.|
"One lady gave me a big hug and thanked me for saving her life and one man said 'Thank you; it's been around here so long we're sick of it.'"
So for a 15-year-old girl who spends her spare time team roping and shoeing horses, shooting a mountain lion ranks right up there with taking third this year at the Wrangler Team Roping Finals in Billings, Mont.
"My first thought was, 'It's huge,'"she said. But there was more to it than that, she said.
"Our family and the Woodworths have been hunting together down here for generations," she said.
"Billy's grandfather and my great-grandfather hunted together ... and I actually got to shoot him (the lion) with my great-grandfather's gun," she said.
"That makes it even more exciting."