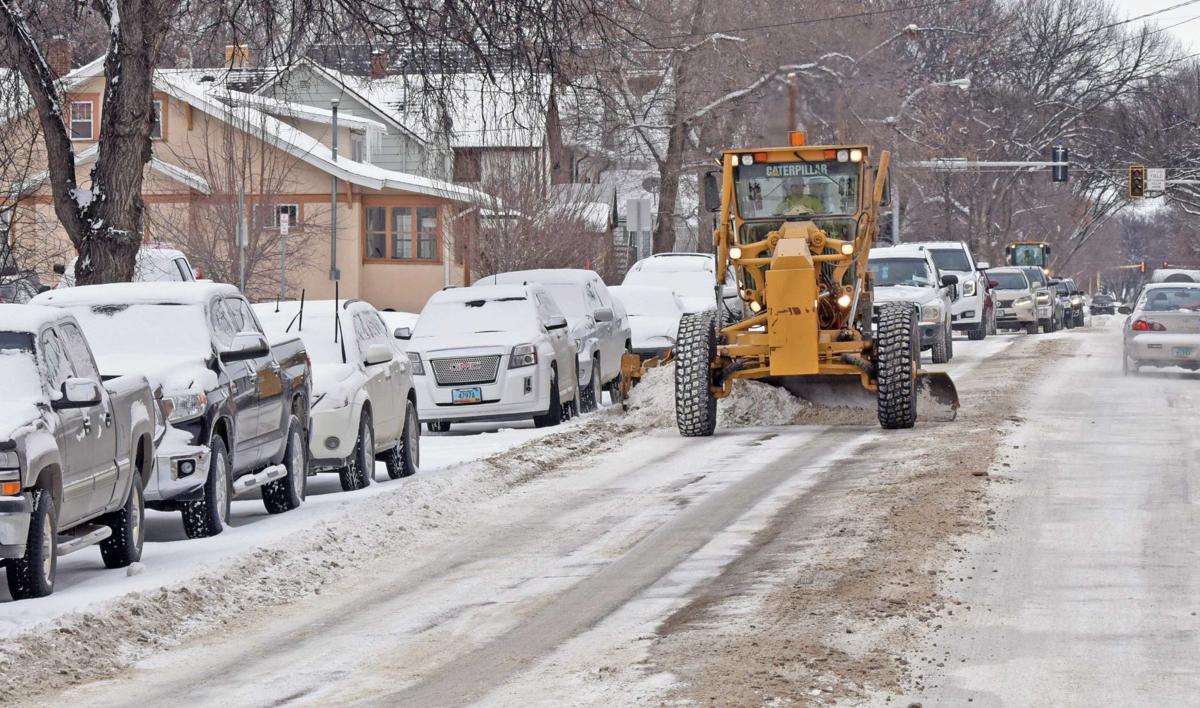 Bismarck has expended roughly $700,000 this winter for snow removal operations and expects to reach $1.3 million — the city's average cost — by the end of the 2018-19 snow season.
"I think we're in a good position right now, unless we get clobbered in March," said Jeff Heintz, director of Bismarck Public Works Service Operations, at Tuesday night's city commission meeting.
Most problematic this year, according to Heintz, is the buildup of ice on roads. He says 6.4 million pounds of sand has been applied to city streets, so far, this winter.
"As we plunged into subzero temperatures in February, it was very difficult to remove the ice. The salts we use don't work well once you get below about 18 degrees," he said. "We try to use sand to grind the ice off. That's really about all you can do.
"When you put sand on glare ice, it blows off. It doesn't want to stay where it's placed," he said. "And so passing cars and motor vehicles end up moving the sand away and you have to continue to reapply it."
The city recently applied a chemical capable of melting ice at temperatures as cold as 13 degrees below zero to its snow emergency routes, including State Street.
Heintz said the city aims to provide safe driving conditions for the public while causing the least amount of damage to the environment.
"We try to be very careful with the application of these products. These are put on primarily the emergency routes or at an intersection where we've got problems," he said. "It becomes much more expensive when we have to do it this way, of course, but it is a tool in the toolbox."
The city has hauled 2,200 truckloads of snow this season, compared to 22,657 in 2016-17.
It takes 24 to 36 hours, on average, to plow the entire city following a "normal" 4-inch snowfall, Heintz said.
Bismarck's divided into seven plow zones, each equipped with a motor grader, front-end loader and sander to fight snow and ice.
"Each zone was set up so we had a similar number of miles in each zone so that each fighting team would hopefully be done about the same time," Heintz said. "As the city grows, we tend to readjust those zones so we don't have one taking much longer than the others."
Bismarck has 54 center-lane miles of snow emergency routes, which take top priority when it comes time to plow. These roads, including State Street, Bismarck Expressway and Divide Avenue, are cleared after the accumulation of 2 inches of snow, Heintz said.
The city's second priority is major arterial and school routes, of which there are 61 center-lane miles, followed by residential and downtown streets which make up 235 miles.
"We don't typically plow the entire city just when we get a little skift of snow," Heintz said. "Two inches or so, we'll get into those emergency routes, but it needs to get up to about 3.5, 4 inches or a 4-inch accumulation over a number of days before we even consider going into residential."
Truck plows are used on snow emergency routes because they move faster than motor graders and front-end loaders, Heintz said. The use of snow gates is required in residential areas, however, and truck plows can't be equipped with them.
"To be honest with you, we could plow this city in half the amount of time if we just used truck plows," he said. "But we can't put a snow gate on a truck plow, so either we get it done quicker or we have a lot of snow in your driveway."
The more snow to be moved, the less effective snow gates are, according to Heintz.
"After about 6 inches, the snow gate doesn't really hold the snow back anymore … that snow fills that gate up and then pretty soon it's either boiling out in front of it, around the gate or over the top of the plow and over the gate," he said, noting the city declares a snow emergency and does not use snow gates after the accumulation of 10 inches or more.
Several commissioners commended Heintz and crew for the job they've done keeping Bismarck's roadways in safe driving condition.
"I've heard nothing but the best results with what your crew has been doing this winter. So definitely kudos on keeping the roadways clear and safe," Mayor Steve Bakken said.