Westerly winds brought thick, fog-like smoke from Montana wildfires into the Bismarck-Mandan area and most of western North Dakota on Wednesday.
The smoke brought with it air quality issues, prompting the North Dakota Department of Health's Division of Air Quality to categorize the air as "unhealthy," which means people should stay indoors. Local meteorologists expect smoky conditions to continue, though it shouldn't be as bad as Wednesday.
"It's always hard to tell," said National Weather Service Bismarck meteorologist Alex Edwards. "Smoke likes to stick around in valleys … It's more waiting and seeing."
Bismarck Public Schools canceled outdoor recess on Wednesday and limited the duration of its after-school activities. Dickinson Public Schools also moved recess and all sports practices inside on Wednesday.
The local hospitals in Bismarck reported several people came in with smoke-related symptoms, but there was not a huge spike in hospital visits; two patients went into the CHI St. Alexius Health Mandan Medical Plaza, and a higher than usual number of patients were seen at Sanford Health for respiratory illnesses that could be due to smoke in the air, according to spokespeople for both hospitals.
As of 4 p.m. Wednesday, the western and central half of the state was colored red, or "unhealthy," on a map signifying current air conditions.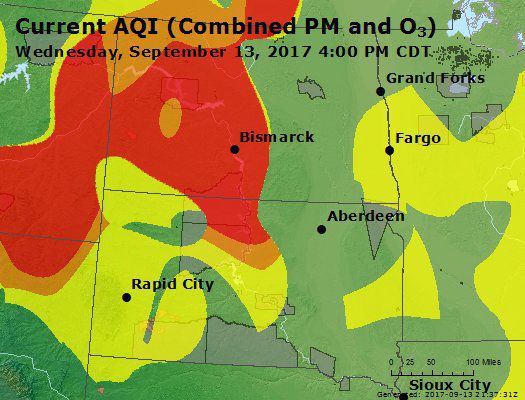 Chuck Hyatt, manager of the data collection and analysis group with the division air quality, said particulate matter, components of wildfire smoke or fine particles that can move deeply into your lungs, from Montana wildfires began dropping to ground level late Tuesday evening.
Health officials urged residents to avoid exposure outdoors when pollution levels are high. Stay inside a building or store that has an HVAC system set to recirculate, and set the air-conditioning system in a vehicle to recirculate, as well. If outside, wear a NIOSH-approved respirator mask, which can be found on the Health Department's website.
"The thing about wildfire smoke is it affects different people in different ways," Hyatt said, adding that some symptoms include trouble breathing and dry throat. "If people feel like the smoke is affecting their health, we recommend that they talk to their family physician that knows their health history and get recommendations on what to do from them."