Northwestern North Dakota overnight Thursday was hit by the state's most severe weather yet this year, with hail and flash flooding in Williston, tornado sightings in McKenzie County and extreme winds throughout the state.
Flash flooding hit parts of Williams County and appeared to be citywide in Williston where water entered residents' basements and cars were stranded in the middle of the road as the water level rose above their tires. The flooding had receded by late Friday morning.
Williams County Emergency Management Director Mike Smith said he heard reports of flooding in the streets of Tioga, a town about 50 miles northeast. Tioga saw substantial rain -- as much as 4½ inches, according to the National Weather Service.
"I've been here for six years and this is the worst severe storm I've encountered," Smith said.
The first emergency call during the storm came in from Love's Travel Stop north of Williston after part of the truck wash had collapsed, Smith said.
"The emergency responders had to slow their responses down because the hail was so intense," he said. "I couldn't see the front of the hood of my truck."
Large pellets of hail hammered the Williston area, some as big as 2½ inches in diameter, Smith said. Two house fires broke out during the storm on the outskirts of Williston, requiring firefighters to navigate the severe conditions. Smith said he had not received any reports of storm-related injuries or deaths.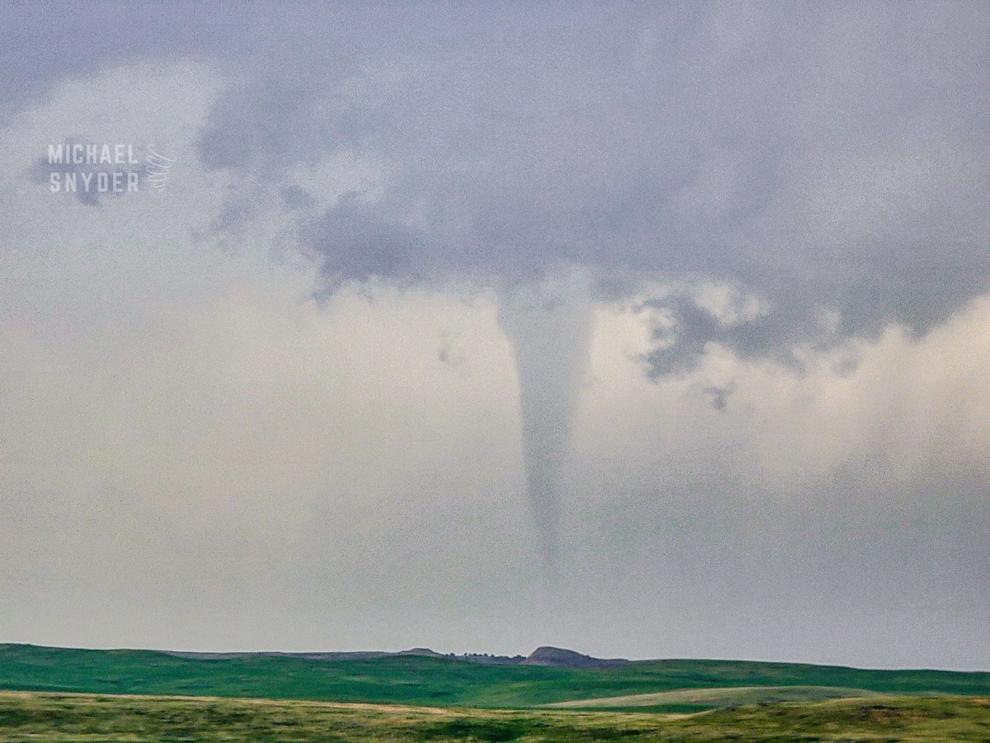 Tornado sightings
To the south in McKenzie County, two or three tornadoes were sighted near the Sather Dam south of Alexander.
One of the tornadoes was captured in the distance on a North Dakota Agricultural Weather Network camera, Director Daryl Ritchison said.
From what he saw in videos and photos, the tornadoes generally stayed in open country and the Little Missouri National Grasslands, he said. He had seen reports of damage from wind, but nothing due to the tornadoes.
McKenzie County Emergency Manager Karolin Jappe said residents she spoke with reported no significant tornado damage.
"We were very blessed, if you will," she said.
East Fairview, on the Montana-North Dakota border, had a lot more damage in Tuesday night's storm, with trees and power lines down, she said.
Jappe sent out three safety alerts to southwestern McKenzie County residents on Thursday due to the tornado threat. She called the alert system "a saving grace," especially when people are inside as a storm is building and can't hear sirens.
In 2018, a deadly tornado struck a Watford City mobile home park. Jappe said the tornado gave little warning when it struck in the middle of the night.
"Nobody saw it," she said. Most residents were asleep.
McKenzie County sheriff's deputies spread out Thursday night and watched the weather together for updates while most residents "hunkered down," Jappe said. 
She advocates people, especially rural residents, take a meteorologist's storm watchers class to recognize weather threats and be prepared.
"Those kinds of things are so important to a community, especially when you're in rural North Dakota," Jappe said. 
Strong winds
The storm system moved west to east, bringing winds as high as 60-80 mph.
Winds gusted as high as 79 mph at Long Lake National Wildlife near Moffit and 70 mph at Beulah. A pole building blew down near Steele, and power poles broke near Hebron, according to National Weather Service reports. A power line was downed in Richardton. Half dollar-size hail fell near Glen Ullin.
"The northwest really got hit much harder," Bismarck National Weather Service Meteorologist Zachary Hargrove said. "However, with the straight-line winds, it got pretty active from really the Hebron area over through the James River Valley through the night."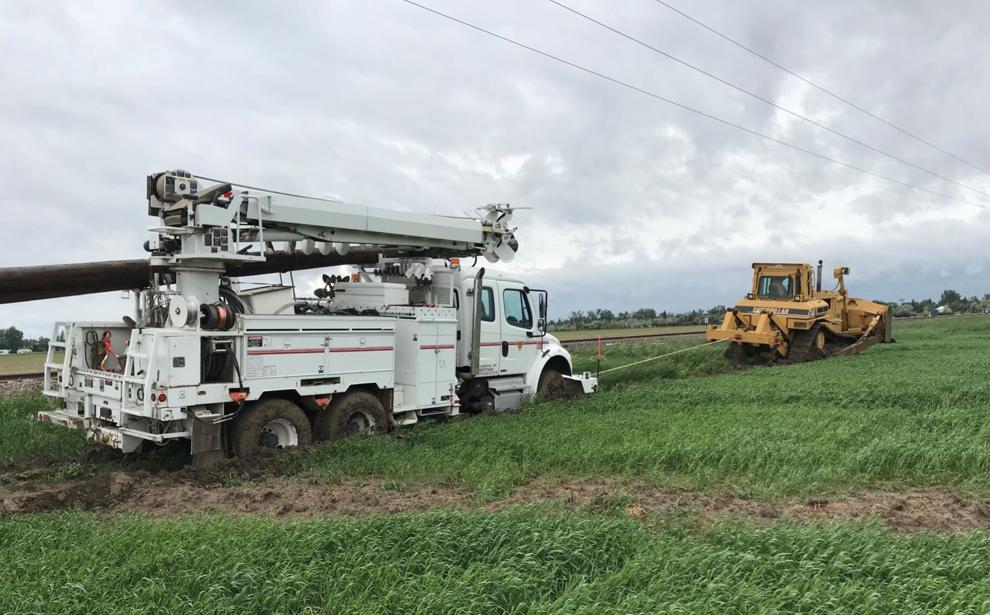 Montana-Dakota Utilities crews worked to restore electricity to 7,500 customers across the Dakotas and eastern Montana who lost power at various points during the storm due to weather-related issues such as fallen trees and branches, spokesman Mark Hanson said. Several rural electric cooperatives reported outages for their members as well.
The entirety of the eastern Montana towns of Sidney, Fairview and Savage lost power, and outages extended as far east as central North Dakota and into northwestern South Dakota.
Outages in Montana and northwestern North Dakota could take a while to restore, as MDU had to rent a piece of equipment with tracks instead of wheels to tow its bucket trucks to fixed damaged poles and lines, Hanson said Friday morning. Significant rainfall made it so muddy and wet in those areas that the trucks could not drive to the sites.
Heavy winds caused a tractor-trailer to overturn on Interstate 29 early Friday near Reynolds, the North Dakota Highway Patrol reported. The winds tipped the empty vehicle into the median, where it rested in the median and the inside northbound lane. Driver Brian Dueck, 37, of Winnipeg, Manitoba, suffered minor injuries.
"Very high winds" also lifted up a semi Friday afternoon while the driver was southbound on U.S. Highway 83, 4 miles south of Minot, according to Highway Patrol. Driver Farzad Rouhani, 58, said the empty trailer began to fishtail due to the wind, and was lifted off the ground. The semi was forced onto its side; the driver was not injured.
Rainfall
Hargrove said the storm was "our biggest severe weather event of the year so far."
Ritchison said the storm was "your typical June severe weather event in North Dakota."
The "fantastic news" of the storm is "we got a lot of rain," he added; the Weather Network has more than 160 weather stations and almost every one of them had rain.
But the rainfall varied greatly. Some soil moisture probes were saturated from the top to the bottom sensor, 40 inches down.
"We have areas now that went from bone-dry to field capacity that are 100% saturated over the course of that time frame, but it's a testament to how heavy the rain was, how quickly it came down," Ritchison said.
The severe weather came on the heels of another storm that hit the state Tuesday, washing out rural roads and damaging trees and crops.
But the state's driest areas appeared to get the least amount of rain in the last week, such as the Bismarck-Minot corridor, which got nearly 1 inch of rain. Ritchison expects the area to "dry up quickly."
"Almost everyone got rain, it was just some of the lower totals happened to be where it's the driest," he said. Most of the state received ¼-inch to ¾-inch of rain, an average weekly total for the time of year, he said.
Next week looks like it will be dry and "back to summer," Ritchison said. Some thunderstorms could occur, but not as widespread. 
"A week from now, we'll be talking about 'Yeah, we need rain again,' I think, very definitely," he said.