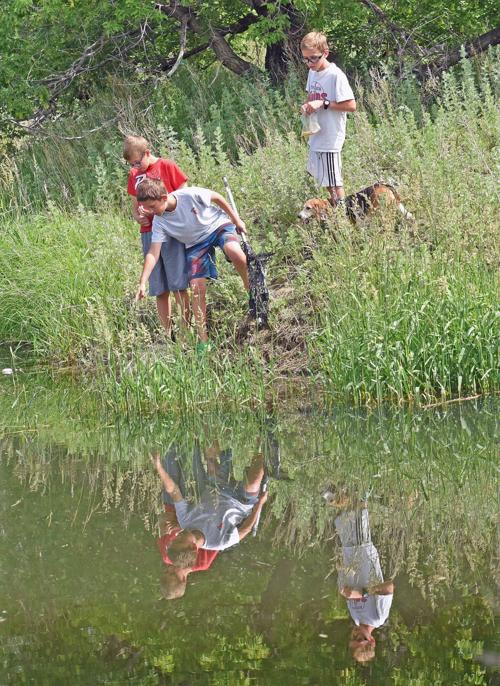 While Missouri River levels hadn't yet fully risen Wednesday afternoon, the water is coming and will surpass earlier targeted releases by the U.S. Army Corps of Engineers.
Operations manager Todd Lindquist confirmed Wednesday evening that water releases from Garrison Dam will be increased again from 52,000 cubic feet per second, equal to 388,987 gallons per second, to 60,000 cfs by Saturday. On Wednesday, the flows had reached 48,700 cfs, according to a daily report by the corps.
Just on Monday, the levels were expected to reach the 12-foot stage overnight near Bismarck, but now those water levels will reach 13 feet by Saturday, Lindquist said. 
"The increased flows from the Garrison Dam represent a real concern for downstream communities," said Sen. John Hoeven, R-N.D., on Wednesday. "We need to ensure the entire river system is being managed in a way that prevents an unexpected rise in river levels, that includes releases from Garrison Dam as well as from dams further downstream."
With the continuous flow increases, Moritz Sport and Marine in Mandan has moved its walk ramps in its three area marinas six times this season, said Gary Emter, service manager. And about three weeks ago, power was turned off to two docks in Marina Bay as the electric boxes became submerged, he said.
"It's just been an ongoing struggle trying to keep the walk ramps high enough," Emter said. "Hopefully, this is the last time we'll have to do it."
On the southern end of its Southport dock, the walk ramp is no longer accessible and Emter worries about maintaining access on the north end.
"With the steps, we're pretty limited as far as what can do there," said Emter, pointing out that all of these movements have added stress during an already busy time for the watercraft sales and service company.
Lake elevation is expected to peak near 1,852.4 feet in the next two weeks as runoff from the remaining mountain snowpack in Montana tapers off. Remaining snowpack water equivalent is less than 2 inches, the corps reported Monday.
Hoeven said Wednesday that he has been in touch with the corps.
"We're going to continue to monitor this very carefully and work with the corps both to prevent flooding but also to keep the public informed," Hoeven said.
Emter said, while there is no way to control the weather and the rain that fell over the lake this past weekend, what has been difficult is how many times the corps has readjusted its predictions.
In its two lake marinas, Lake Sakakawea State Park and Fort Stevenson State Park, North Dakota Parks and Recreation has asked owners to remove bigger boats housed there.
"Those larger boats tend to catch a lot of wind," said Assistant Director Jesse Hanson, adding that they are sitting at an even higher elevation with the raised water levels.
Along the river, Hanson said they've pulled the courtesy dock at Sanger Boat Landing near Cross Ranch State Park and boaters are warned that the higher flows will likely make launching a boat more difficult at that location. Due to the more dangerous launch conditions, Hanson said Cross Ranch has also discontinued its canoe and kayak rentals.
At Fort Lincoln State Park, no flood impacts beyond some possible groundwater seepage are expected at this time, Hanson said.
Bismarck city officials have been put on notice, as is required by the city Flood Response and Action Plan. Public Works Director Jeff Heintz said some minor preparations have been made but no major response is needed unless the river stage reaches 16 feet.
"Currently, we are in good condition," said Gloria David, Bismarck's public information officer, adding that the city was awaiting new information from the corps. "We are prepared and ready to act, if needed."
Heintz said some checks were run on the pump and gate at Tavis Road. The culvert gate on Riverwood Drive was closed to keep water to the west of that street. The same is true at Mills Avenue so the drainage ditch levels there drop.
"The big unknown is rainfall," Heintz said.
In 2011, major storms in eastern Montana dumped a season's worth of rainfall on the area in the span of a couple weeks, which pushed the Garrison Dam over its capacity.
Since then, Bismarck has constructed more protection measures. The flood also changed how the river moves water through the area, Heintz said. A deeper channel was cut, increasing the amount of water that can pass, so, at the current release rate, the river stage now is different compared to the stage during these same rates in 2011.
"Morton County officials want to assure residents along the Missouri River that residential impacts from increased flows and higher water levels should be minimal," the county said in a statement Tuesday. "Any flood concerns which may occur are anticipated to be well within local capabilities to manage. While observations of higher water and possible increases in sump pump activity may create some anxieties, actual outflows and anticipated stages downstream are not of a magnitude to translate into significant widespread impacts."
Other marina damage
Unrelated to the higher water levels, the Lake Sakakawea State Park marina sustained some damages during high winds a week and a half ago.
Cables for the marina piers were already scheduled for replacement this summer, but the wind sped up that timeline when cables attached to the bayfront pier walk ramp snapped, Hanson said.
The replacement, which requires specialty work by divers in up to 50 feet of water, will begin in the next couple of weeks and will take about two weeks to complete. Hanson said Parks and Rec is taking the added precaution of replacing all the cables in the marina. Hazen Welding is making repairs to the walk ramp.
Hanson said 29 slips were affected by the storm. The north shore pier is still functional. Every slip in the park had been reserved for the summer, prior to the current weather-related complications.