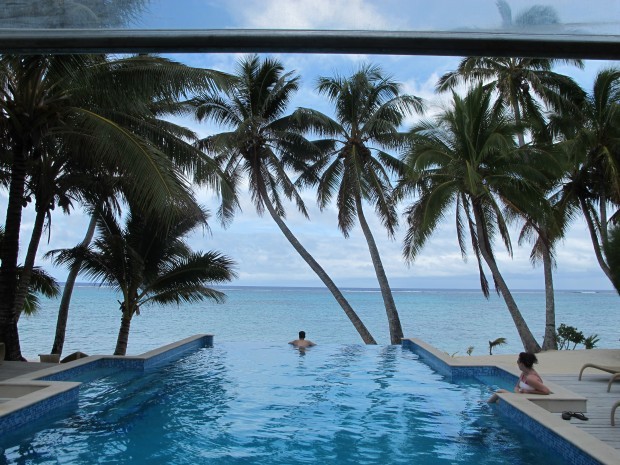 When I first got to Rarotonga in the Cook Islands this fall as a Global Volunteer, I had a couple of concerns, especially considering the Pacific Ring of Fire has been pretty active the past few years.
"Where do we go in a tsunami," I bravely asked Charlie Numanga, disaster management coordinator for the islands' Red Cross Society. "Up," he said. "Run past our Red Cross building, turn left, then right, and charge up the mountain side."
He was dead serious. Since the Red Cross was within running distance of the Kii Kii Motel where we volunteers were housed, I felt more secure about my own survival. You never know. Tsunami Evacuation Routes that dot the main roads were always a reminder. They mean business.
While helping the Red Cross move to a new building, I also learned that the biggest tsunami threat to the Cook Islands was an earthquake in the Tonga Trench, a trench I had never heard of before. That earthquake would generate a tsunami that would take about three hours to hit us. You wouldn't want to be there. We did have a drill.
In a cyclone we could go to the newly constructed Red Cross headquarters — the only cyclone safe building on the islands. Cyclones are dangerous too. Cyclone Pat in 2010 nearly wiped the breathtakingly beautiful island of Aitutaki off the map, a place I visited in 2003 to play in its translucent lagoons.
Being in the southern hemisphere, the islands' cyclone season is the reverse of our hurricane season. Cyclones and hurricanes are the same thing, they just differ geographically.
All this prompts the questions: where exactly are the Cook Islands and who are these Global Volunteers?
First the islands: A nine hour flight on Air New Zealand from Los Angeles will get you to Rarotanga, by far the largest Cook island. There's only a two hour time difference between California and Rarotonga so you don't fly as much west as you do south. The islands are part of the same South Pacific Region as Samoa, Tonga and Fiji, but north of New Zealand. Although self-governing, the nation has a strong relationship with New Zealand; islanders carry New Zealand passports and use its currency.
Fifteen islands scattered over 12,000 square miles make up the Cooks nation. Islands vary from coral atolls with their noses barely above water to volcanic Rarotonga. About half of the islands' 15,000 population live on Rarotonga.
Even with our technology, I find it totally astonishing that airline pilots can find this 18- mile-diameter of an island let alone land on it in some of the most unnerving storms. And take off. Safely.
Islanders are mostly Maori who settled there around 500 AD during the great Polynesian migration from the Society Islands. Other Maori continued on to settle New Zealand. Their seafaring skills and courage can hardly be matched. In their vakas (outrigger canoes) they navigated and sailed the open seas while the rest of our world was still hugging coastlines.
Rarotonga, a voluptuous tapestry in greens, is not only exquisitely beautiful with the requisite lagoons, flowering fragrances, and enough fruit and fish to keep you in the peak of health, you won't find a gentler, more generous, and hospitable people anywhere. Tourists are treated as guests.
They also love to dance, weave flowers, and go to church where they sing joyful and celebratory hymns. Strictly non-dirge. Six extended families have owned the land from time immemorial (outsiders cannot buy land); everyone still knows everyone. Volunteers were cautioned that whatever we say in public the entire island will soon know.
Cook Islanders also have an amazing social will. If there's a problem, they get right on it and solve it no matter how challenging. This is sometimes where Global Volunteers come in.
Global Volunteers headquartered in St. Paul, Minn.(www.globalvolunteers.org), runs volunteer programs around the world. Volunteers work as a team with a local leader for one to three weeks like I did in the Cook Islands. Some of the volunteers I got to know had previously served in Hungary, Romania, Ecuador, China and Tanzania. Our team this fall included a retired FBI agent, merchant marine, highway patrol officer, public health nurses, speech therapist, high risk obstetrician, teachers, psychologist, public health educator and a recording engineer.
Islanders passionately love their music so Ryan, the engineer, catapulted onto the concert scene helping to launch "Divas in Paradise" to say nothing of the musical nights that followed. One of my tasks was to help the mental health center staff write a grant application to the Japanese government for a respite care center.
Others gave literary assistance to school children and high school teens. Another helped disabled children with speech at the Creative Care Center.
The obstetrician, who also biked and dived, couldn't practice there without a license, but did a great deal of hospital and clinical education. He told us the islands only OB-GYN based in Rarotonga is on call an exhausting 24/7. He also said that not only does their maternal and infant care program work but that the islands have an infant child mortality rate of 7 percent, much lower than the U.S. (shame on us).
When you dig into another culture in a positive way, you get so much more than you give. The gracious Cook Islanders certainly did that for us. You learn not only to pay more attention to the human and natural wonders that surround you but to also delight in your own life while you have it.
As a footnote to this story, you should know that the Chinese government has a big presence on Rarotonga. They built three immense structures importing their own construction workers: the Ministry of Justice, Police Department, and an indoor arena. More to come?
(Carol M. Russell, MPH, was chief of program services, Tobacco Control Section, California Department of Health Services, where she oversaw the local programs and evaluation/data analysis units before retiring and moving to Bismarck. She grew up in Minot. Her brother and sister and their families live in Bismarck and Minot, respectively.)