About four years ago, twin sisters Kari Serr and Kalli Tveito rescued a dog from a high-kill shelter in San Antonio.
The dog — an Australian shepherd mix Tveito later named Roughy — was close to being euthanized, and the sisters worked quickly to find a foster home for him in Texas. Later, a friend brought him to North Dakota.
After their first rescue operation, Serr and Tveito researched euthanasia in animal shelters and were shocked at how many dogs needed to be saved.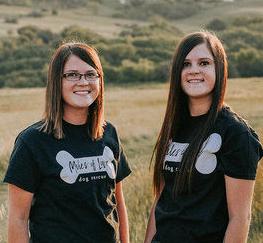 "From there, we just couldn't stop," Serr said.
The 24-year-old sisters then founded the Mandan nonprofit, Miles of Love Dog Rescue. After Roughy, they endeavored to save 30 dogs from shelters across Texas within a month. They hope to expand their reach to shelters nationwide, including North Dakota.
"That's our goal, we try to save as many shelter dogs as we can," Serr said.
Serr and Tveito said they first focused on Texas shelters because of the high euthanasia rate of pets there. In Texas, as in most states, animal shelters are allowed to euthanize cats and dogs in the shelter's custody, according to the American Veterinary Medical Association.
In 2015, they also rescued six dogs from a shelter in Shawnee, Okla., where the use of carbon monoxide chambers to euthanize cats and dogs older than 16 weeks of age is legal, according to the AVMA.
After that, they rescued 25 dogs from Texas, including Serr's furbaby, Roadie, an American Staffordshire terrier mix.
Both sisters have full-time jobs. Serr works for an insurance company and Tveito works as a cook. They take only as many dogs as they can place in foster homes or can fit in a portable building they own, Serr said, adding that their parents also help.
Their rescue operates solely on donations, and they often pay expenses, including costly veterinarian bills, out of their own pockets, Serr said.
The biggest issue for the rescue is transportation. Serr and Tveito drive their SUV to Texas to pick up the dogs, but the last time they were there they had to borrow a van from the Lamar County Humane Association in Paris, Texas, because they couldn't fit all of the dogs.
"Every time we go to Texas, we come back with more than we go down for," Serr said. "You just walk in the shelter and (the dogs) are so sad, and you pull them out and they're like new dogs. You hate to put them back in that kind of situation, so you just want to bring them with you."
Last year, Serr and Tveito adopted out 135 dogs, but they'd like to do even more. Currently, they have about 33 puppies and dogs that need homes. The sisters also advocate for responsible pet ownership and require adopters to spay and neuter at 6 months of age.
The Morton County Sheriff's Department and the Mandan Police Department have teamed up with Miles of Love Dog Rescue to collect donations and hold an adoption event next week for the organization.
"Any time we can help animals find a good home, that's always a good thing," said Morton County Sheriff Kyle Kirchmeier. "It's just another way to help out the community, and that's what we want to do."
A few officers and employees at the sheriff's department foster dogs for Miles of Love, Kirchmeier said.
The sheriff's department will be co-hosting a Valentine's Day event, "Dogs and Deputies/Puppies and Police," at the Morton Mandan Law Enforcement Center. Guests will be able to meet officers and see puppies available for adoption.