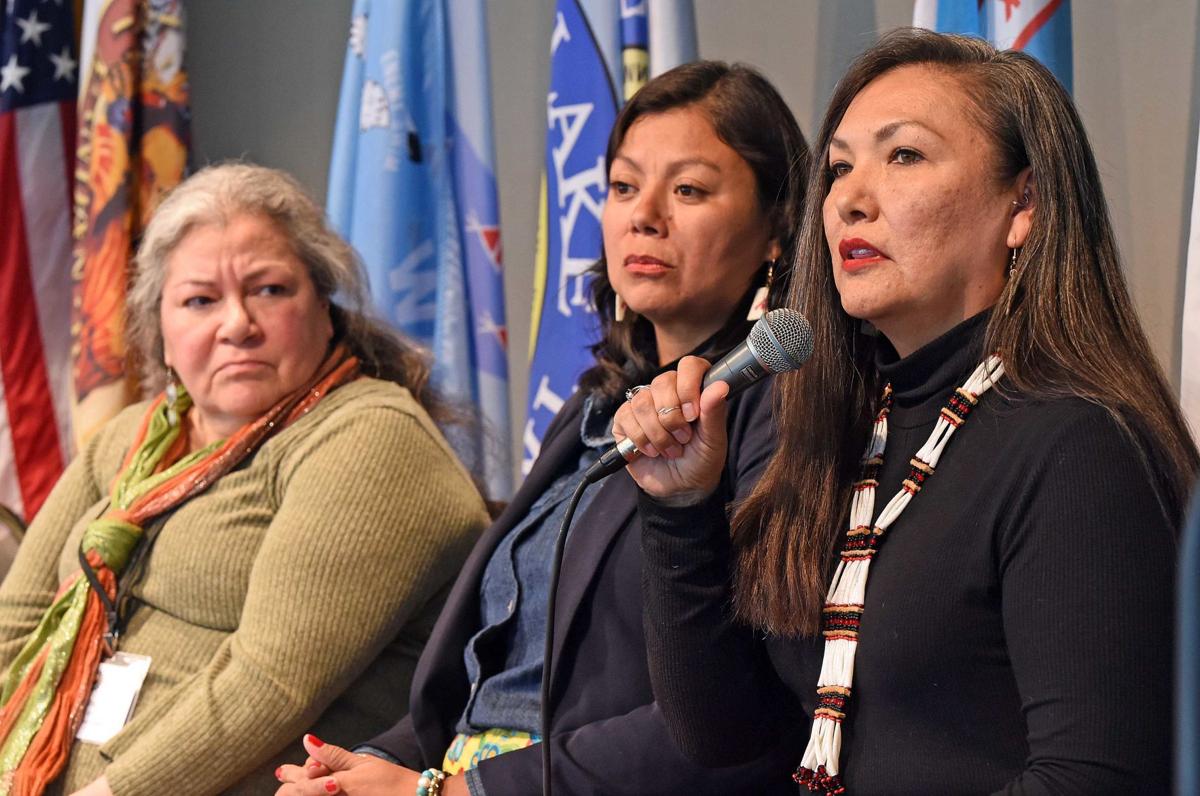 A new federal task force holds promise for the tragedy of missing and murdered Native women and girls.
But more work remains to improve reporting, responses and relationships between families and law enforcement. A panel discussion Thursday at the Strengthening Government to Government Partnerships and Relationships Conference in Bismarck focused on issues related to searching for missing people, law enforcement investigations and the importance of accurate data.
"One missing and murdered indigenous person is one too many," said Rep. Ruth Buffalo, D-Fargo. She brought legislation the 2019 Legislature passed to improve data collection and training on missing Native people.
Bureau of Indian Affairs Office of Justice Services Director Charles Addington discussed "Operation Lady Justice," a federal task force to address missing and murdered Native women and girls. President Donald Trump in November signed an executive order establishing the strategic effort.
"Lady Justice" has two goals, Addington said: to develop standardized protocols for responding to missing persons and to tackle missing and murdered cold cases with multi-agency task force teams assigned to regions of the U.S., including the Great Plains and the Rocky Mountains.
"You're going to have dedicated folks actually working these cases, and I think that's going to be very crucial," Addington said. The task force teams will hopefully be implemented in the next few months and begin to prioritize cases, he added.
U.S. Interior Secretary David Bernhardt and Attorney General William Barr lead "Operation Lady Justice." The first task force meeting is Jan. 29.
Accurate data collection is another key element to address in missing Native persons cases, Buffalo said.
You have free articles remaining.
Underreporting and inaccurate data are problems, she said, such as death examiners wrongly recording Native Americans' race as "other" or not Native American.
"It's complex, and so it's an issue that we do need to dig deeper in overall when we look at data and the accuracy in data reporting," Buffalo said.
Kara Lynn Mauai, 30, of Fort Yates, was last seen Nov. 8 in the Selfridge area. The circumstances around her disappearance and whether a crime might be involved are unclear. Sheridan Seaboy McNeil is a spokeswoman for her family. She said the search efforts have been meant to be done "in a good way and a quick and efficient way," involving a range of authorities.
McNeil helped search for Olivia Lone Bear, who went missing in October 2017 from New Town, on the Fort Berthold Reservation. Cases such as Lone Bear, while tragic, have helped improve responses, she said.
Lone Bear's body was found in July 2018 in a submerged truck pulled from Sanish Bay on Lake Sakakawea. Circumstances and the cause of her death aren't known.
"It's because of those tragedies that we're getting stronger, we're getting smarter," McNeil said.
But searching isn't easy, she said. And a missing person is somebody's child or parent or loved one.
"You don't know what you're going to find behind a door, in the weeds, every time you open a quonset, every time you look through a window," McNeil said. "You pray for that family to be at peace."