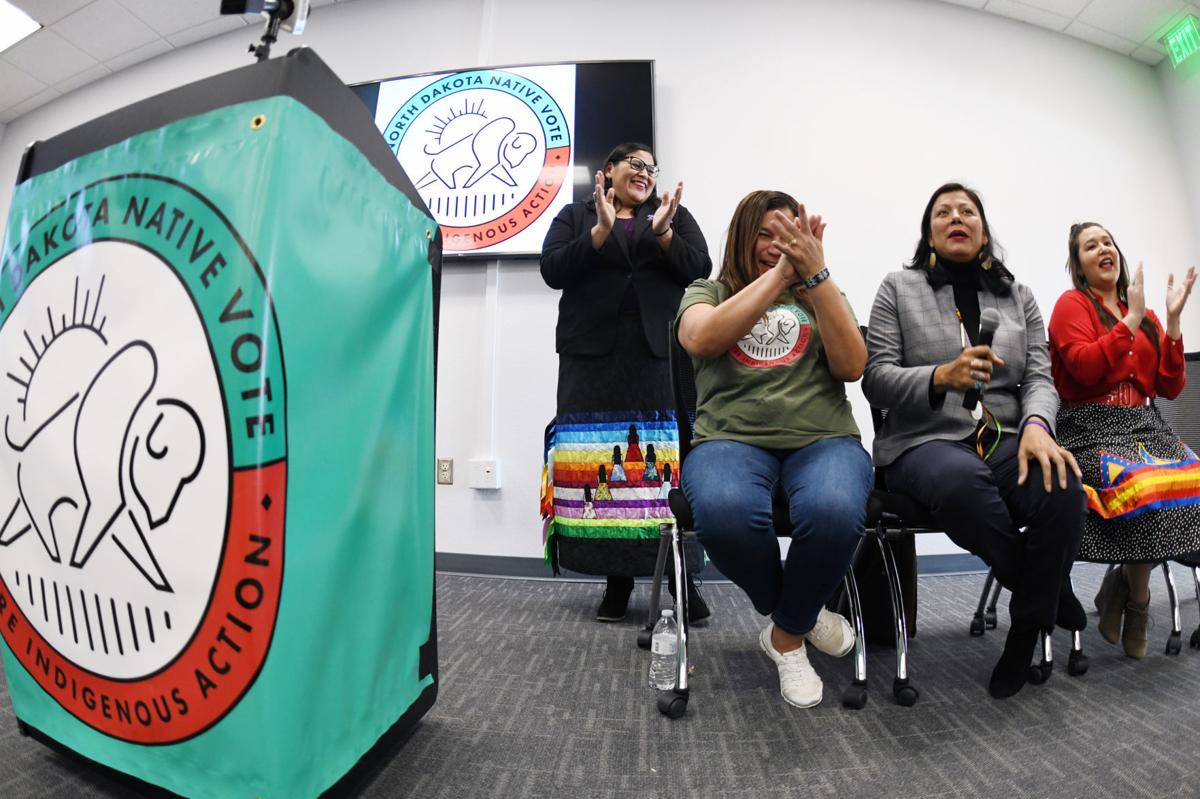 Native American activists are planning to maximize voter turnout, U.S. census participation and other civic engagement in 2020.
North Dakota Native Vote launched its 2020 initiative on Wednesday in Bismarck. Nonprofit Executive Director Nicole Donaghy introduced board members and described plans to hire a field director and a goal of basing part-time field organizers as soon as possible on each of the reservations in North Dakota, "so that they can lead the charge."
"We are a resource for our communities," said Donaghy, a member of the Standing Rock Sioux Tribe. "Our main focus is the reservations. That's where our heart is. That's where most of our members currently reside, is on reservations."
In 2018, Benson, Rolette and Sioux counties -- each home to reservations -- saw the most ballots cast out of the last five general elections there.
North Dakota Native Vote launched that year following several years of dispute over North Dakota law requiring voter ID with a provable street address.
That arose from the Republican-controlled Legislature's tightening of voter ID rules following Democrat Heidi Heitkamp's upset of Republican Rick Berg in the 2012 U.S. Senate race -- one she won with the help of Native American voters. Republicans said the race wasn't the reason -- that they were trying to stem voter fraud. 
Street addresses often don't exist on reservations, creating a perceived burden on Native American voters. 
Donaghy said the tightened law rendered a "crisis mode" to get out the vote.
"We kept our people in the loop constantly, through media, through door knocking, through events, and so we had a tight ground game," she said. The group plans to build on the record 2018 turnout.
Two federal lawsuits filed by tribes are ongoing related to the voter ID law. In the meantime, reservations during the 2018 election put together large-scale efforts to create free IDs with street addresses for tribal members.
North Dakota Secretary of State Al Jaeger declined to comment on North Dakota Native Vote, saying he is not familiar with the group or its plans.
However, Jaeger on Wednesday announced Gov. Doug Burgum has granted him emergency rulemaking authority to incorporate information from tribal IDs into new electronic pollbooks set to be distributed to counties for first use in the June 9 statewide primary.
New North Dakota Election Director Brian Newby has said he learned in 2018 of the "address difficulties" Native Americans face, such as distant polling places. He told the Tribune he wants "to be as responsive as I can to" accessibility issues.
Donaghy said "that's a good promise." 
"That sounds promising and I really hope that he makes a commitment to our very rural tribal communities to hold himself true to his words," she said. She plans to reach out to Jaeger's office. 
North Dakota Native Vote Board Member Theodora Bird Bear, who lives in Dunn County on the Fort Berthold Reservation, had to drive about 100 miles round trip through a blizzard to cast her 2018 ballot in Manning after her longtime polling place -- a church 4 miles from her home -- closed unexpectedly.
"I'm in a very rural area, very remote, and so it's a barrier for us out there," Bird Bear, 68, told the Tribune. Her local post office also has faced closure. 
North Dakota Native Vote also will prioritize other civic engagement this year, such as participation in the 2020 U.S. census, which begins in March. Board members said an accurate count is vital for tribal communities in allocating federal funds and drawing legislative districts.
Donaghy encouraged community members to apply to be local census enumerators "to make it comfortable" for residents of reservations in North Dakota to participate in the decennial count.
She and others in attendance at the group's launch on Wednesday said legislative representation from reservations is important. North Dakota Native Vote Secretary Tawny Cale, a member of Standing Rock, said a starting point is to inspire people to be involved.
"One of our goals is not to be the token Indian sitting in the room," Cale said. "We want to have a voice, and we want there to be power behind that voice."
North Dakota's 141-person Legislature has at least three state lawmakers who say they are enrolled members of tribal nations: Rep. Ruth Buffalo, D-Fargo, of the Mandan, Hidatsa and Arikara Nation; Sen. Oley Larsen, R-Minot, of Kluane First Nation; and Sen. Richard Marcellais, D-Belcourt, of the Turtle Mountain Band of Chippewa.
Buffalo was an unsuccessful Democratic-NPL nominee for state insurance commissioner in 2016, along with Chase Iron Eyes for U.S. House and Marlo Hunt-Beaubrun for Public Service Commission, both of whom are from Standing Rock.
"From that experience, I was left so inspired because so many first-time voters came out," said Buffalo, who won her House seat in 2018.
North Dakota Native Vote is privately funded.
"We got our start through crowdsourcing, and now we work with different foundations that share the same values and beliefs as we do," Donaghy said without elaborating. "We do not take state or federal dollars."
Be the first to know
Get local news delivered to your inbox!