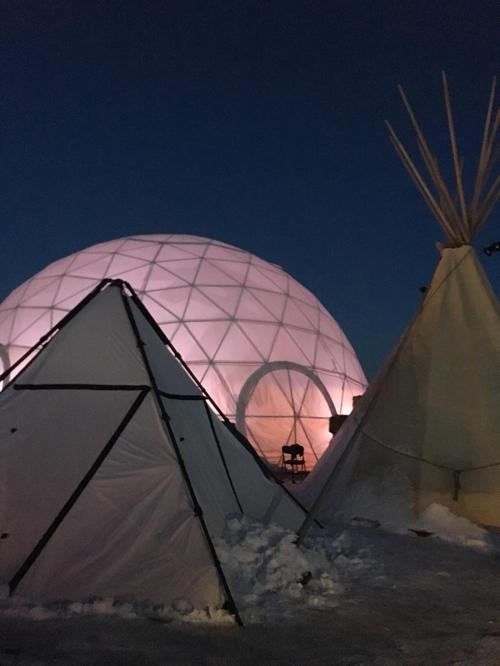 Standing Rock Sioux Tribal Chairman Dave Archambault II said the tribe was working Thursday to help people leave the Oceti Sakowin camp, where thousands have been staying to protest the Dakota Access Pipeline. 
"A lot of people are willing to leave and we're working to find them transportation and stage them to where they need to be, if they need to catch a bus, we're trying to get them there," Archambault said. "It's dangerous and we don't want to lose anybody. If they want us to help them, we will. It's not about not supporting them, but it's not about fighting the pipeline anymore."
Archambault asked people to leave the camp after the U.S. Army Corps of Engineers said it will deny the pipeline an easement for a river crossing near the reservation, and because fierce winter conditions this week are making camp life an unsafe situation. 
Archambault put out the call Monday, but blizzard-like conditions into Wednesday have made it difficult for people to go anywhere. Hundreds took shelter at the nearby Prairie Knights Casino and Lodge and other nearby shelters during the storm which brought deadly wind-chill temperatures.
You have free articles remaining.
Kandi Mossett said her and other camp organizers are honoring Archambault's request and working to help people transition out of the camp, but she said it's complicated by numbers who need transportation and getting vehicles started in the cold.
"It's not chaotic. It's organized, people are pulling together and assessing needs. Some people want to leave, some can't, some don't. We can't control that, but we are helping to facilitate the transition," she said. "It's a process, but we can't snap our fingers and they would all be gone."
A ride-share board is set up at the casino and Mossett said she was hearing people call out looking for rides to places like Pennsylvania, Kansas and Montana. 
Mossett said she thinks even more people would be willing to leave the camp if law officials would open up the barricade on N.D. Highway 1806 between the main camp and the pipeline a half-mile north, because it creates a perception that the company will continue to work, despite the corps' decision. "I think that would be the most helpful," she said.
She also said some people are waiting to hear if Friday's status hearing in the U.S. District Court in Washington has any impact on the legal situation with the pipeline. "There's a lot still in the air," she said.
A coalition of grassroots camp organizers — Sacred Stone Camp, Indigenous Environmental Network, Honor the Earth, and International Indigenous Youth Council — put out a joint statement Thursday. The groups say they support the transition and ask anyone still planning to join the protest camps to stay home and take action in their own communities. The statement says that the original Sacred Stone spirit camp, on private land, will continue through the winter, but is no longer open except by personal invitation. The groups also say they will support people who remain to keep a close eye on the company and advance the tribe's reclamation of unceded treaty territory, if they can live self-sufficiently through winter.