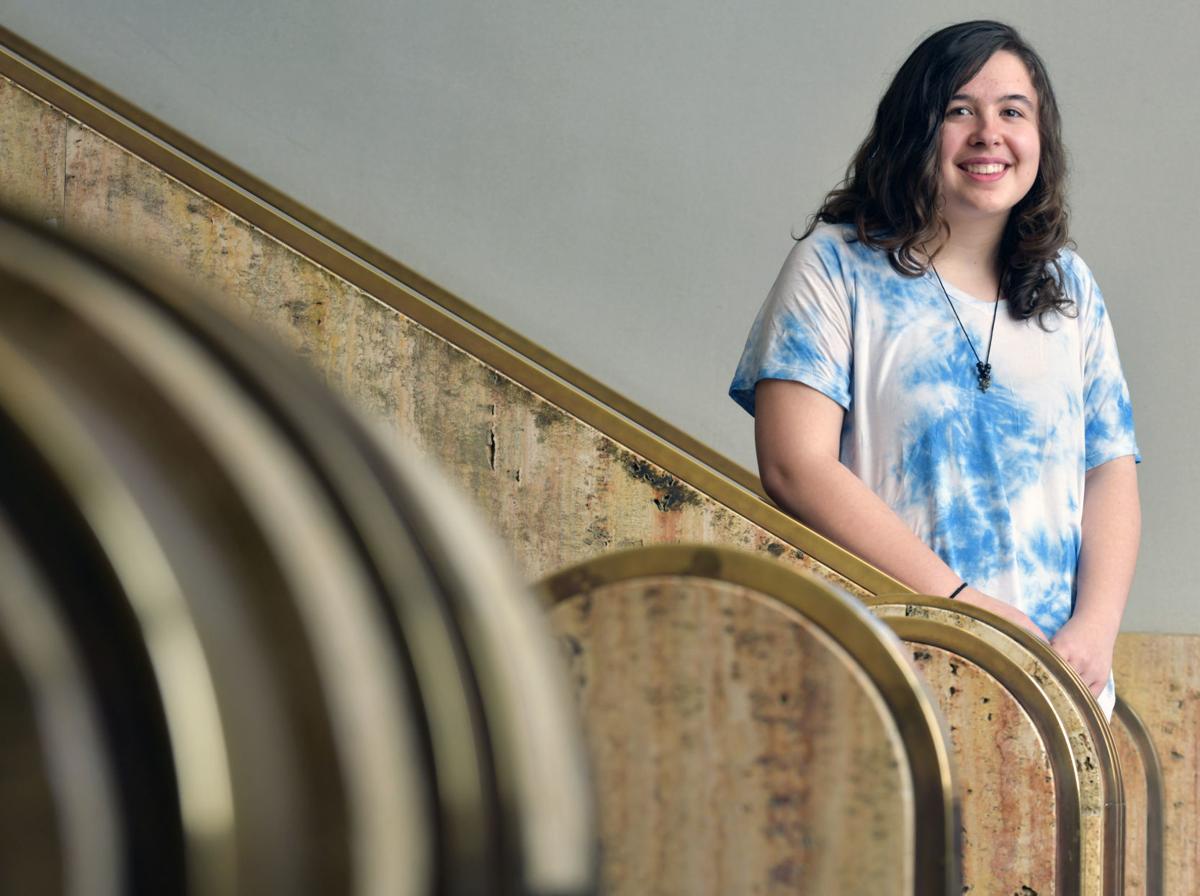 Eighteen-year-old Naomi Hegwood, who is passionate about science and art, played countless rounds of pinochle growing up. She says she firmly believes life is like a game of cards — you don't get to choose your hand, but you get to choose how you play the cards.
The Bismarck High School senior says she grew up in a trailer court and was "always poor." When she was 13 years old, her father, who only came around "every now and then," was caught with a "bunch" of meth in southeast North Dakota. Two years later — Sept. 2015 — he was sentenced to 20 years in prison.
"I didn't get to choose my hand. To be honest, compared to other people's lives, mine's not the greatest. Whose father's in prison, you know?" she said. "I grew up poor. Sometimes, we go to the food pantry. I use a lot of my paychecks to help pay rent and keep a roof over our heads."
Hegwood, who lives with her mother, Nanette, and works part time at Target, recognizes her life could be a lot worse and says she wouldn't trade her mom — who she "loves to death" — or her life for the world.
"I could be addicted to drugs, like my dad was. My mom struggled with addiction, too," she said. "I don't really want things to come easy. It'd be nice sometimes, but … I think working through challenges teaches you a lot. I feel like if I was in any other life, I wouldn't be where I am right now."
The straight-A student, who's taken a total of nine AP classes and scored a near-perfect 35 on her ACT exam, is this week's Teen of the Week.
"Academically gifted, caring and compassionate, socially and politically aware, hardworking, optimistic: Naomi has all of the qualities we look for in a student," wrote BHS English instructor Rosann Jacobs-Fode, in a letter of recommendation. "She does not use the obstacles in her life as an excuse. She walks into class with a smile and has an earnest desire to learn. Naomi is one in a million."
Academic competitions are one of Hegwood's strong suits. She's involved in Science Bowl, Science Olympiad and Envirothon, with the latter being her favorite. Numerous wins at competitions have allowed the teen to travel to places such as Lincoln, Neb., Fort Collins, Colo., and Pocatello, Idaho, to compete at nationals.
You have free articles remaining.
Hegwood says Science Olympiad gives her an adrenaline rush like none other.
"I like sitting through award ceremonies and feeling your heart drop every single event that they go through," she said. "And I'm weird — I like taking tests. Science Olympiad tests, I'm down."
Being outside is what the teen likes most about Envirothon, which is geared toward students who have an interest in wildlife, soil science, plants, wetlands, water and riparian areas in the state and country.
A four-year drama club member, Hegwood says she enjoyed playing an elderly woman in "A Delightful Quarantine" as well as a wall in "A Midsummer Night's Dream." Also, dressing up as a princess for the annual Autumnfest Parade.
This semester, the senior's enrolled in AP Studio Art and is learning how to paint with soil.
"Basically, you mix soil with clear acrylic paint and you just go at it and hope for the best," she said, noting she prefers working with colored pencils.
Hegwood studied science — specifically the variation of leaf traits among prairie smoke populations — for six weeks last summer at North Dakota Governor's School, which is held on the NDSU campus. She said the experience helped her decide on a college major.
"At the end, for science, you have to do a research paper, presentation and poster, and I really liked doing it," she said. "I learned how much I actually want to major in biology."
The senior, who may also study environmental science, has applied for 13 colleges, including a handful of Ivy Leagues, but says she won't hear back from most of them until late March or early April.
Hegwood has no desire to have a relationship with her dad, she said, now or ever.
"I don't talk to him at all. He's not a great guy, to put it lightly," she said. "I'm OK with it, but it used to bother me."