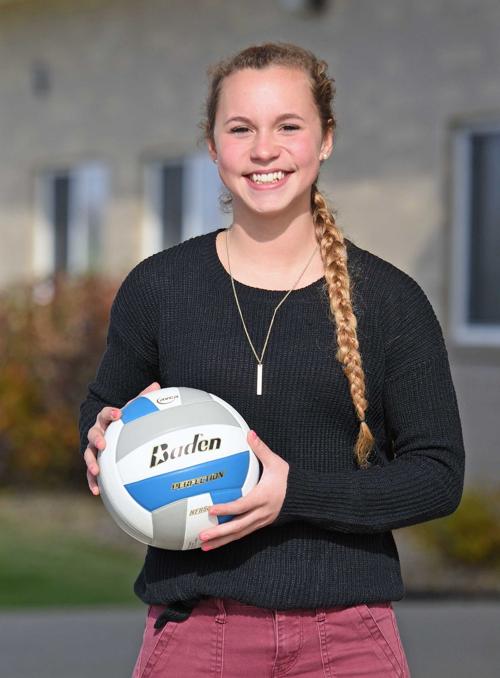 A traumatic brain injury caused by two sports-related concussions may have slowed Rachel Mischel down, but the Shiloh Christian School senior hasn't let it stop her.
The 17-year-old battled severe headaches, light and noise sensitivity, neck pain, memory loss, dizziness and brain fog for nearly seven months, yet managed to maintain her 4.0 GPA, making her a top contender for class valedictorian.
"I didn't want to let the concussions make me lose my 4.0 (GPA)," she said. "So, I was in the classrooms every day after school getting extra help, asking for better instructions."
Mischel, who suffered her first concussion in October 2017 while playing volleyball, has made a return to the court, after receiving clearance from her doctors. She's team captain of Shiloh's volleyball, basketball and softball teams.
The Bismarck native, who coaches youth, volunteers at Papa's Pumpkin Patch and was named homecoming queen, was selected as this week's Teen of the Week.
"Rachel is what I would call resilient. She has that ability to come back stronger than ever after being knocked down time and time again," said Shiloh school counselor Bobbie Jo Young, who nominated Mischel for the honor.
Mischel's two concussions occurred last fall, about one month apart. The first was a result of the athlete hitting her head on a gym floor, during a game, while diving for a volleyball.
"I got up and I remember being like, 'Whoa, what just happened?' I felt a little off," she said. "But I got up and ran back in because it's game time — you get up, you get back on the court and keep playing."
A few days after the incident, she began to develop symptoms. Candy Vander Wal, a Sanford Health athletic trainer who works with Shiloh athletes, encouraged Mischel to take a concussion test, which the athlete failed.
After about a month of sitting on the sidelines, the volleyball player received clearance to rejoin her team, and she reveled in the opportunity to compete at the regional and state competitions.
Basketball began about a week later and, on the third day of practice, Mischel suffered her second concussion after being elbowed in the head by another player. She said her symptoms developed immediately and it was "blatantly obvious" she had a concussion.
Mischel, who was placed back on the sidelines. Despite being unable to play basketball, she never missed a game — home or away.
"My goal was, if I'm not going to be able to be there on the court for them, at least I'll be there off the court," she said, fighting back tears. 
After about six months of "resting," Mischel said she noticed little to no improvement of her symptoms.
"I couldn't really think clearly, I couldn't concentrate, I had trouble reading and comprehending sentences. I would just sit in class with my water bottle and be completely zoned out," she said. 
Mischel's mom, Lisa Wingerter, made arrangements for her daughter to be seen by doctors at Minnesota Functional Neurology and Chiropractic, where she was diagnosed with numerous eye problems, which, in turn, caused issues with her neck. The athlete's vestibular system, autonomic nervous system and thyroid also were troubling her. 
The mother-daughter duo spent one week in Minnesota, where Mischel attended three one-hour appointments per day, over the course of five days.
"By the end of the week, I felt so good. It was kind of life changing to get back and I felt everything was so clear, and I was mentally present," she said.
Mischel said her time in Minnesota helped her realize the field she'd like to study — chiropractic functional neurology. She plans to attend the University of Mary, Northwestern Health Sciences University and Carrick Institute for Graduate Studies.
"I went to Minnesota and I was like, 'Oh my gosh, this is it. This is what I want to do.' That was my deciding factor right there," she said. "God has a plan for everything. Even if we can't see it at the time, he always knows what's best for us."
Mischel, who wears a concussion headband every practice and game, said she still has a few issues, but feels much better than she did a year ago.
"It's changed me because I'm really thankful for a lot of things that you, normally, just kind of overlook," she said.
Be the first to know
Get local news delivered to your inbox!