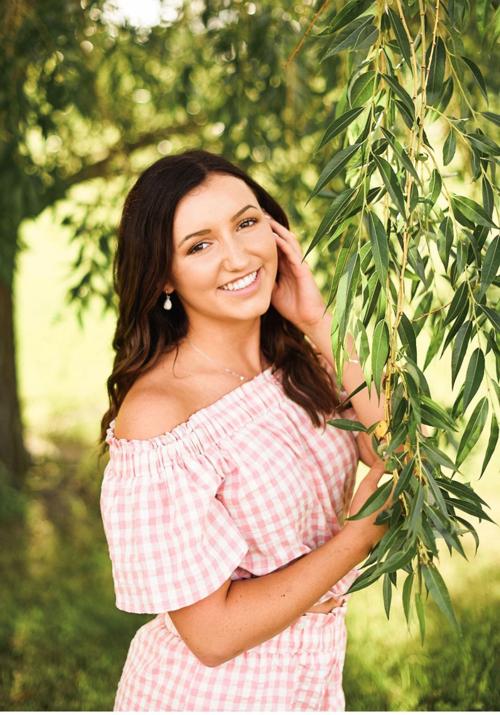 Napoleon High School senior Kourtney Bitz owns a small herd of cattle and has earned numerous state and national awards through her involvement in FFA, in which she is chapter president.
Through the organization's Supervised Agricultural Experience program, the 17-year-old Wishek farm girl obtained grants to purchase the livestock -- three cow-calf pairs.
"It's been a really great opportunity for me," she said. "I think it's really awesome that I'm able to work alongside my parents and learn that hard work, and the dedication and perseverance that definitely comes from farming."
The daughter of Daniel and Christy Bitz is this week's MDU Resources Teen of the Week. Thirty-two high school seniors will be recognized by spring, at which time a Teen of the Year will be selected from the weekly winners to receive a $5,000 scholarship sponsored by MDU Resources Group.
Bitz played a role in her team winning first place in the 2016 FFA National Agricultural Sales Career Development Event, which she says is her greatest accomplishment to date. Over the years, her team has won gold at state in FFA Quiz, Food Science and Technology, and Parliamentary Procedure, in which Napoleon took home silver at nationals in 2017.
"FFA has definitely given me a lot of opportunities just to grow as a person," she said. "I've learned the leadership skills that I use in all my extracurricular activities. I've learned how to act professional and express my words in a way that they come across as knowledgeable, as well as just be able to show and speak what I'm feeling."
Bitz also is involved in DECA, in which she's chapter vice president. The student organization works to prepare emerging leaders and entrepreneurs around the globe.
"Kourtney is an outstanding student who does well academically due to her intelligence, amazing work ethic and her desire to learn," Brian Schneider, Napoleon High School's agriculture teacher and FFA adviser, wrote in a letter of recommendation. "This young lady exhibits leadership ability far beyond her years and is absolutely amazing."
The Student Council president, who also is a multiyear leader of her class, is one of 19 students from across the state selected to be a member of the North Dakota State Superintendent's Student Cabinet, which interacts with state officials and offers opinions and advice on education policy.
"I attended the first meeting and I learned how big of an impact the Student Cabinet actually has," Bitz said. "I was able to talk about what I liked in my school and what I didn't like. It's really awesome that Superintendent (Kirsten) Baesler is giving the students that she represents a voice in the policymaking and the decisions that will ultimately affect us."
You're an honor student enrolled in several dual-credit classes, and you recently scored a 29 out of 36 on your ACT college entrance exam. Why is performing well academically important to you?
School's always been really important to me, and just doing the best I can in everything is what I strive to do. I think if I'm going to be involved in any extracurricular activities it's definitely important to do well in academics first.
What are your future plans?
Next fall, I plan to attend Minnesota State University Moorhead to major in speech language hearing sciences. I've always thought about nursing, as well as teaching, and being a speech pathologist is kind of the perfect balance between those two professions.
In addition to babysitting for more than a handful of families on a regular basis, you work part time at Napoleon's White Maid Diner. Do you enjoy being a waitress?
I love working there. I've gotten really close with the customers. It's been a great opportunity to get more involved in the community and to serve those that come in -- to provide them with service, good food and just some company so they always feel welcome.
What are some of your hobbies?
I like reading, as well as running and getting in shape for basketball season. Lately, I've been really interested in American sign language and have been practicing my signs.