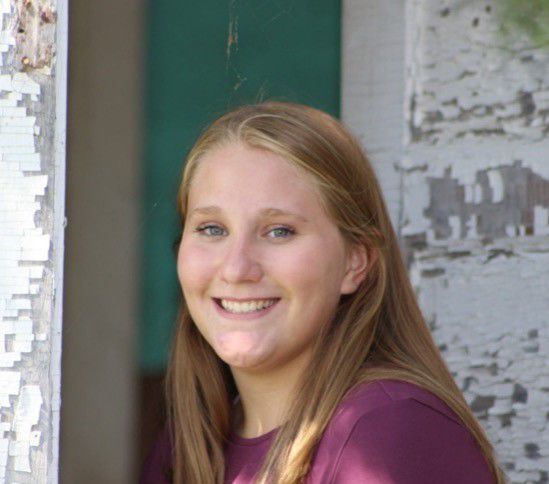 Mott-Regent High School senior Karagan Friedt loves playing volleyball, regardless of the number of wins her team nets by season's end.
"My heart and soul lies in volleyball and I couldn't imagine not playing it," the two-time team captain said. "We never won a game this year, but I wouldn't have traded a losing season for a winning season because this was the best year for team chemistry. We all had so much fun."
Friedt, a team spirit award winner who also is involved in basketball and track, recently became registered as a sub-varsity volleyball official through the North Dakota High School Activities Association. She said she looks forward to serving as a referee for underclassmen.
The 17-year-old daughter of Kelly and Melissa Friedt, of rural Mott, is this week's Teen of the Week. Thirty-two high school seniors will be recognized by spring, at which time a Teen of the Year will be selected from the weekly winners to receive a $5,000 scholarship sponsored by MDU Resources Group.
The farm girl said her forte is 4-H. Over the course of six years, she's shown a calf, yearlings and cow-calf pairs, and has received numerous awards on the county level, including Grand Champion Outstanding Beef and Grand Champion Beef Showmanship.
"I love showing, specifically for the fact that it teaches you a lot of responsibility," she said. "It is going out and working with your animal every day, for a certain amount of time, so they get used to you. You have to halter-train them, teach them to stand a certain way and to get used to other people. It's a lot of time and effort, and I think that teaches a lot to someone of younger age."
The outgoing president of Mott's Flickertails 4-H club also is involved in FFA, in which she serves as chapter vice president. Friedt recently earned gold at state in small animal care, which is her favorite event in which to compete.
You have free articles remaining.
The honor student who plays clarinet and piano in her school's band is a "great all-around person," according to Mott-Regent Public School counselor Kari Mayer.
"Karagan is a genuine, optimistic young woman who has persevered throughout her high school career in many areas, always keeping a mindset of compassion and mindfulness as she relates to her peers and instructors," Mayer wrote in a letter of recommendation. "She is an eager learner and, though gifted, has a quiet humility."
Do you enjoy living and working on a farm?
Even though it is very stressful, it's the best form of stress. I couldn't imagine living in town. There's less noise on the farm, and the noise that is out there is something I really enjoy, which is the cows mooing. I love my cows -- I own four that I bought through 4-H.
What are some of the ways you serve as an American Legion Auxiliary member and what drew you to the organization?
We do Memorial Day and Veterans Day services -- the American Legion Auxiliary helps out with decorating and cooking, and they carry the flags in. It's really cool to be a part of it. My dad served in the National Guard for a little over 20 years, and I have numerous relatives who have been deployed, were in active duty or serve in the National Guard. It's really important to my family and the community -- we have a lot of people who have served, and they really enjoy seeing the younger people get involved, too.
What are your future plans?
Next fall, I plan to attend North Dakota State University to major in animal science with an emphasis in biomedical technology and animal production, management and husbandry.
What are some of your hobbies?
My cows -- they're probably my favorite thing ever. I love playing with my nieces and nephews. I like hanging out with my friends -- they are a big influence in my life, and they've helped me through a lot.