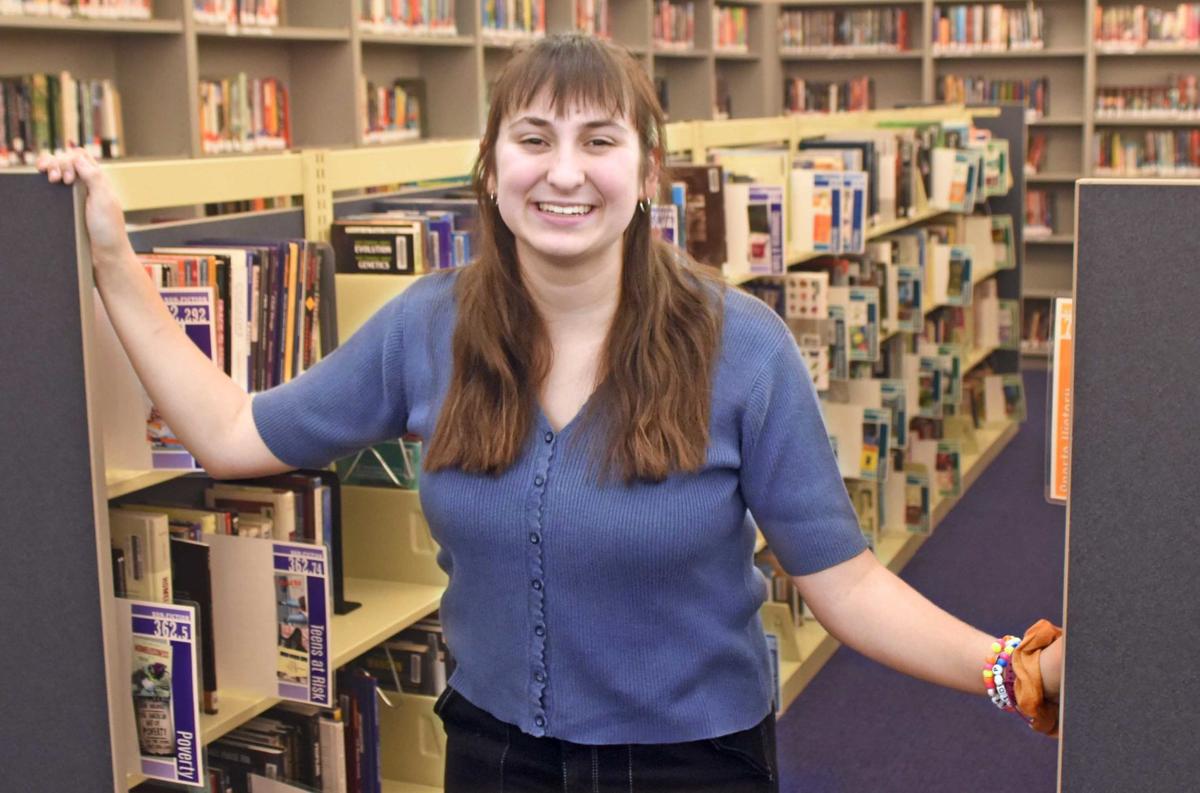 The Bismarck Veterans Memorial Public Library will soon feature a section of pamphlets and books meant to aid immigrants and refugees who are new to the community.
Lauren Peterson, a senior at Century High School, is leading the project in which Bismarck Global Neighbors is a partner.
"I'm very passionate about helping other people," Peterson said. "I really enjoy (foreign) languages and I really enjoy traveling, and there was this sense of foreignness that I wanted to help out with … to see what I could do on a local scale to help immigrants and refugees in the community."
By month's end, the section of readily available information about American customs and English language learning skills will be in place near the library's shelves of books dedicated to learning a foreign language. Signs will be posted, according to Peterson, who aims to receive her Girl Scout Gold Award as a result of the project.
The 17-year-old Bismarck native, the daughter of Christy and Brad Peterson, has been selected as this year's fifth Teen of the Week. Thirty-two high school seniors will be recognized as Teen of the Week with a Tribune write-up by spring, at which time a Teen of the Year will be selected from the weekly winners to receive a $5,000 scholarship sponsored by MDU Resources Group.
In her letter of recommendation, Century English teacher Brianna Sorrells, who also serves as the school's speech coach, called Peterson "the heart of the speech team."
"Lauren is punctual, hardworking and completely dedicated to her academic success. She is also dedicated to the success of her peers -- she always encourages others and is willing to work with anyone in order to learn," Sorrells wrote. "I have no doubt that she will be successful in the future because of her selflessness, hard work, and her ability to work with and inspire everyone she meets."
Peterson, a three-year captain of the speech team, said the activity is her "favorite thing about high school" and makes her feel "really happy inside." The two events she enjoys competing in most are entertain and storytelling.
You have free articles remaining.
"I really truly love speech with all my heart," she said. "I love public speaking, I love talking. I just love helping the other kids succeed. If they need any help, they feel free to come to me. I feel like a proud mom watching her kids doing well, and always cheering them on."
What are some of the other extracurricular activities you enjoy being a part of?
I started playing piano when I was 6 years old – that catalyzed my love of music. I love to sing in choirs, including our school's and the Central Dakota Children's Choir. I really love the theater community at Century. At state one-act last year, we broke Fargo's seven-year winning streak. Being able to come out on top was a feeling like no other. I started playing tennis my freshman year and I really enjoy it. I teach (tennis) at Capital Racquet to little kids -- it's been so rewarding.
You speak German fluently and have extensively studied the language. What can you share about the experience?
I went for three summers to language immersion camps through Concordia Language Villages. I knew no German the first year. It was really scary, but it was so rewarding in the end. This next summer I'm hoping I can work there as a counselor. I even traveled to Germany this past summer with my dad, my high school German teacher and other students.
You're researching colleges on the East Coast. What do you plan to major in?
I'd love to be able to major in peace and justice studies, but only so many schools offer that major. If I end up going to a school that doesn't offer that, I'd like to major in sociology with a concentration in justice work. I want to minor in German or government. I'd love to be able to go to law school and, ideally, be an immigration attorney.
What are some of your hobbies?
I love playing with my cats, watching Netflix, being outside, playing tennis with my family and hanging out with friends. I love to travel, which is something I think is really important and everyone should do. Experiencing different ways of life and meeting people that aren't necessarily from here has really shaped me and made me the person I am today.