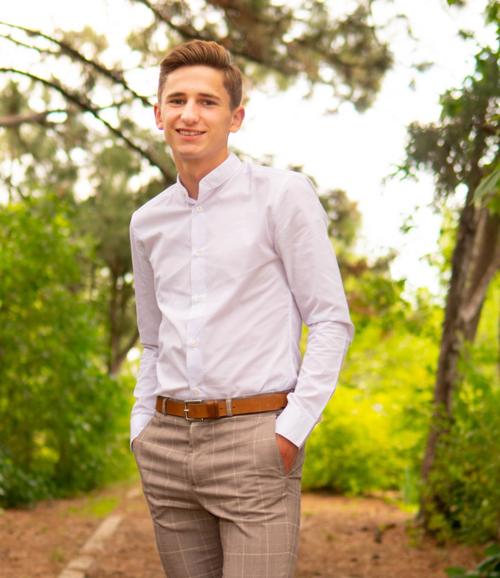 Eighteen-year-old Aiden Jung was born a runner. At the age of 9, he could run as many miles as he was old. A plethora of race bibs, ribbons and medals adorn the long-distance runner's bedroom, yet he says there's still room for improvement.
The Dickinson High School senior aims to finish in the Top Five at this year's state cross country meet, after placing 11th last fall. At the state track meet in May, he placed seventh in the mile and eighth in the 2-mile race. "Making the podium" in the latter two events is his greatest accomplishment to date, he said.
"It was just kind of a representation of all the hard work I did all winter long. I was in the gym, I was working out -- putting in 40 miles a week, every single week, in the winter -- I was eating well," Jung said. "Running really is a full-time sport if you want to become really good at it.
"Cross country and track, in my personal opinion, are two of the most physically strenuous sports that you can be in," he added. "When you're going out and working hard nearly every single day, and you're breaking your body down -- I think it shows a certain amount of grit for runners. It makes you respect the sport; it makes you respect your teammates."
Jung, the son of Greg and Jen Jung, of Dickinson, is this week's Teen of the Week. Thirty-two high school seniors will be recognized as Teen of the Week with a Tribune write-up by spring, at which time a Teen of the Year will be selected from the weekly winners to receive a $5,000 scholarship sponsored by MDU Resources Group.
Mission trips are one of the honor student's passions. Helene Herauf, a member of St. John's Lutheran Church in Dickinson, served as a chaperone during recent journeys by a group that included Jung to Puerto Rico and Detroit.
"Aiden is an incredibly hardworking young man. He is always the first to take on a task, careful and mindful of its execution, and works until the task is completed properly and with care," she wrote in a letter of recommendation. "Aiden is uncommonly kind. He is welcoming and supportive of all other participants. He looks for the fun and joy in all situations."
The Puerto Rico trip focused on Hurricane Maria recovery efforts. In Detroit, the group helped tidy up an abandoned neighborhood. 
"With these abandoned houses, there was overgrown grass and trees growing everywhere … we went and cleaned those up to try to make the neighborhood look a little better," Jung said. "While we were doing that, all of these little kids just came up and started playing with us and offered a helping hand. That was really cool. You could kind of see God's work really shining through everybody there."
You're currently employed at Dunn Brothers Coffee. What drew you to the position?
I'm a huge, huge coffee fan. Coffee is very high up on my list of favorite things in life. I thought it'd be an awesome job and a fun environment to work in. I've ended up growing in the company; I'm more of a shift supervisor now. It's been fun to overlook everything.
What are your future plans?
I want to do something in the business world. This year, I've been doing a lot of extra business classes, whether that's accounting or banking and finance. I've put myself in a lot of those so I can, hopefully, be more prepared for what's to come in college.
Who or what motivates you to succeed?
Definitely my mom and dad. They've been extremely supportive of my running. It's unbelievable what they do to help me succeed. I could never thank them enough. My grandma, Toni, loves watching me run more than anything. Whenever she comes to the races, it's also pretty special.
What are some of your hobbies?
Basically anything outdoors -- skiing, mountain biking, kayaking. If I could choose anywhere to live, it'd be the mountains. My biggest hobby, overall, would be photography and videography.