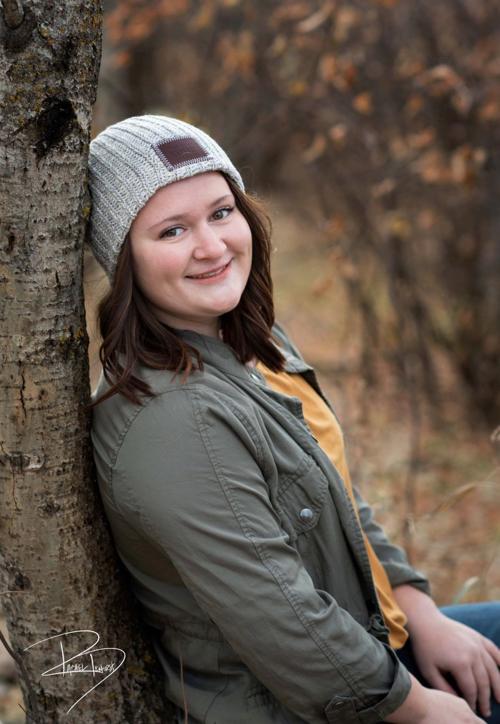 Mott-Regent High School senior Sydnee Anderson successfully campaigned to become the 2019-20 Future Business Leaders of America state president.
The 18-year-old had previously served as the organization's state parliamentarian and Region 3 vice president.
"A lot of blood, sweat and tears went into getting to where I am," she said. "Being a state officer is probably one of the best things that has ever happened to me in my young life. I love, love love love getting to interact with all of the members -- they're seriously the best part of the program."
The daughter of Mark and Jill Anderson, of rural Regent, is this week's Teen of the Week. Thirty-two high school seniors will be recognized by spring, at which time a Teen of the Year will be selected from the weekly winners to receive a $5,000 scholarship sponsored by MDU Resources Group.
Anderson takes pride in working on the family farm and aims to follow in the footsteps of her parents, who toil side by side planting and harvesting crops. She plans to attend Bismarck State College this fall to obtain a degree in farm and ranch management.
The farm girl hauls anhydrous tanks from the plant to the fields during the spring and operates the grain cart, in her mom's absence, during harvest. She also takes on the brunt of the housework during those busy times, a task that includes cooking meals for a crew of 10 or more.
"I just like to help wherever I can," she said. "Someday I want to come back and live and work on a farm with my future spouse … I want my kids to grow up on a farm, and I want them to know the true values of agriculture and where their food comes from."
Anderson is involved in FFA, in which she competes in agriculture sales and small animal care. The two-time chapter officer received a gold award at state two years ago in the latter.
The Western All Stars of Regent 4-H Club president is a seven-time grand champion on the county level in food and nutrition, in which competitors choose a recipe, complete research and then attempt to perfect it. Making homemade mozzarella cheese, she said, has been her most challenging project so far.
You have free articles remaining.
"There was a lot of trial and error that went into that," she said. "I soon found out that you cannot use store-bought milk to get a good mozzarella cheese. I had to get milk from a local dairy."
Anderson "always has a smile on her face" and "is willing to lend a helping hand," according to North Dakota FBLA Chairwoman Jessica DeVaal.
"Sydnee is a fantastic student and always strives to do her best. She is honest, dependable and incredibly hard-working," DeVaal wrote in a letter of recommendation. "Her attention to detail, creativity, willingness to collaborate and empathy for others makes her an outstanding individual."
What is one way you have set yourself up for success in college?
I'm taking a lot of dual-credit classes this year. That'll cut down on the time I have to spend taking generals in college. When I graduate (from high school), I'll have 16 college credits.
You play the baritone saxophone in your school's concert, jazz and pep bands. Do you enjoy it?
I started band when I was a fifth grader, playing the tenor saxophone. When I got into junior high, my band teacher needed someone to play the bari sax and so she asked me. I was kind of scared, but I started playing it and now I absolutely love it. Last year I was fortunate enough to get a star (rating) at regional and state music with my solo. That was super awesome and felt very rewarding.
What are some of the ways you serve your school and community?
I volunteer at the Tilted Tulip, a flower and coffee shop in Mott, especially around busy seasons like Valentine's Day and Mother's Day. I help deliver bouquets around town and with anything the owner needs to take the stress off of her. I also volunteer as a sports announcer at my school, mostly for basketball games. I announce the starting lineups and get everyone pumped. It's very thrilling.
If you could offer advice to underclassmen, what would it be?
Get involved in as much as you can because you will never regret being a little too busy. There's always more that you can find to do.