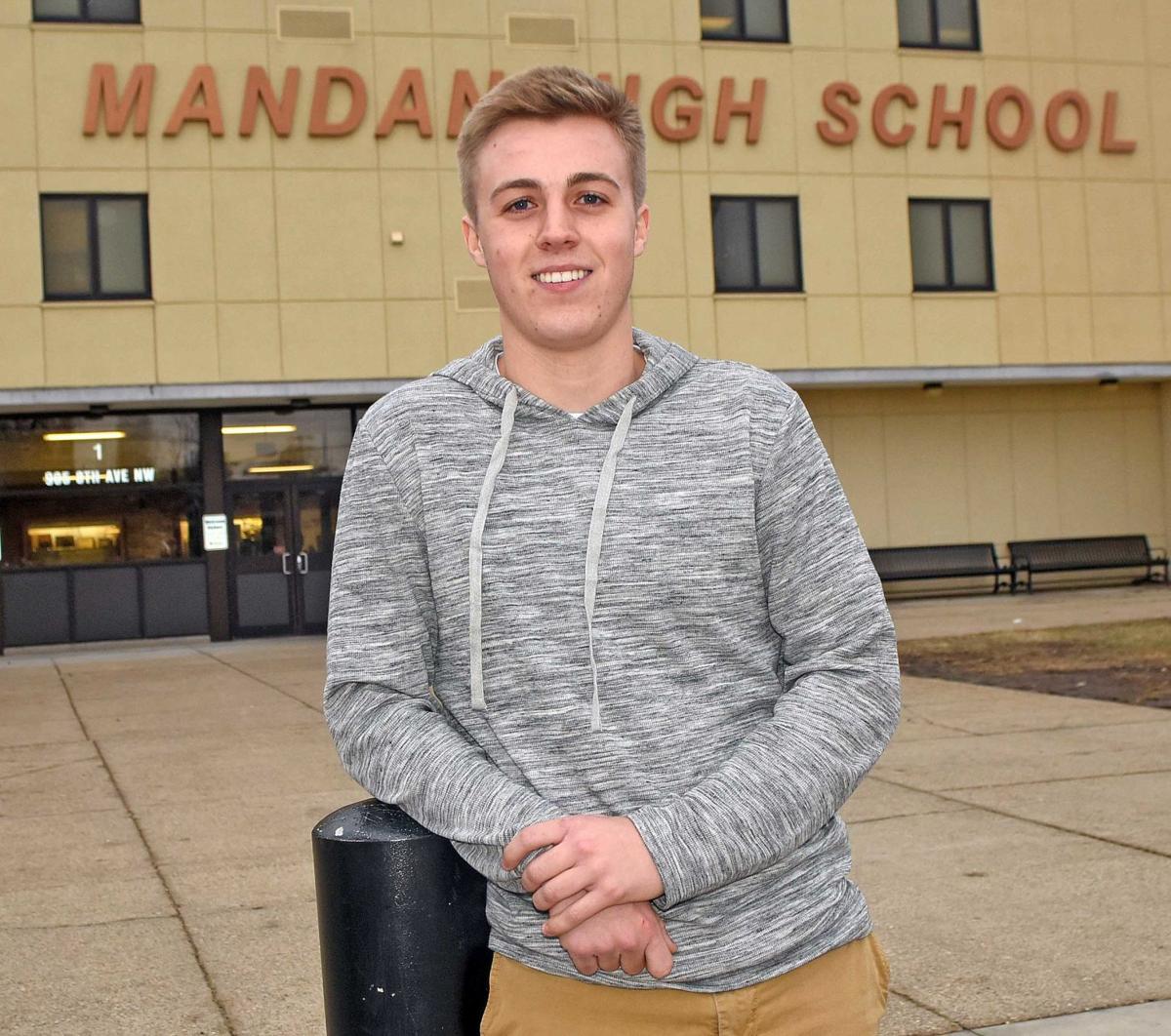 Mandan High School senior Dane Carlson last year was voted one of three captains of the Braves football team. A junior hadn't assumed the role in more than a decade, according to the quarterback.
"It meant a lot to me that the older kids and everybody else on the team saw that I can lead on and off the field, and that I'm a good example for the community," he said, noting he served as team captain again this year. "I took a lot of pride in that."
The 18-year-old son of Jeb and Rhea Carlson, of Mandan, is this week's Teen of the Week. Thirty-two high school seniors will be recognized as Teen of the Week by spring, at which time a Teen of the Year will be selected from the weekly winners to receive a $5,000 scholarship sponsored by MDU Resources Group.
Carlson twice earned second team all-state and all-conference honors in football, which he said is his favorite extracurricular activity.
"I like the team atmosphere and working hard together as, like, a family," he said. "Just caring about everybody as a brother and working every day to try and win as many games as possible."
The athlete has worked four seasons as a youth football referee through the Mandan Touchdown. Carlson said he enjoys "reffing, hanging out and eating good food."
When he's not playing football, you'll likely find Carlson shooting hoops on the basketball court. He also participates in Mandan's Student Athlete Leadership Team.
"We gather every month or two and talk about how we can set up the future of Mandan and get it going in a more positive direction," he said. "How we can produce more leaders for the younger kids, and the coaches and staff … throughout the season, what they can do a better job of to improve us."
The honor student, whose favorite class is English, is enrolled in Advanced Placement calculus this year, and took AP history as a junior. He said he's most proud of his academic successes.
You have free articles remaining.
"I feel like I've done a good job in the classroom my whole life. I think my only 'B' was in algebra 1 in middle school -- I didn't really know it was that important," he said. "I feel like it's necessary to do my homework and do what I have to do in and outside the classroom to prepare me for my future."
Carlson, who plans to pursue a career in sports medicine or physical therapy, is an "exceptional student," according to Mandan High School English teacher Loren Nieuwsma.
"Dane takes his academics seriously and strives to produce quality work no matter the content. Many students look to him as a role model for his behavior and success in academics," he wrote in a letter of recommendation. "Dane is a positive leader and has been integral for the (football) team's success this year. He keeps an even temperament on and off of the field, which helps him succeed."
Through your church, Bismarck's Zion Lutheran, you've completed volunteer work in the community. What are some of the ways you've served?
I've volunteered at the soup kitchen (Heaven's Helpers Soup Cafe) with my family, dishing out soup for the less fortunate people. Being able to do something good for them felt good. I was also a Salvation Army bell ringer a few times – sat around at the mall on a Saturday and just rang the bell for three or four hours. I enjoyed that.
Why do you feel it is important to volunteer?
Being more fortunate than other people, I feel like it's my job to give back to the people that need it and do whatever I can to make the world a better place.
What are some of your favorite pastimes?
I like to go hunting and fishing with my dad and my brother. I like to play football in the yard with my friends, play basketball and just hang out. And watch TV, especially football games.
If you could offer advice to underclassmen, what would it be?
Enjoy everything about school because it goes really fast. Don't dread Monday mornings, just wake up with a good attitude. Continue to have a positive attitude every day.