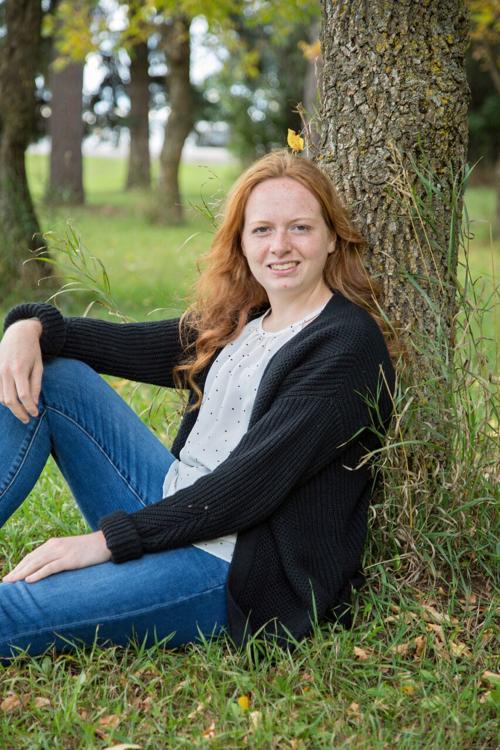 During the 2019 Future Business Leaders of America State Leadership Conference, Emma Honeyman won fourth place for her seven-minute sales presentation arguing that a potato ricer makes the best mashed potatoes.
The Mott-Regent High School senior, whose favorite food is whipped spuds, said the competition was "so much fun" and played a crucial role in her decision to study marketing next fall at North Dakota State University.
The 17-year-old from rural Regent has risen through the ranks of her school's FBLA chapter, serving as secretary, vice president and now president. Last year, she filled the role of campaign manager for her friend, Sydnee Anderson, who went on to become the organization's state president.
"I helped her write her speech. I got to help her set up her campaign booth and think of a slogan -- 'Voting for Syd is a piece of cake,'" Honeyman said, noting they handed out cake-flavored candy and snack cakes. "I got to stand there and sell to everyone that she was the best person for the job."
The daughter of Gary and Tia Honeyman, the future saleswoman is this week's Teen of the Week. Thirty-two high school seniors will be recognized as Teen of the Week with a Tribune write-up by spring, at which time a Teen of the Year will be selected from the weekly winners to receive a $5,000 scholarship sponsored by MDU Resources Group.
"Emma is a realistic, enthusiastic young woman who has challenged herself and persevered throughout her high school career. She has taken the most challenging courses that our school offers," Mott-Regent school counselor Kari Mayer wrote in a letter of recommendation. "Emma is an eager learner, a hard worker and a team player. She has developed a strong confidence from within."
FBLA offers something for everyone, according to Honeyman.
"If you're interested in farming, you can relate farming to business. If you're interested in marketing, you can more focus on marketing stuff," she said. "FBLA really gives me the power to pursue what I'm interested in. I love it."
Honeyman, who is enrolled in two dual-credit classes this semester and has a 4.0 GPA, recently scored a 32 out of 36 on her ACT exam.
You have free articles remaining.
"After I took it, I was like, 'Man, that was rough. I'm probably going to have to retake it.' I thought I did really bad on it," she said. "Then I saw I got a 32 and I was, like, so excited."
The teen said she's put "a lot of work" into getting good grades, and it's taught her how to be responsible and work toward a goal.
In addition to FBLA, the volleyball statistician is involved in speech, choir and band, in which she plays the flute.
What's your greatest accomplishment so far?
Before, I used to be, like, really overweight. And then I worked really really hard to lose a lot of weight. I lost over 80 pounds. So I think that'd be my greatest accomplishment.
You volunteer a great deal in your school and community. Is there an experience that stands out to you?
I'd have to say Burgers and Brats for the Regent Consumer's Co-op, which is the local grocery store. I've been helping with that since I was, like, in the third grade. We grill hamburgers and brats and serve salads, chips and desserts as a fundraiser for the store over the summer. I also work at Regent Co-op, 20 to 25 hours per week during the summer.
What does attending a Class B school mean to you?
It's a way-different experience than a Class A school. It's a lot more personal. I know everyone by name. All the teachers know me; I'm not just a face. It's like we're friends. We're, like, just some big giant family.
When time allows, what do you like to do for fun?
I love cooking so much. I like cooking and baking and grilling -- like all things food.