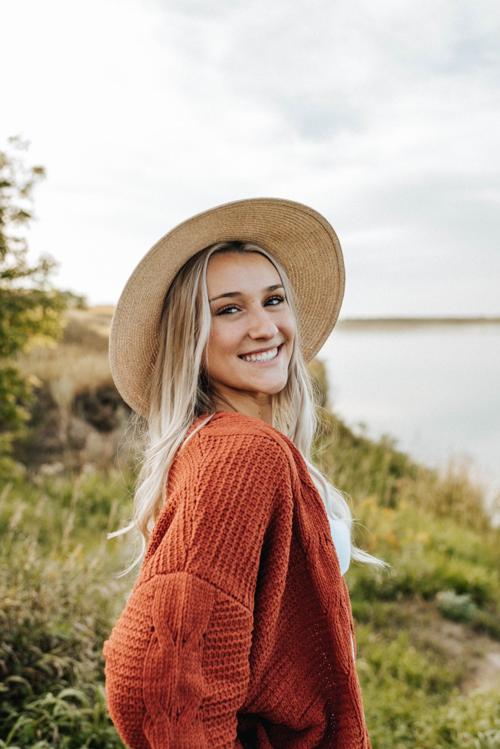 Century High School senior Katherine Silbernagel loves helping others in her community. Her favorite way to give back is raising money for the Dakota Children Advocacy Center, a program that helps children with traumatic experiences.
"I just really want to help kids dealing with high-stress situations like that and put a smile on their face and give them some kind of hope rather than looking back on their past experiences and have that define them," Silbernagel said.
The daughter of Melissa Hauer and Darren Silbernagel, of Bismarck, is this week's Teen of the Week. Thirty-two high school seniors will be recognized by spring, at which time a Teen of the Year will be selected from the weekly winners to receive a $5,000 scholarship sponsored by MDU Resources Group.
Silbernagel also volunteers by serving dinner at Charity Lutheran Church, and she helps decorate local homeless shelters during the holidays.
Counselor Courtney Sailer said Silbernagel has a passion for serving others and is determined to make the world a better place.
"Katie is driven, yet warm and kindhearted," Sailer wrote in a letter of recommendation. "I have no hesitation about her willingness to challenge herself or her desire to do good."
Silbernagel has played on the varsity girls soccer team for four years and does stats for the boys soccer team. She was a part of the Peer to Peer Leadership Program, mentoring students with special needs. During her freshman year, she was in DECA and fashion club.
Silbernagel maintains a 3.9 weighted GPA while taking dual credit courses and advanced placement courses. When she was a freshman, she set a goal of being on the honor roll every semester. She takes pride in achieving it.
"I think it's really important to focus on your grades not only for now, but also for your future and what you want to be going out in the real world," Silbernagel said. "Valuing your academics is important to show that you care and are determined to achieve those high standards."
Outside of school, Silbernagel works as an administrative assistant for the North Dakota Hospital Association. She helps to locate people with unpaid medical bills and files documents for judgments.
Silbernagel said she has always been interested in working in the medical field. She decided she wanted to be a dentist when she was 7 years old.
Her mother also inspired her to go into the medical field. When Silbernagel was a sophomore, her mother was diagnosed with stage four breast cancer. Silbernagel wants to be like the doctors who saved her mother's life.
"Seeing how the doctors were really caring and wanted to help a family receive good news was really inspiring," she said. "What I want to do is also be a part of that amazing process and help other people receive great news."
Silbernagel plans to attend either the University of Minnesota or the College of Anschutz at the University of Colorado in Denver. She will major in biochemistry and hopes to later attend dental school.