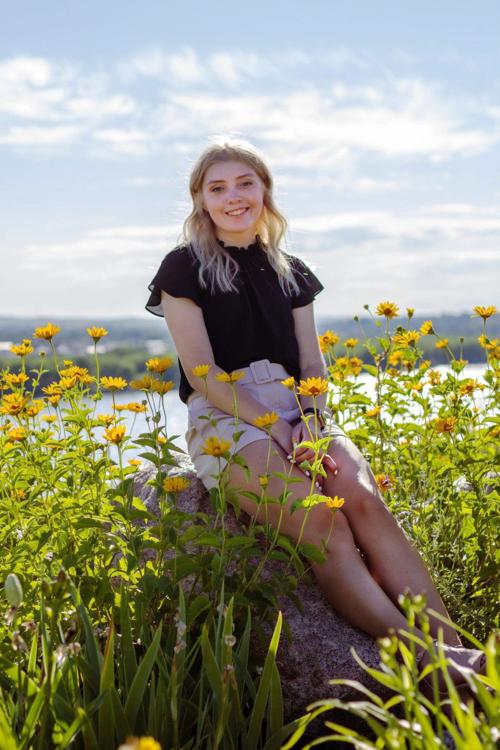 Mandan High School senior Lizzie Allan won first place for her business plan at the 2019 Future Business Leaders of America State Leadership Conference. The local FBLA president's imaginary Hawaiian-themed coffee shop qualified her to compete at the national conference in San Antonio, Texas.
"It was a super-cool experience," Allan said. "FBLA is one of the largest organizations for students in the country, and so we competed against everybody from different states and actually some people from other countries. It was cool to see so many different people."
The daughter of Kevin and Nora Allan, of Mandan, is this week's Teen of the Week. Thirty-two high school seniors will be recognized by spring, at which time a Teen of the Year will be selected from the weekly winners to receive a $5,000 scholarship sponsored by MDU Resources Group.
When Allan was a member of DECA, she placed fifth in the restaurant management event at the state competition. She said FBLA is her favorite extracurricular since business is a passion of hers.
"I really like the people who I've been in it with, and I like business so it's fun to compete in that," Allan said.
She also competes in tennis, a sport she has played since she was 3 years old. She has competed on the girls varsity tennis team since eighth grade.
She said her dad, who is the Bismarck-Mandan Tennis Association president, got her into the sport. She enjoys shadowing him and helping when she can.
Additionally, Allan is a part of student council, Spanish club and National Honor Society. She also works at Scheels and Harvest Catering and Events.
Mandan High School counselor Alyssa Caya said Allan is a capable student who can maintain good grades with a rigorous course load while also being active in her school.
"Elizabeth finds great joy in helping others," Caya wrote in a letter of recommendation. "She is an excellent role model at Mandan High School."
Allan in the past two years has taken six advanced placement and dual credit courses and has a cumulative GPA of 4.0. Her favorite class was AP U.S. history.
"Education is important to me because it helps me become a better person," she said. "It makes you more well-rounded. The more you know, the better off you are in life."
Allan enjoys giving back to her community. She collects canned goods with her school and participates in the Mandan Spring Clean-Up Week.
"I really like helping people in my community, and it's fun to make your community so much better as a whole," she said.
Her favorite volunteer experience is serving meals with her family at a Thanksgiving dinner put on by AID Inc.
"It's nice to see all these people come together and celebrate with a nice warm meal," she said.
Allan plans on one day going to law school.
"I don't know where I want to go to school," Allan said. "I'm very undecided on that, but I want to go into stocks or something like financial planning for my undergrad."