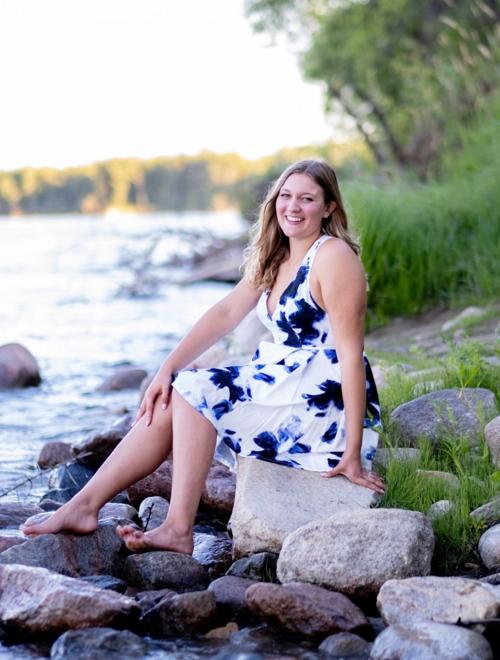 St. Mary's Central High School senior Abby Balkowitsch is a third-degree black belt in taekwondo. She started training when she was 8 and now holds multiple state champion titles. She has been an instructor at ATA Martial Arts for the past four years.
"I instantly fell in love with it," Balkowitsch said. "I loved going to tournaments, traveling and getting to see everyone that I competed against because we all got to be really good friends."
The daughter of Shane and Bonnie Balkowitsch, of Bismarck, is this week's Teen of the Week. Thirty-two high school seniors will be recognized by spring, at which time a Teen of the Year will be selected from the weekly winners to receive a $5,000 scholarship sponsored by MDU Resources Group.
Balkowitsch is also a musician. She plays the tenor saxophone in St. Mary's Wind orchestra, jazz ensemble, pep band and marching band. She has received multiple awards for her improv solos at the University of Mary Jazz Festival. 
Balkowitsch is a certified nursing assistant at Sanford Health. She works with patients who either need surgery or who have already had it.
"I think being able to interact with the patients is my favorite part," Balkowitsch said. "They're very uncomfortable or they're in pain and it's very rewarding being able to help them and get them to where they need to be so they can go home."
Theology teacher Nicholas Emmel said Balkowitsch is dependable, motivated and always looking to help others.
"Abby is a radiant witness of what it means to be a young woman preparing for a successful future," Emmel wrote in a letter of recommendation. "She approaches her responsibilities with energy and a willingness to serve."
In her free time, Balkowitsch is a wet plate photographer and a landscape painter. She is a part of the Bismarck Art Gallery Association and has had her pieces displayed in their gallery. She started painting after she got a concussion from taekwondo.
"I couldn't do taekwondo and I couldn't play music, so my life sort of stopped," Balkowitsch said. "I couldn't even look at a blank sheet of paper because it just bothered me. So I started painting because it was stimulating and it allowed me to work my mind without being harsh to myself. It was something for me to do to help me get by."
Balkowitsch maintains a 3.3 GPA while taking advanced courses. She said she strives to do her best in school so that she can pursue her goal of being a nurse practitioner.
"I think education is important to me because it opens up a lot of opportunities such as being able to go on into the medical field," Balkowitsch said. "I've always wanted to be a nurse and now that I'm actually an adult, I'm finding a passion for it. Being able to be a CNA and work under great nurses, I definitely get a good taste of what I want to do and what I will be doing."
Balkowitsch plans to attend Bismarck State College for two years before continuing to the North Dakota State University College of Nursing in Bismarck.