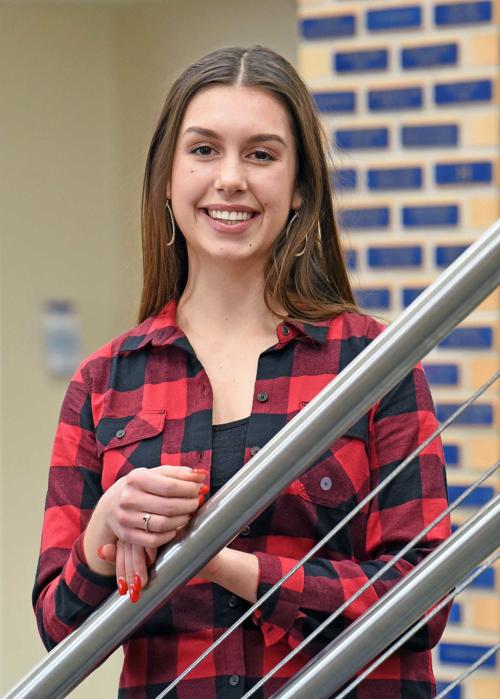 Shiloh Christian School senior Graycin Wanzek was recently named to the Class B all-state volleyball team, and said receiving the honor is one of her greatest achievements to date.
"Being selected to all-state was a huge deal for me," the team co-captain said. "Not a lot of people get to be part of that, so I was really grateful for that opportunity. It really meant a lot to me."
The 18-year-old daughter of Michael and Maria Wanzek, of Bismarck, is this year's 20th Teen of the Week. Thirty-two high school seniors will be recognized by spring, at which time a Teen of the Year will be selected from the weekly winners to receive a $5,000 scholarship sponsored by MDU Resources Group.
Wanzek, a four-year varsity volleyball player, volunteers to teach the sport to youth through Cross Training during the summer.
"It's just a lot of fun to get to work with younger kids and just kind of spread the Christian message, which is really cool to that organization," she said. "I feel like I've grown as a person through that experience."
The Skyhawk, who has taken two dual-credit classes and recently scored a 30 out of 36 on her ACT college entrance exam, has maintained a 4.0 GPA throughout high school.
"Keeping a 4.0 (GPA) … I feel like, is a big deal," she said. "It takes a lot of work and I put a lot of time and dedication into that."
The Student Council representative served as a Bismarck Rotary Club Junior Rotarian last month. She attended three meetings of the organization, which is a fellowship of business and community leaders guided by the motto, "Service Above Self." A highlight, she said, was giving a speech about her life experiences.
Wanzek plans to attend North Dakota State University this fall to study math and communications, with the goal of becoming an actuary.
"Graycin is an incredibly well-rounded person who excels at virtually everything she does. It would be easy for someone like Graycin to rest on their laurels, but she remains hungry and driven to improve at everything that she does," Ian Grande, Shiloh's assistant principal and English teacher, wrote in a letter of recommendation. "She is a very humble and caring person."
You participate in speech and won fourth place at state last year in humorous duo. What do you like most about the activity?
I love speech because it's completely different than sports. It's really fun to get to start my year off with volleyball and then I finish it with speech. I compete in humorous duo and radio broadcasting. I like both a lot, it's kind of fun to get a mix.
How do you fill your free time outside of school and extracurricular activities?
I work at Prairie View Landscaping during the summer. I started in the nursery, but now I work in the office. I think it's really good experience because when you're taking phone calls, you get to talk to all sorts of people. It just kind of puts you in on-the-spot situations. I love to be outside. Getting fresh air is super fun, whether it's walking the dogs or sledding in our backyard. I like to read books as well.
You competed in three 5k races last year. What was your motivation?
I enjoy running as a pastime. A couple of summers ago, I saw the Fourth of July road race and I was like, "Oh that seems like something that would be kind of fun." So I tried it last summer and it went really well. I've done all the 5ks they've had in Bismarck since – the Turkey Trot and the Santa Run. They are a great way to be a part of a group while supporting others.
Who or what motivates you to succeed?
My family is a huge motivation to me; they support me in everything I do. God motivates me as well – I have gifts and I feel like I need to use them to the best of my ability. I also have a lot of self-motivation. I have high expectations of myself and I want to do the best in everything I can.
Be the first to know
Get local news delivered to your inbox!