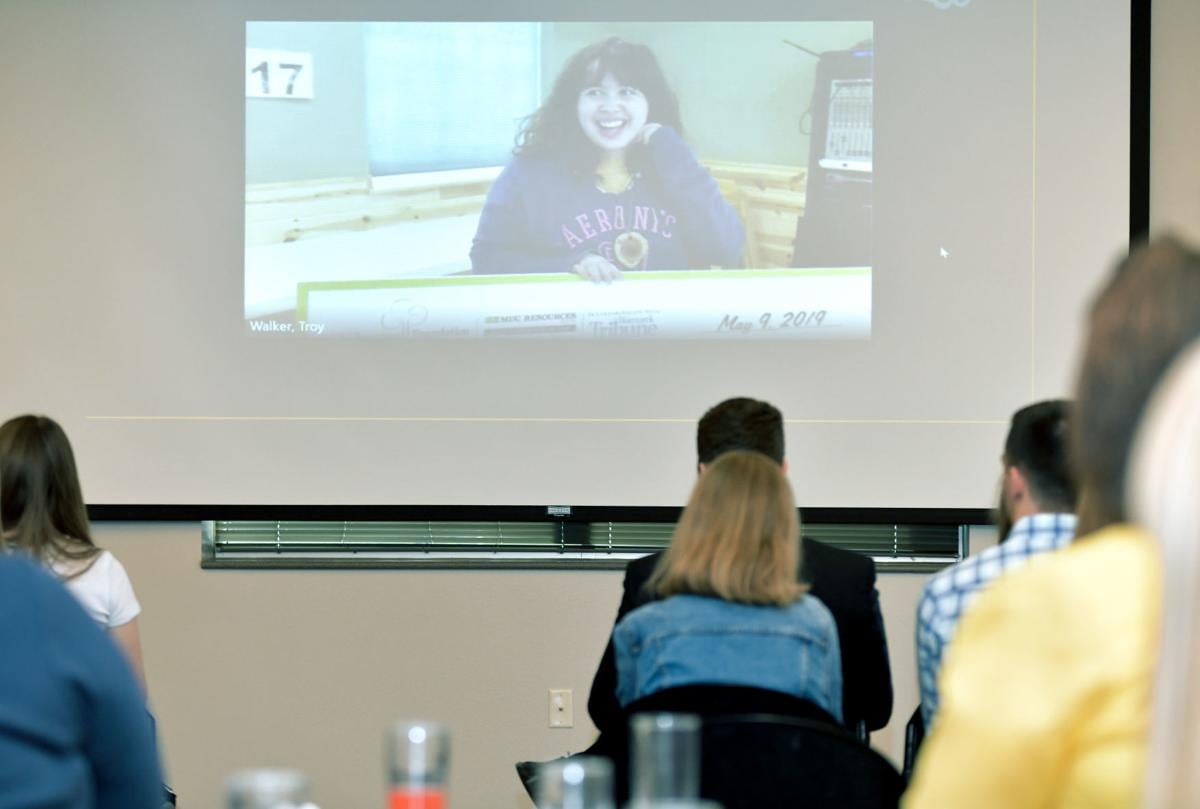 When Bismarck High School senior Naomi Hegwood heads off to Harvard University this fall to study integrative biology, she'll have a substantial scholarship to bring along with her.
Hegwood has been named Teen of the Year by MDU Resources Group Inc. and the Bismarck Tribune, and was awarded a $5,000 scholarship Thursday night during a reception honoring all 32 Teen of the Week winners.
Retiring MDU Resources Board of Directors Chairman Harry Pearce, a Bismarck native, individually donated an additional $5,000 to Hegwood, bringing her scholarship total to $10,000.
Due to a scheduling conflict − the event overlapped with the Envirothon state competition in Medina − the teen, unaware that she'd been selected, was not in attendance at the reception.
MDU Resources, which sponsored the scholarship, learned of the conflict ahead of time and sent a crew to Medina to surprise Hegwood, capturing her reaction on camera. She was grinning from ear to ear. 
"I wasn't expecting this. We were just eating dinner here and I was like, 'What's happening?'" she said during a phone interview following the reception. "It's super cool.
"I'm really thankful … that people understand and care about me and my education," she added. "I'm surprised and happy."
Since September, the Tribune, in partnership with MDU Resources, has been recognizing exemplary high school seniors from across the region, including Bismarck, Mandan, Glen Ullin and Underwood, and sharing their inspiring stories via a 32-week series dubbed Teen of the Week.
Weekly winners were selected by Tribune staff from nominations submitted by school counselors, who received recommendations from teachers, administrators and coaches.
A total of 142 nominations were received from 23 schools, according to Bismarck Tribune Publisher Gary Adkisson, who said 15 schools were represented among the weekly winners.
"You guys do so much and it's really impressive," Adkisson said, addressing the teens in attendance. "We are just so proud of you and what your future can be. This community values you and what you do."
Hegwood, a straight-A student who's taken a total of nine Advanced Placement classes and scored a near-perfect 35 on her ACT exam, was selected as Teen of the Year by staff from both MDU Resources and the Tribune at the series' conclusion.
In addition to Envirothon, Hegwood is involved in Science Olympiad and Science Bowl, and has competed at the regional, state and national levels. She studied science for six weeks last summer at North Dakota Governor's School.
The four-year drama club member is also passionate about art, and recently learned how to paint with soil. Working with colored pencils is her favorite, she said.
The daughter of Nanette, Hegwood, 18, grew up in a trailer court and was "always poor," she told the Tribune in February.
When she was 13, her father, who only came around "every now and then," was caught with a "bunch" of meth in southeast North Dakota. In September 2015, he was sentenced to 20 years in prison.
"I grew up poor. Sometimes, we go to the food pantry. I use a lot of my paychecks to help pay rent and keep a roof over our heads," she said, noting she works part time at Target. "I didn't get to choose my hand. To be honest, compared to other people's lives, mine's not the greatest. Whose father's in prison, you know?"
Hegwood, who says she has no desire to have a relationship with her dad, recognizes her life could be a lot worse.
"I could be addicted to drugs, like my dad was. My mom struggled with addiction, too," she said. "I don't really want things to come easy. It'd be nice sometimes, but ... I think working through challenges teaches you a lot. I feel like if I was in any other life, I wouldn't be where I am right now."
During the hour-long reception, held in the Brightside Room at MDU Resources, remarks were made about each Teen of the Week, which were met with applause by the nearly 100 family members and friends in attendance.
MDU Resources Group CEO Dave Goodin congratulated Hegwood and all the weekly winners, calling them an "outstanding group."
"Our tagline is building a strong America … when I think about building a strong America and our future, I think I'm looking at it right now," he said. "Each of you has inspired our employees to think, 'Wow, these youth at 17 or 18 years old, look what they're doing,' and have helped us to increase even our involvement in areas, as well."
Be the first to know
Get local news delivered to your inbox!